Mar 10, 2021 07:06 AM Central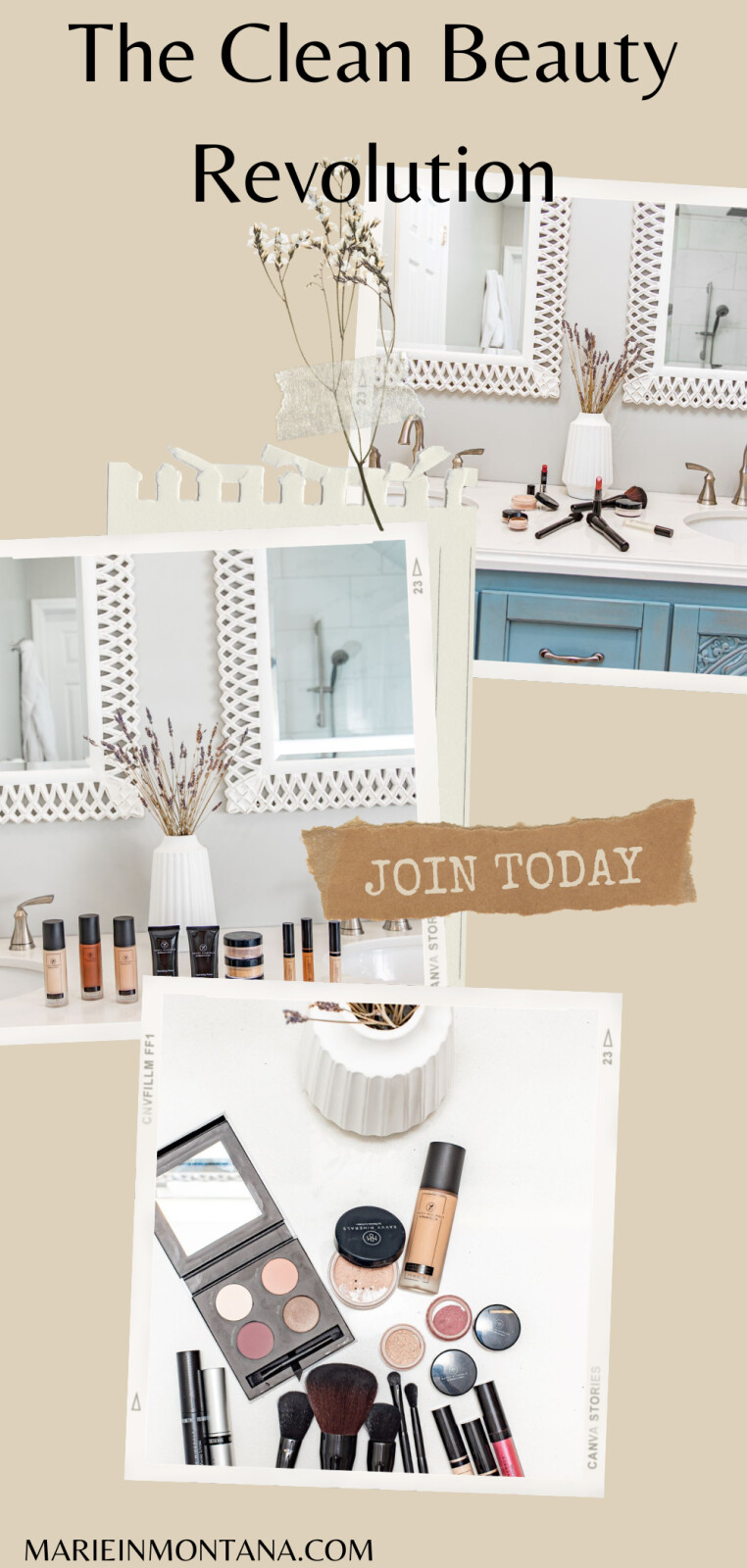 For generations wearing makeup meant covering your skin in harsh, even toxic, chemicals. For the last few decades, we've seen the rise of clean beauty and all the buzz words that go with it: paraben-free, phthalate-free, etc. What does that even mean? With Savvy Minerals by Young Living®, you can be confident you are part of
The NEW Standard in Clean Beauty™
.
Young Living is leading the clean beauty revolution by not only banning the mainstream questionable ingredients but also taking a deeper look at what you should really be putting on your skin to nourish it. This means they have banned even more ingredients than the 1,328 prohibited by the European Union. Banning more than 2,500 ingredients and even some "natural ingredients" other clean makeup companies use.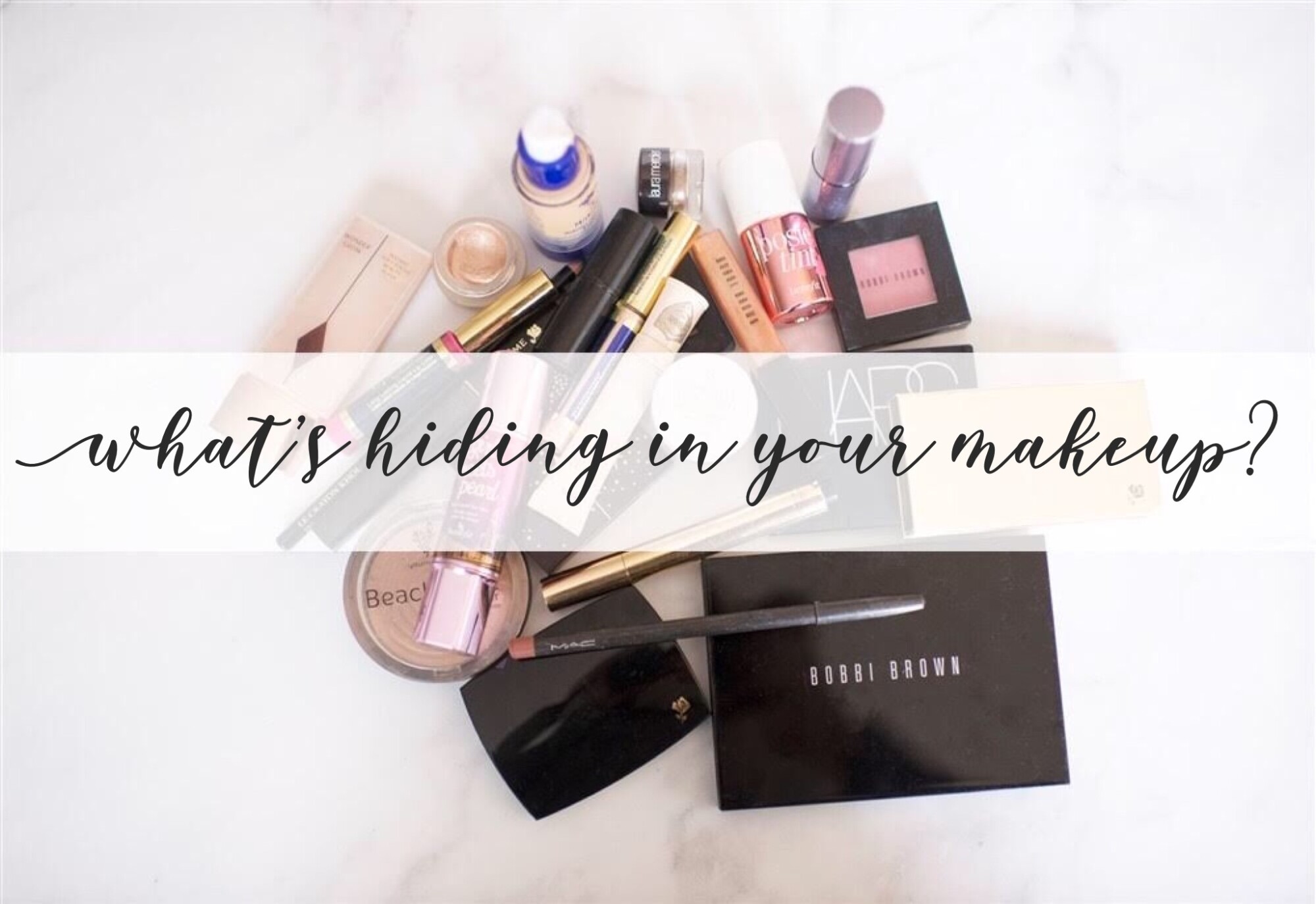 Whew, and you thought Young Living was JUST the world's largest essential oil company.
Feb 11, 2021 07:01 AM Central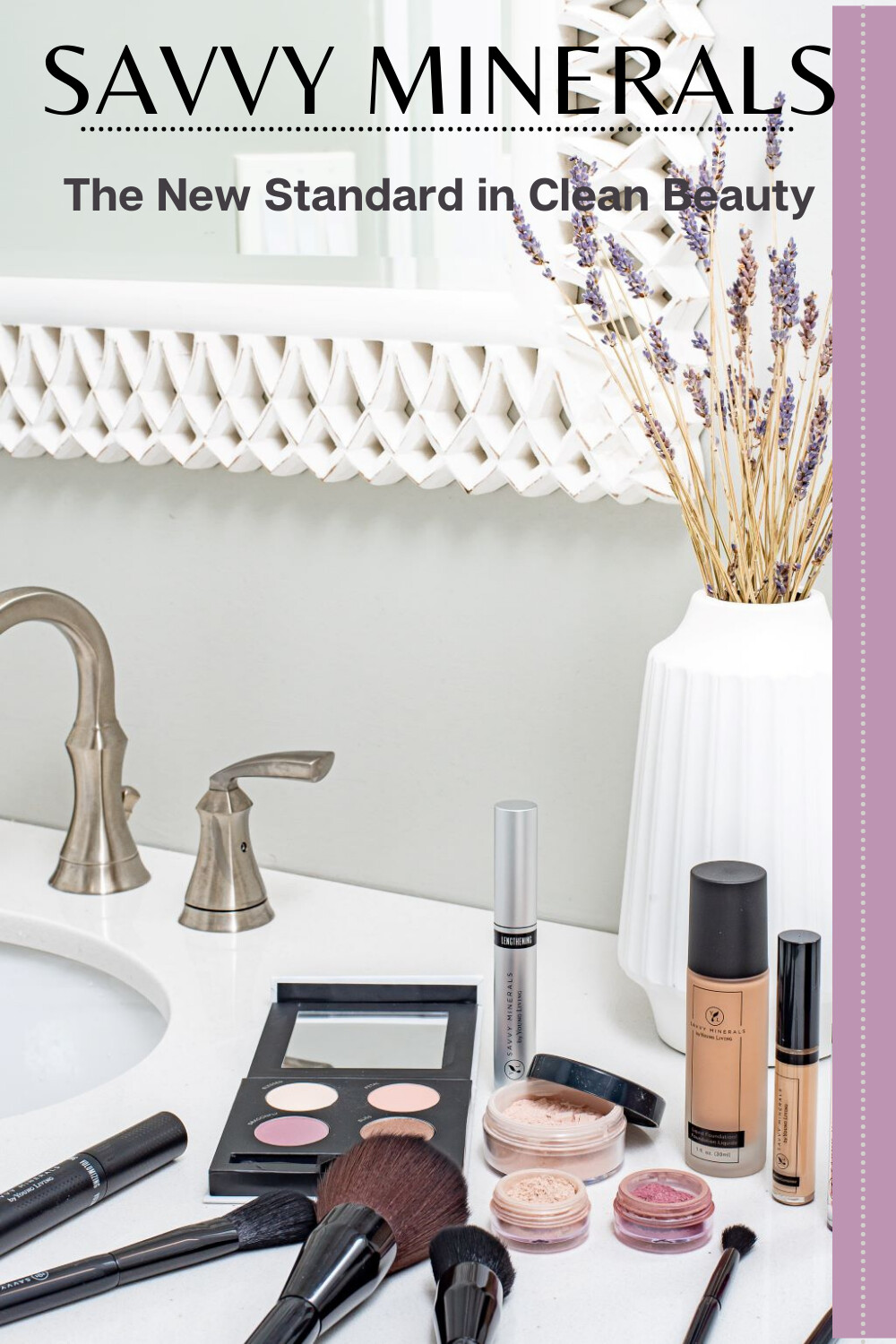 Have you ever stopped to think about what is in your makeup? For generations wearing makeup has meant covering your skin in harsh, even toxic, chemicals.

For the last few decades, we've seen the rise of clean beauty and all the buzz words that go with it: paraben-free, phthalate-free, etc

. But all these words can be so confusing.

With Savvy Minerals by Young Living®, you can be confident you are part of

The NEW Standard in Clean Beauty™

.
We're leading the clean beauty revolution by not only banning the mainstream questionable ingredients but also taking a deeper look at what you should really be putting on your skin to nourish it. This means we've banned even more ingredients than the 1,328 prohibited by the European Union. We've banned more than 2,500 ingredients and even some "natural ingredients" other clean makeup companies use.
Makeup should be all about letting your favorite features shine, which is why we will only use authentic ingredients to create our cosmetics.
This is our calling—we'll never stop making clean and pure cosmetics.
You don't have to compromise! With Savvy Minerals by Young Living® you can be confident you are part of "The NEW Standard in Clean Beauty™".
Wait. I thought Young Living only made essential oils. They make makeup too? YEP!!!!
toxin-free

plant-based

cruelty-free

essential oil-infused

responsibly sourced

backed by Seed to Seal
You read that correctly. Savvy Minerals is safe, clean makeup that's infused with Young Living essential oils and backed by the Seed to Seal quality commitment. You won't find this guarantee and peace of mind with any other company. You can expect that Young Living will provide you with only the BEST! If you'd like to read more about Seed to Seal go to www.seedtoseal.com and check it out.
Have you ever walked down the aisle at the store, searching for a new product that's safe yet effective? Your eyes are drawn to the bottle with minimalist lettering and the words "natural" across the front. You assume since the front label is clearly marked "natural" you're good to go! But that may not be the case.
You can learn even more about Savvy Minerals
HERE
Unfortunately, there can still be a huge laundry list of ingredients that could be hazardous to your health. This is called greenwashing. The label makes you FEEL like you're getting a trustworthy product but once you start researching the ingredients you discover otherwise.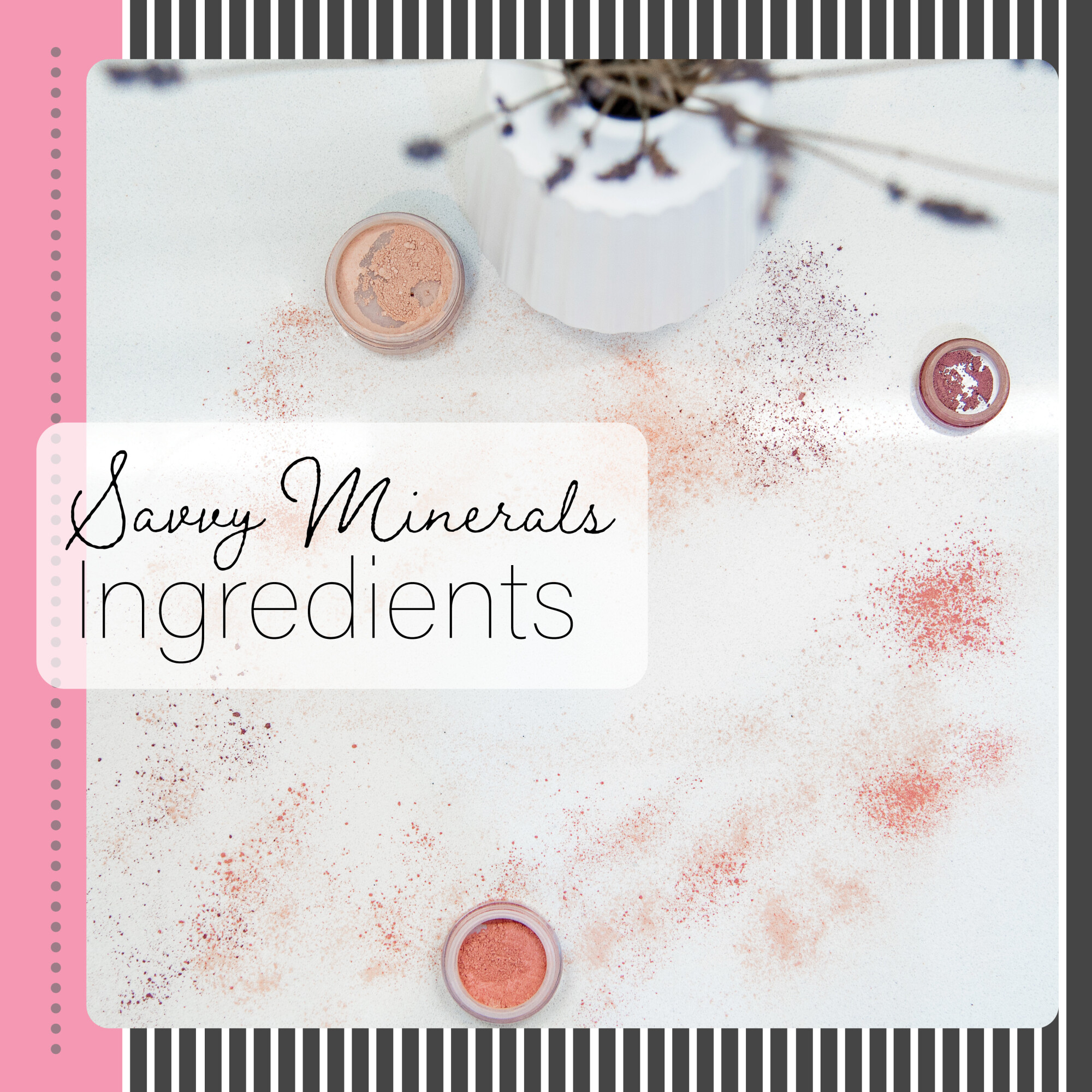 You don't have to stress over whether or not Savvy Minerals is trying to hide anything from you. Check out the ingredients you will NEVER find in Savvy Minerals makeup…
Bismuth

Carmine

Coal tar

Dimethicone

Formaldehyde

Hydroquinone

Lake dye

Mineral oil

Nano particles

Oxybenzone

Parabens

Petroleum based ingredients

Phthalates

Polypropylene

Silicone

Sulfates

Synthetic colorants

Synthetic fragrances

Talc

Triclocarban

Triclosan
Now take a look at what you WILL find…
Aloe vera leaf extract

Apricot kernel oil

Aspen bark

Bark extract

Carthamus

Cocoa seed butter

Coconut oil

Essential oils

Grapeseed oil

Jojoba seed

Kaolin clay

Magnesium violet

Mango seed butter

Natural Minerals

Olive fruit oil

Safflower seed oil

Sesame seed oil

Shea butter

Sunflower seed oil

Sweet almond oil

Ultramarines

Vitamin E
We can't have a makeup event without talking about "health from within." Your skin can be an outward representation of what's happening inside your body - hormones, gut health, toxin build-up, stress, vitamin and mineral depletion - so much! Let's take a quick look at some of the things you can be doing to help in this department.
Decrease your stress level. (I know - easier said than done!) Stress can elevate hormone levels making you more prone to acne. It can trigger psoriasis and it can even cause premature aging. Ahh!!! We definitely don't want that!
Here are a few ways to help yourself de-stress…
Turn off your phone; get away from the distractions

Sip on some hot tea; add even more benefit with a drop of Lemon Vitality

Take a relaxing bath; add one cup of Epsom salt with 10 drops of Lavender

Enjoy some aromatherapy; get your diffuser going with some calming oils like Peace & Calming, Stress Away, Calm, Frankincense, etc.

Do some light stretches - help ease the tension in your tired muscles; add in some Frankincense and PanAway for a more relaxing feel

Do some deep breathing along with prayer or meditation; add in your favorite grounding oils to inhale
Now, how about diet? That's a MAJOR one. Our bodies need water, vitamins, minerals, healthy fats, and a variety of nutrients to really thrive. It takes some work to make your diet a priority but YOU ARE WORTH IT.
Check out these Young Living supplements that can help you take of yourself from the inside…
NingXia Red: a powerful, whole-body supplement loaded with superfoods that support normal eye health, energy levels, and the immune system.
Sulfurzyme: combines wolfberry with MSM, a naturally occurring organic form of dietary sulfur needed by our bodies every day to maintain the structure of proteins, protect cells and cell membranes, replenish the connections between cells, and preserve the molecular framework of connective tissue.
OmegaGize³: combines the power of three core daily supplements-omega 3 fatty acids, vitamin D-3, and CoQ10 (ubiquinone); when used daily these ingredients work synergistically to support normal brain, heart, eye, and joint health.
Life 9: a proprietary, high-potency probiotic that combines 17 billion live cultures from nine beneficial bacteria strains; helps promote healthy digestion, supports gut health, and helps maintain normal intestinal function for the overall support of a healthy immune system.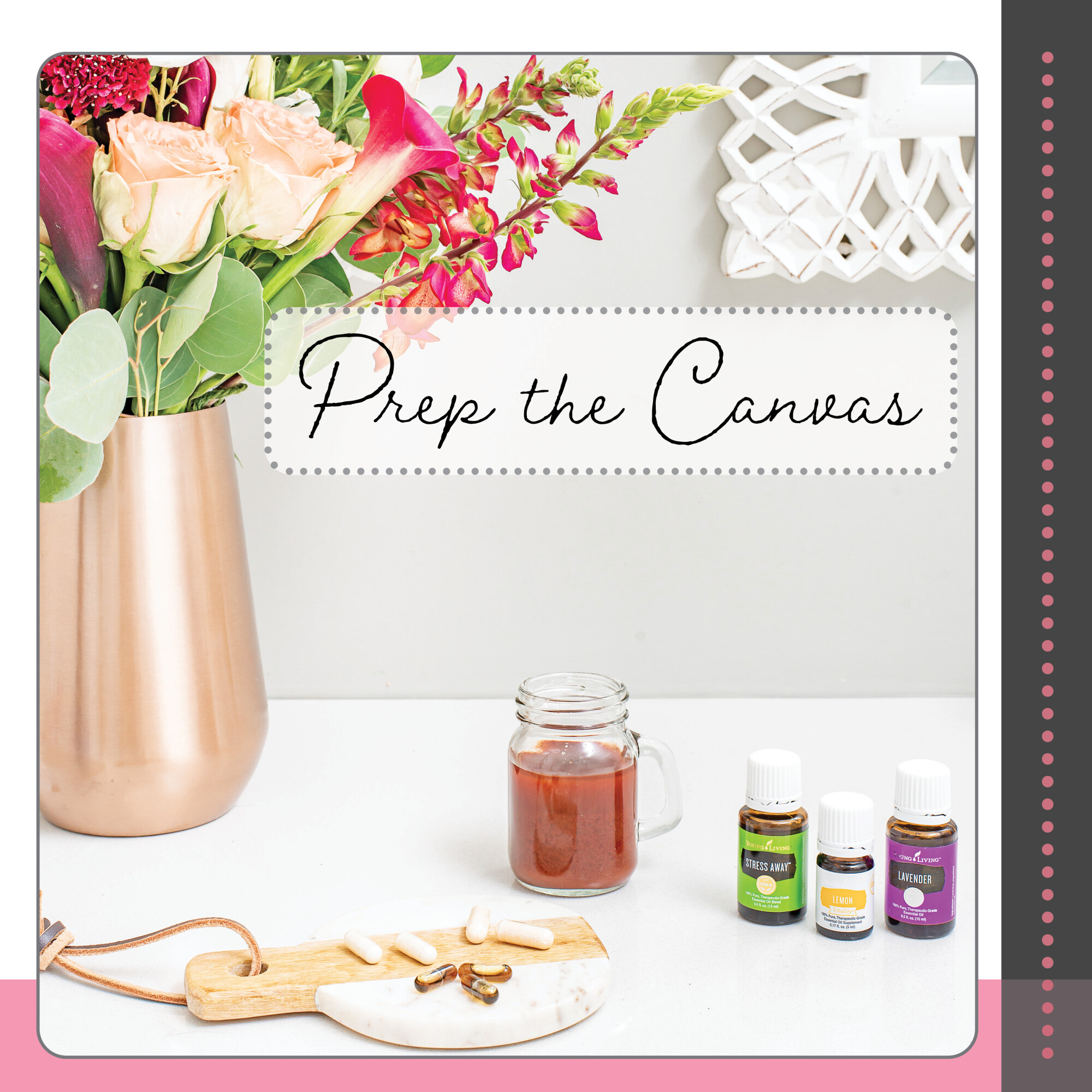 Ok, now let's get to one of the most foundational pieces of your makeup application - brushes! It's truly amazing how much better your makeup can look just by using the right brushes. You can purchase some of them individually or as a set*. They're made from high-quality synthetic fibers that are designed to hold the optimal amount of product and provide easy makeup application and a luxurious feel. The hypoallergenic, easy-to-clean bristles dry quickly and have been dermatologist tested. Not only are they soft to the touch, but they're also vegan friendly and made in Italy. You're going to love them!
Blending Brush*

Blush Brush*

Bronzer Brush

Concealer Brush

Contour Brush

Dual Lash Brush

Eyebrow Brush

Eyeliner Brush

Eyeshadow Brush*

Foundation Brush*

Full Coverage Liquid Foundation Brush

Kabuki Brush

Veil Brush*
*included in Essential Brush Set
And don't forget to wash them and keep them clean! Luckily Young Living has a Solid Brush Cleaner to help. It's a plant-based soap made with all-natural ingredients and infused with Lemon, Orange, and Lavender essential oils. Pair it with the Savvy Minerals Silicone Brush Cleansing Pad for brushes that never looked - or smelled - so good!
Now be honest… who here actually cleans their brushes?
(I'm terrible at it!)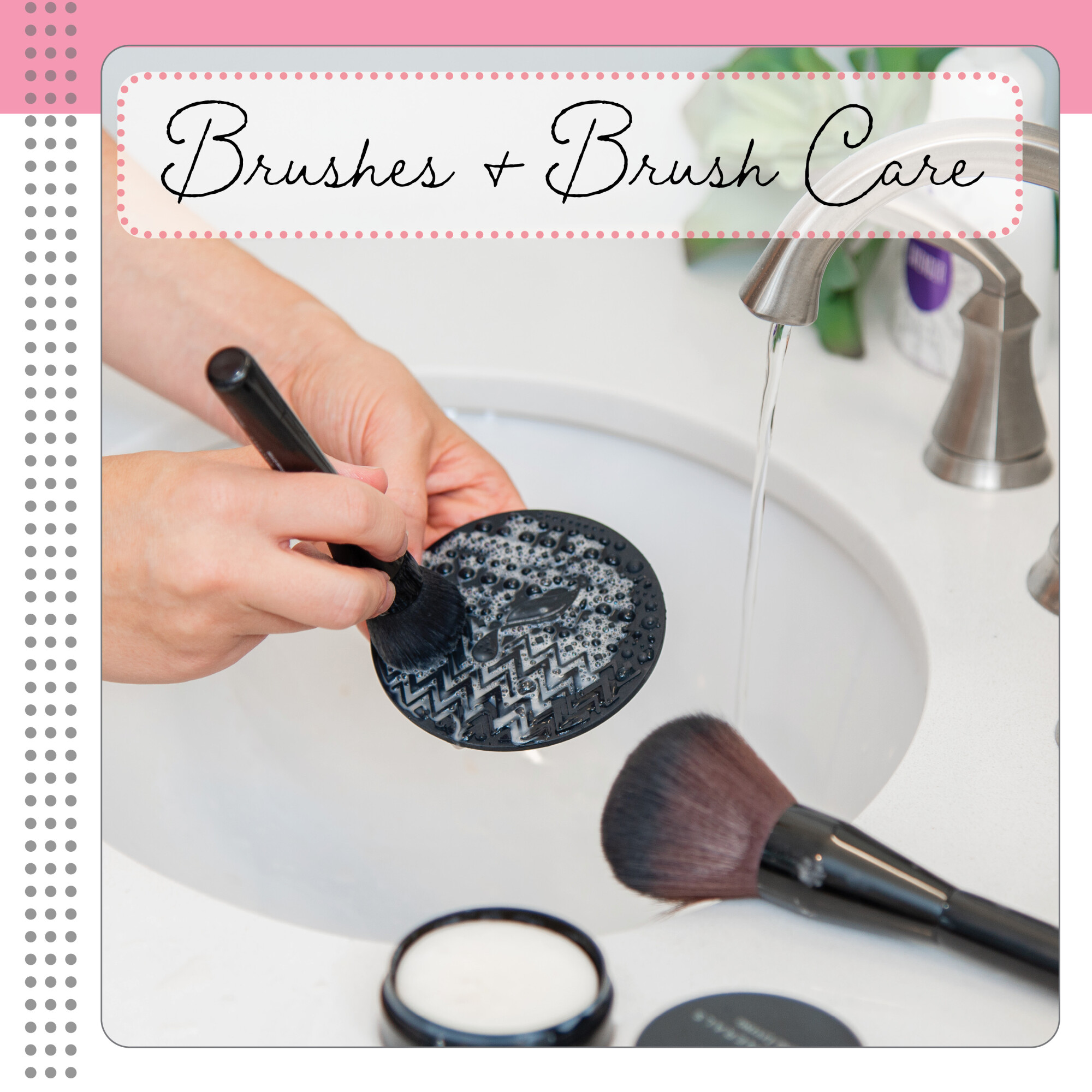 If you decide to go the powder foundation route (because we have a liquid foundation, too)... then you are going to want to have Misting Spray! Made with pure essential oils, trace minerals, and entirely plant-based ingredients, Savvy Minerals Misting Spray gives you more thorough foundation coverage, all while nourishing and refreshing your skin. You read that right - it's infused with essential oils, Cedarwood, Geranium, Lavender, and Rose to be exact!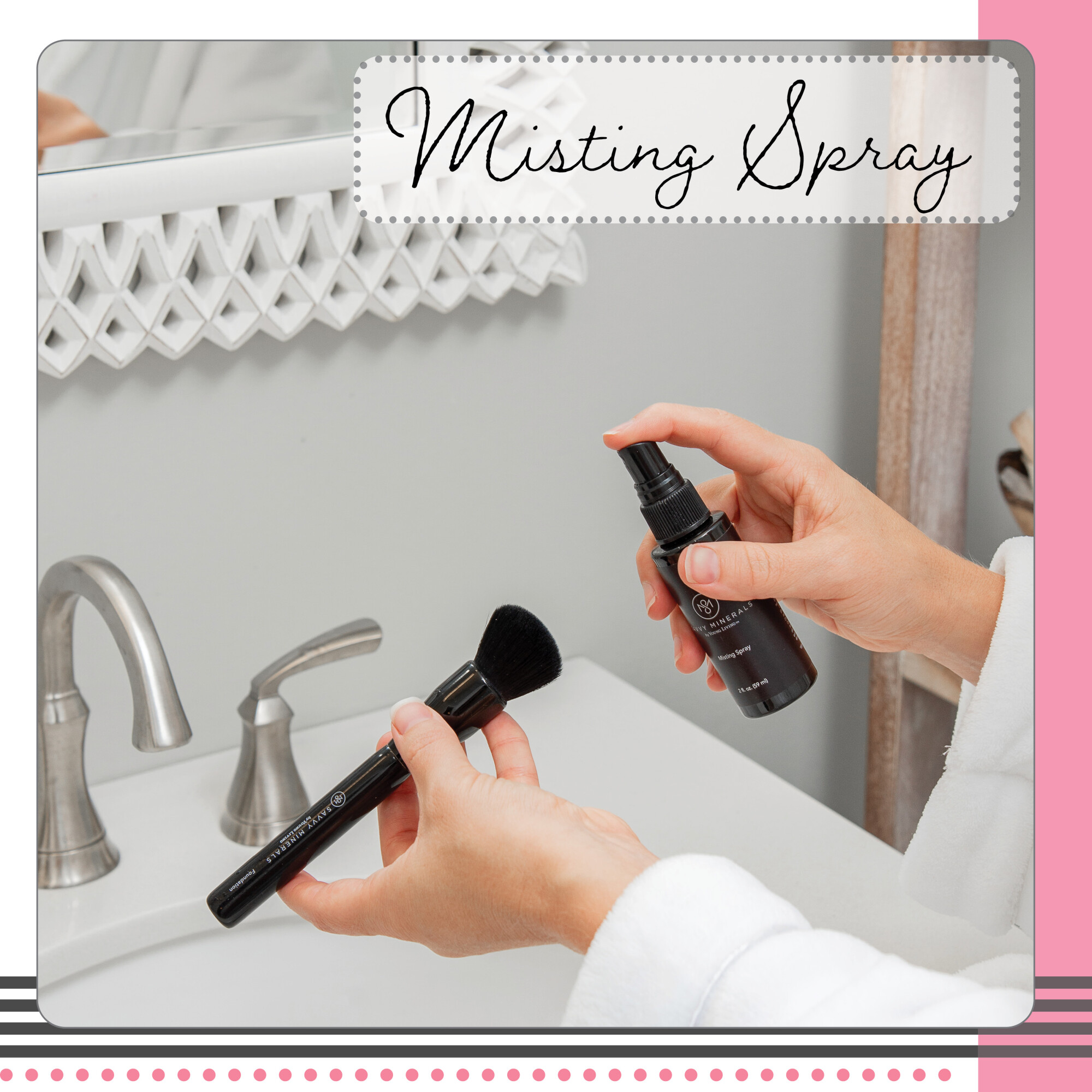 Spray 2-3 pumps of the Misting Spray onto a makeup brush and gently wipe off any excess moisture. (I dab it on the back of my hand.) Pick up mineral makeup using the brush. Apply mineral makeup to your face in the desired area and reapply as needed. It's that simple!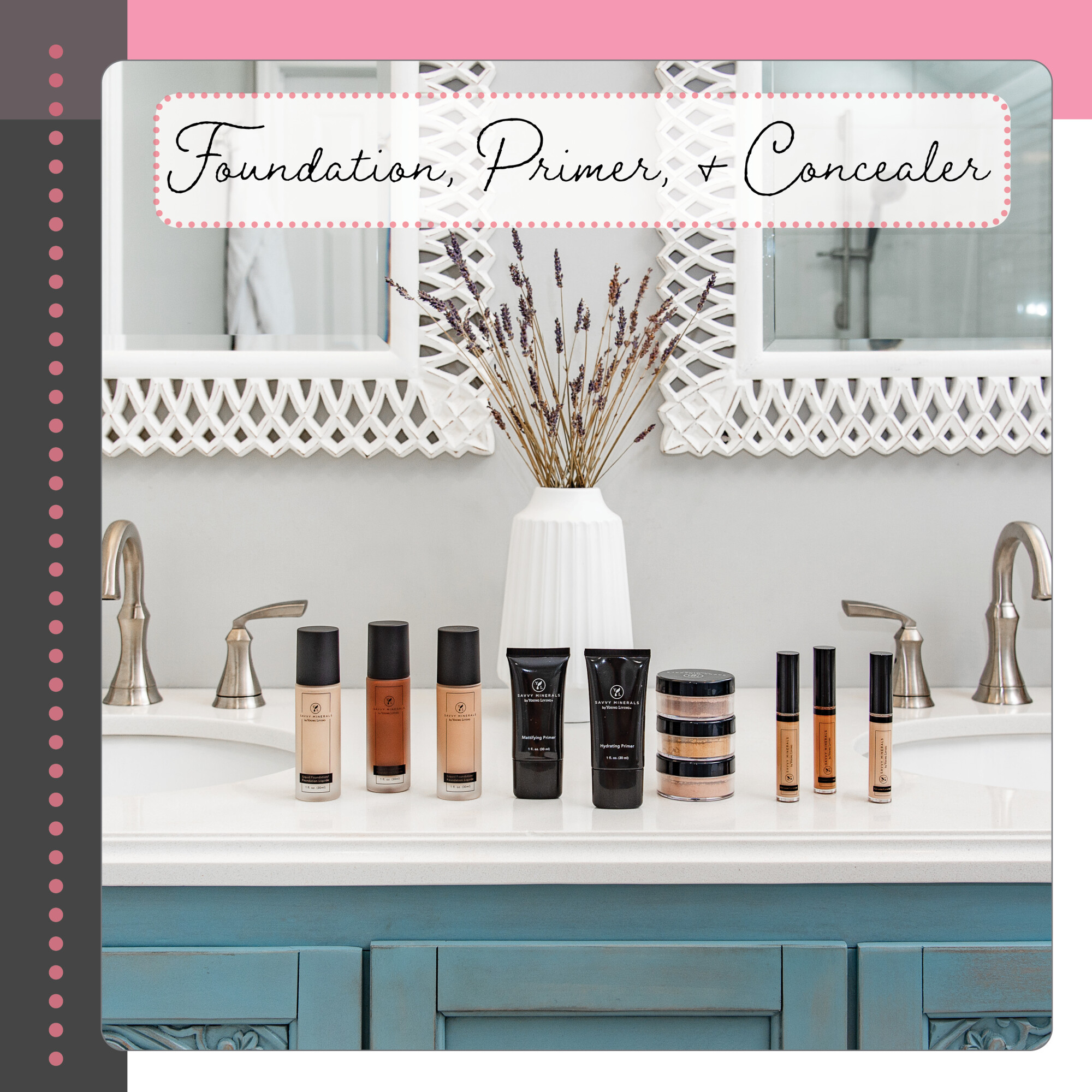 Now we are getting into the BASE of the makeup line… the foundations, primer, and concealer! Let's talk primer first. You might be tempted to skip the primer but it really does help prep the skin for a flawless finish. It minimizes the look of pores and fine lines while creating a smooth surface for foundation to adhere to for long-lasting coverage - and it moisturizes. Yes, please!
Make sure to grab your concealer next! Savvy Minerals Liquid Concealer helps cover spots, lighten the look of undereye circles, and hide imperfections. The buildable formula instantly lightens and conceals while also smoothing and hydrating the skin. While it delivers full coverage, the creamy, lightweight formula blends effortlessly for a natural look that won't settle into lines, cake, crease, or flake. Plus, it's made with Manuka and Tea Tree essential oils to help reduce the appearance of blemishes while the rich pigment helps hide discoloration. It comes in light, medium, and dark - two shades of each.
Foundation is up next! Foundation smooths your skin tone and provides a uniform color to build upon. Young Living has two kinds for you to choose from - powder or liquid.
Whether you use it as the base of an elaborate look or on its own for a more natural approach, the Savvy mineral powder foundation has you covered. Made with high-quality, mineral-based ingredients, its buildable formula can be used for sheer to full coverage and blends flawlessly for a natural-looking foundation that diminishes the appearance of imperfections and blemishes. And I think we ALL want that!
The powder foundation comes in a variety of colors and shades of cool, warm, and dark. Remember - they are buildable and very forgiving so don't stress too much over picking the perfect color. Grab a couple shades and play around with the best combo for your skin, especially if you tend to get darker in the summer and lighter in the winter.
The liquid foundation comes in a variety of colors and shades, all of which create radiant-looking skin with a youthful, dewy finish. The rich formula has a creamy and blendable texture that glides on seamlessly and never cakes or settles into lines. It's also made with Royal Hawaiian Sandalwood essential oil to enhance the natural radiance of the skin, avocado oil to hydrate and reduce moisture loss, and lots of other skin-loving ingredients. Grab one of the Savvy blending sponges for flawless application!
Are you familiar with the tricks for finding the perfect foundation shade? If not, check out this quick video after the class is over:
https://youtu.be/QYzuj8lBj6I
.
Nothing says natural, youthful beauty like blushed cheeks. Savvy Minerals Blush boosts your natural radiance. The mineral-based ingredients are finely ground to provide a smooth, luxurious application. This also helps the product go on flawlessly, creating buildable color that blends well for all-day wear.
Savvy Minerals Blush comes in a range of colors to complement different skin tones, and the natural-looking shades give cheeks a perfect flush. For best results, apply it with a blush brush. Start at the ball of your cheek and brush upward along the cheekbone towards the top of the ear. If you have a round face, apply it to just the ball of the cheeks.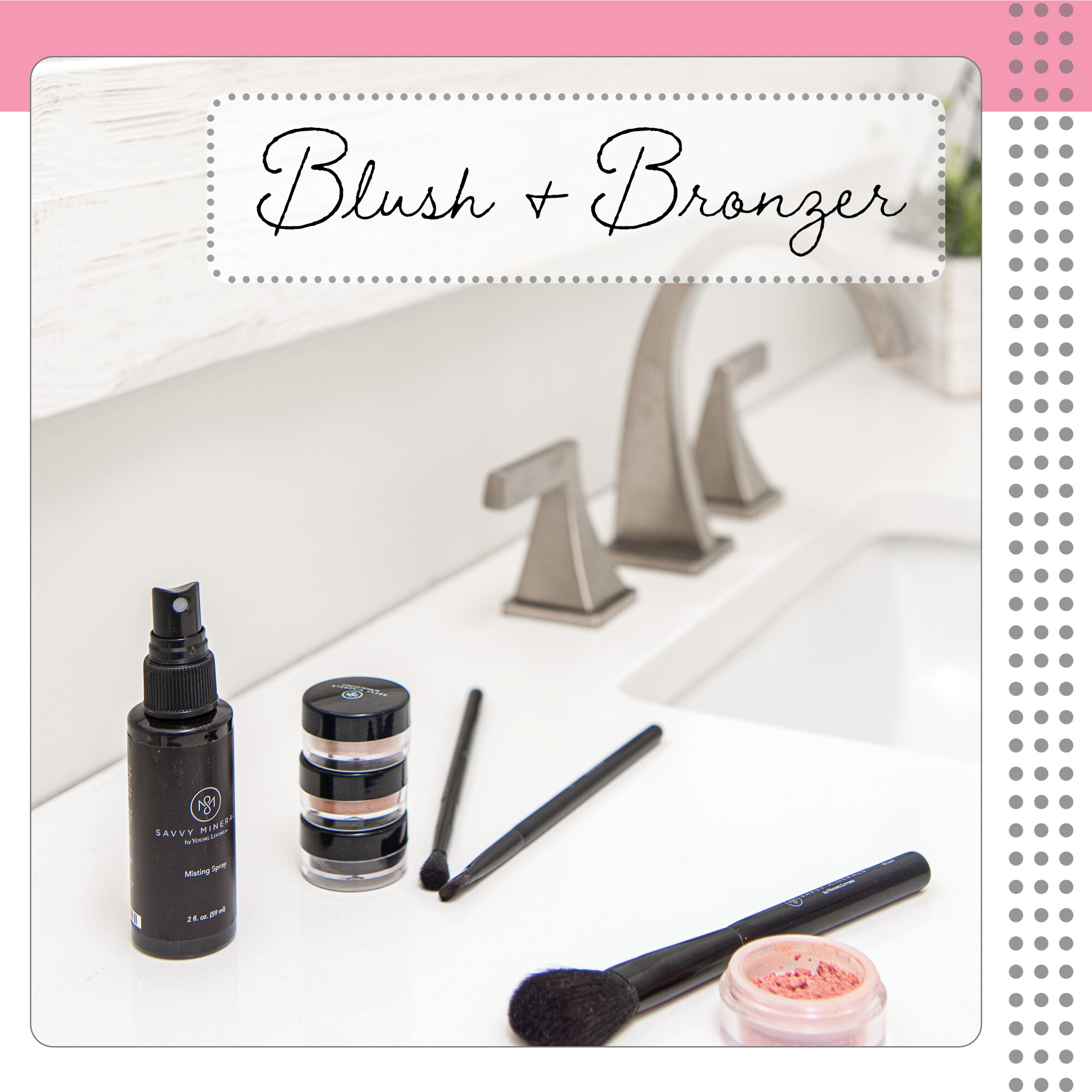 Who here loves bronzer? Enhance your natural beauty with a healthy, sun-kissed glow any time of year with the Savvy Minerals bronzer powder. Create all-over warmth while achieving a sculpted or contoured look with this long-lasting, buildable powder.
After applying the foundation, sprinkle a small amount of bronzer onto its jar lid. Dip the brush into the lid to pick up the powder, then lightly tap the brush handle against the side of the lid to remove the excess. Apply bronzer to areas of the face where the sun hits naturally, including cheekbones, bridge of nose, forehead, and chin.
Add some subtle drama or make a bold statement with Savvy Minerals Eyeshadow. With a variety of shades, Savvy Minerals Eyeshadow makes it easy to create natural and dramatic looks that complement every skin tone. The colors are buildable. You can layer and blend them to create your own custom color. It wears all day, so you have one less thing to worry about with your busy schedule. Check out this quick tutorial for how to make your eyes pop: https://youtu.be/79zEd6OuSFI.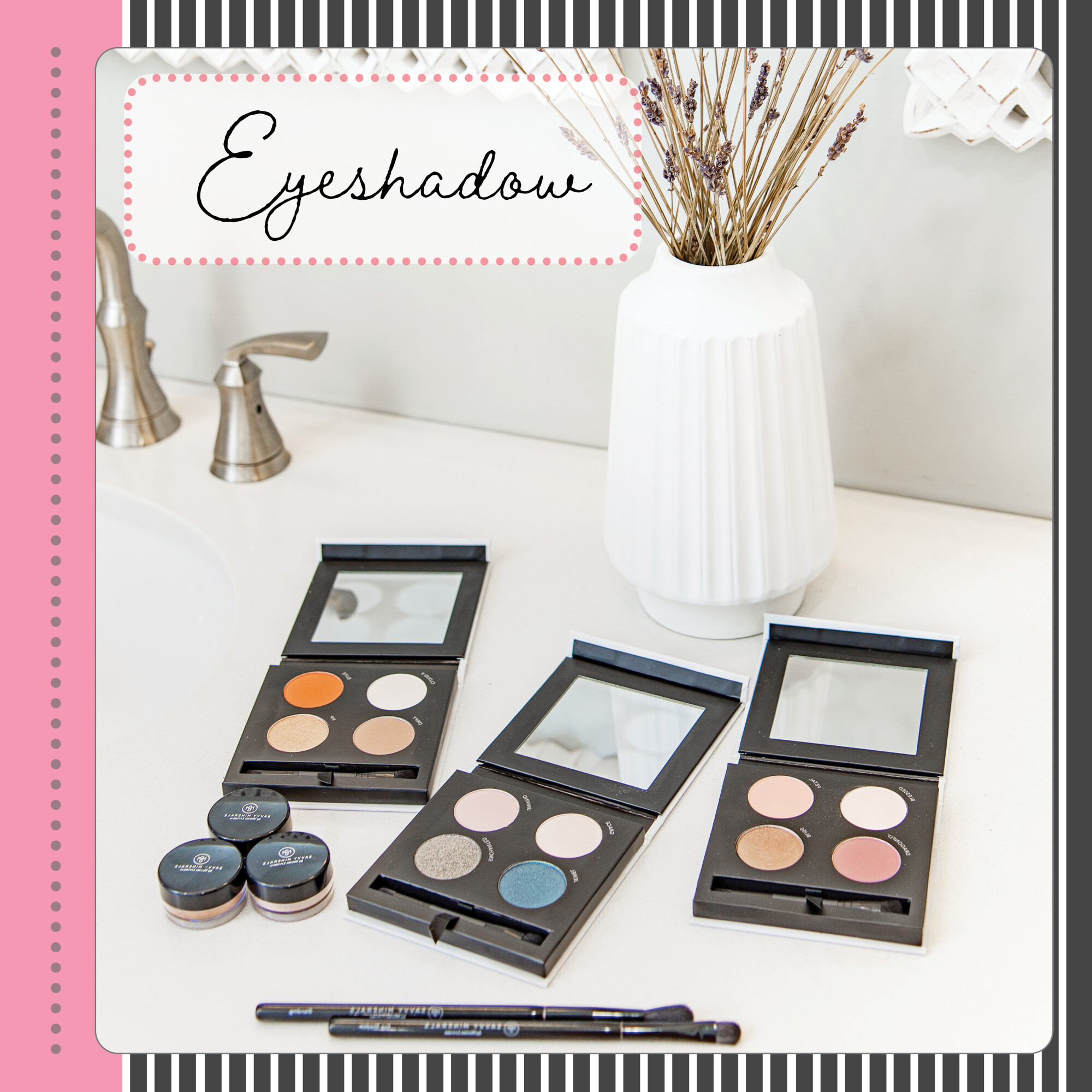 Savvy Minerals Eyeshadow can be purchased in individual loose powder colors OR in multi-color pressed palettes. Mix and match and play around with the combinations. Oh! And the palettes are infused with Lavender essential oil so they're perfect for sensitive eyes.
Are you a BOLD eyes kind of girl? Or subtle and sweet?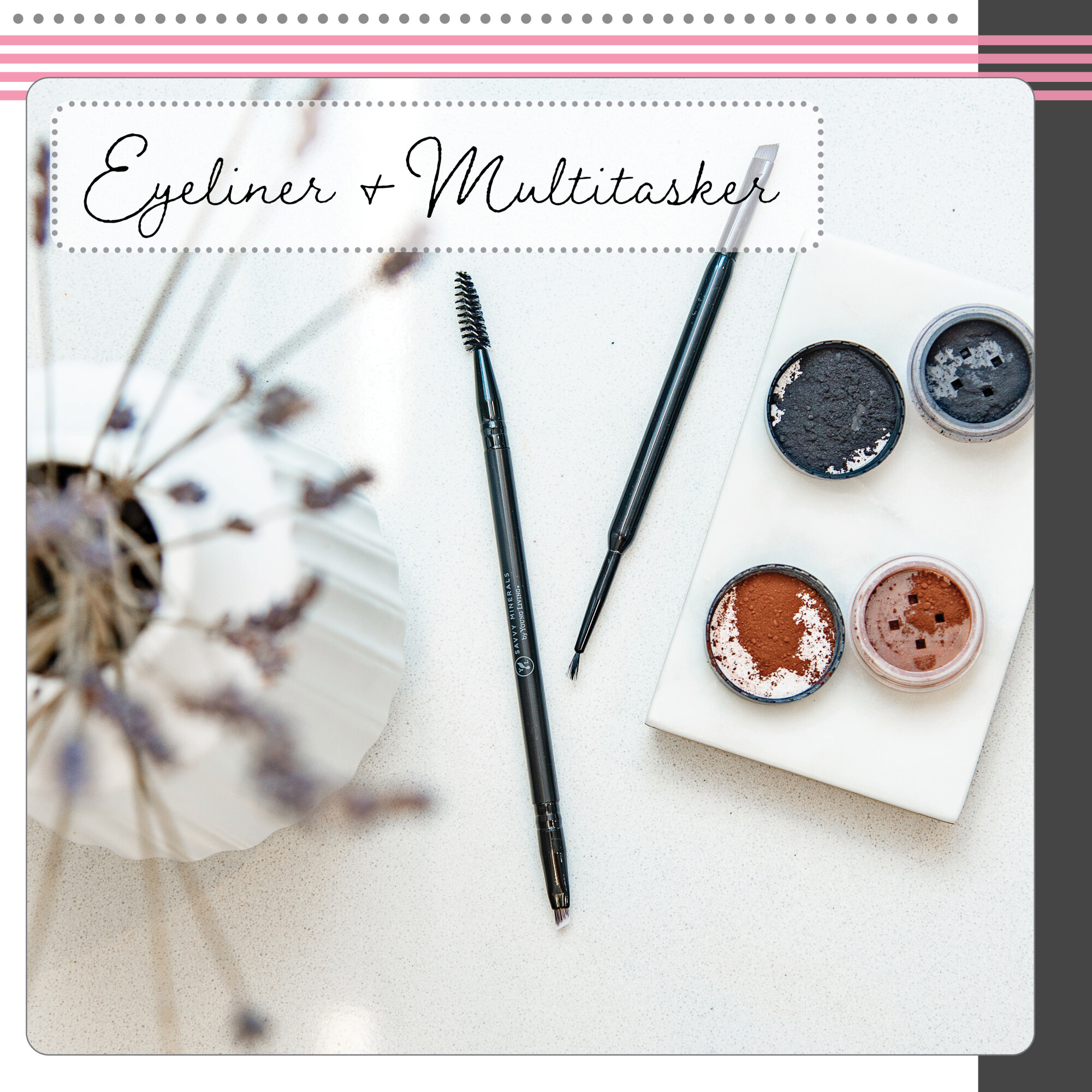 Now that you've got your eyeshadow applied it's time to add some definition with Savvy Mineral Eyeliner or Multitasker. The eyeliner is dark black and is made with mineral-based ingredients, talc, and paraben-free. It's the ideal eyeliner for sensitive skin. It can be used wet or dry to achieve the desired intensity.
The Multitasker is a deep and dark brown shade that is perfect for eyeliner, eyeshadow, or brow filler. It has a fine texture that blends beautifully for smooth, even and buildable application.
TIP: Spritz some of your Misting Spray into the spray lid if you'd like to apply them wet.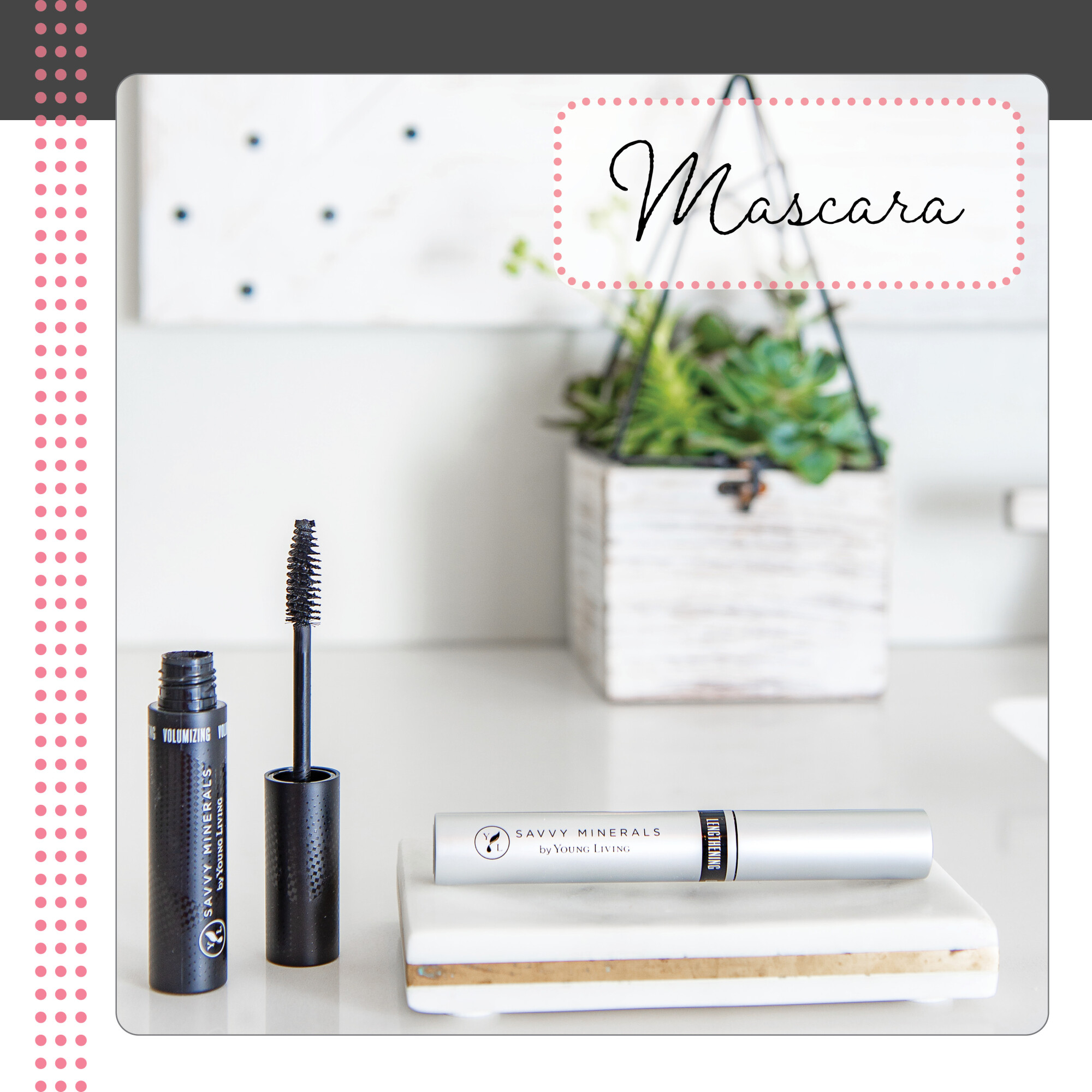 Now for one of the finishing touches - mascara. I personally love the Savvy Minerals mascara options. I'm so thankful for clean mascara that actually works! Embrace your natural beauty with the two newest Savvy Minerals mascara options - Lengthening and Volumizing.
The Lengthening Mascara is made with lash-loving ingredients, including Lavender essential oil, arginine, buildable natural plant fibers, and carnauba wax to take your lashes to new heights. Our clean, richly pigmented formula glides on without unwanted clumps or flakes to lengthen and define lashes. It's non-irritating and perfect for those with sensitive eyes.
The Volumizing Mascara is also specially formulated with natural ingredients, including unique plant fibers that boost and build volume with each application. The clean, cruelty-free formula is infused with Cedarwood and Rosemary essential oils. Your lashes will love these oils! The brush's unique, full shape features wavy fibers to ensure the perfect amount of product is delivered with each stroke without clumping, flaking, or smudging. This formula is also non-irritating so it's perfect for sensitive eyes.
TIP: Layer them! First, apply the Volumizing Mascara to your lashes. Then apply the Lengthening Mascara for a FULL, gorgeous look!
Have you ever used fake lashes? Yay or nay? Are you ready to give these clean options a try?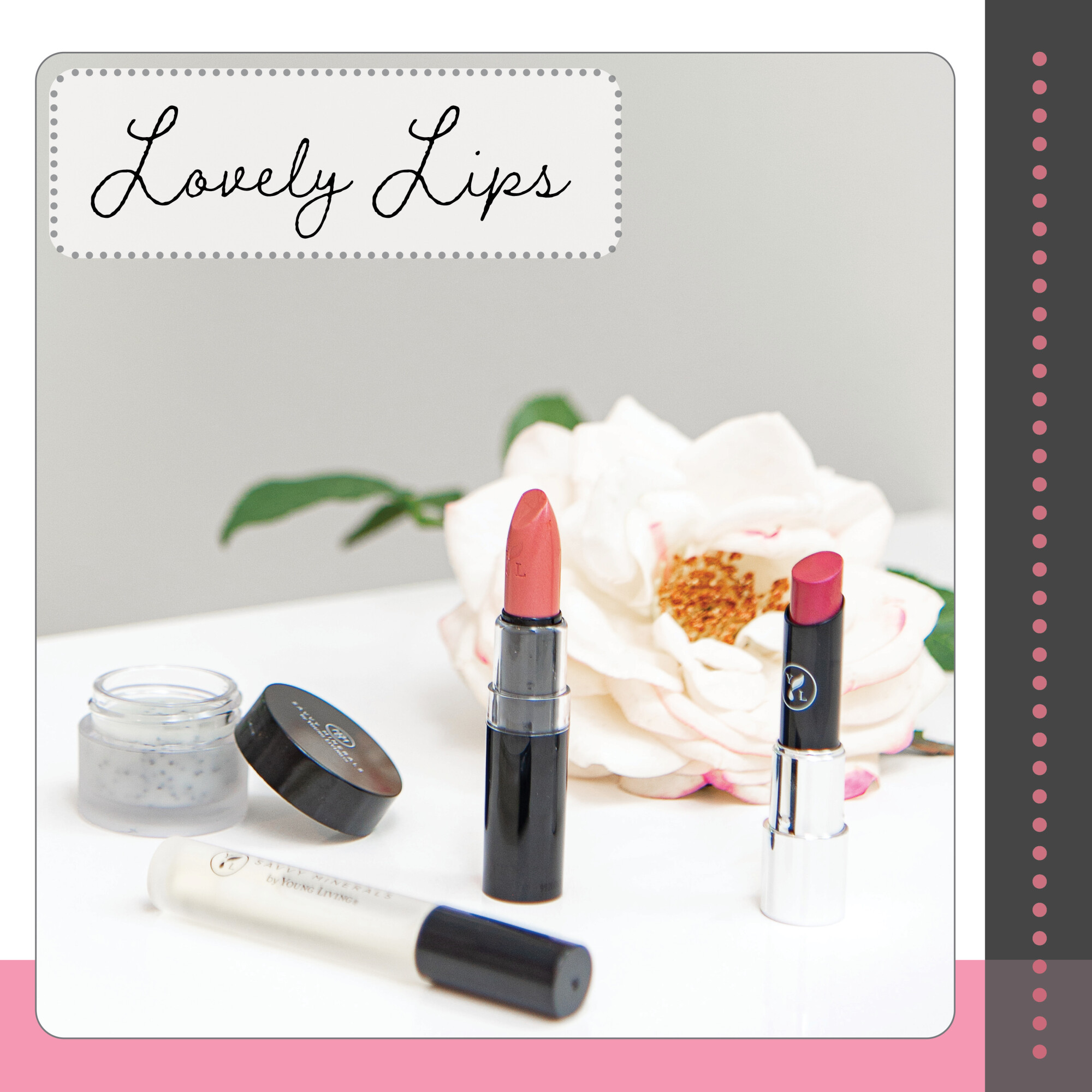 Smooch smooch! It's time to care for those lovely lips of yours. Savvy Minerals has several products to enhance one of your best features.
Let's talk prep first - the Savvy Minerals Poppy Seed Lip Scrub is perfect for this! This gentle exfoliant conditions and moisturizes lips, creating a wonderful canvas for lip gloss or lipstick. Formulated with four different types of butters - including cocoa butter, mango butter, avocado butter, and shea butter - this scrub leaves your lips smooth and soft. Yes, please! It also contains Citrus Fresh essential oil blend so you know it smells fabulous.
Now for Savvy's oil-infused lipsticks… they come in a variety of gorgeous colors so grab your favorite or grab them all to suit your mood for the day. With carefully curated ingredients, these lipsticks complement the natural pigmentation of your lips and moisturize with every application. They even improve the appearance of lip fullness!
That leads us to the amazing line of Savvy lip glosses. No matter if you're a flip flops or heels kind of girl these lip glosses look great for any occasion. They add just the right amount of shine. It applies flawlessly without the sticky feeling of many lip glosses. It's also important to note that the lipstick and lip gloss are never tested on animals! They're made with natural ingredients, so you can feel good about what you are putting on your lips.
Lastly, I want to mention the incredible Savvy Lip Luxe. Lip Luxe is a rich, luxurious lip gloss and treatment formulated with an exclusive blend of 19 oils, including Geranium essential oil, plus hydrating sesame, sunflower, jojoba, and shea oils. It's rich in moisture and antioxidants to help your lips look smooth with just the right amount of gloss anytime you need to shine. Worn alone or layered on top of your favorite lipstick, Lip Luxe adds a smooth texture and high-shine finish to your look.
Ok, pucker up ladies!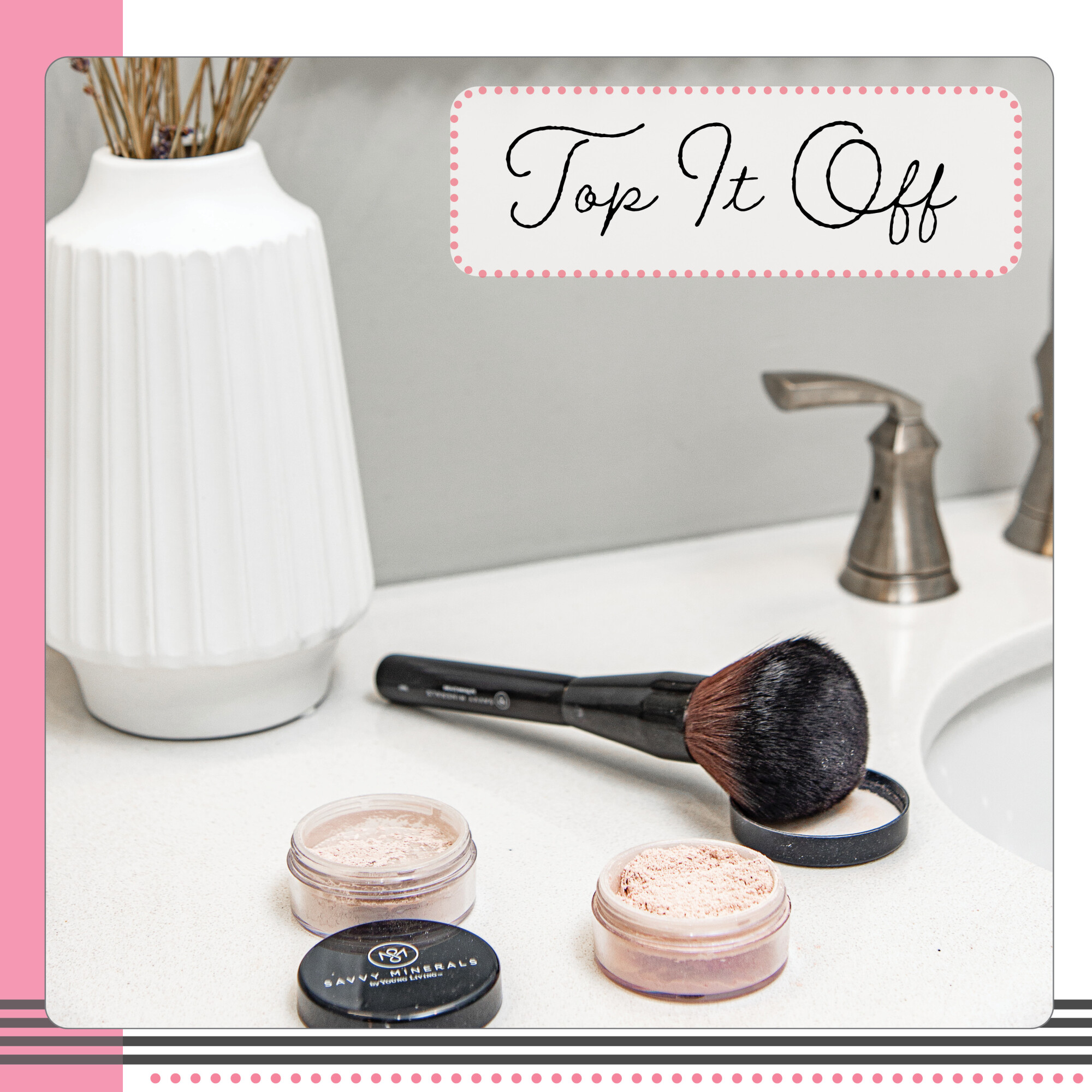 Let's top off that beautiful Savvy face with Veil - a mineral setting powder. Apply this smooth, mineral-based formula with ease; it absorbs excess oil while blurring fine lines and pores for an airbrushed look. Highlight your best features with the illuminating Diamond Dust Veil. It's perfect for all skin tones and will give you that glowing complexion you want all day!
Check out this blog post from Young Living: "How to Contour in 3 Simple Steps". You'll use your Savvy Bronzer, Misting Spray, and Veil. https://www.youngliving.com/blog/how-to-contour-in-3-simple-steps-with-savvy-minerals/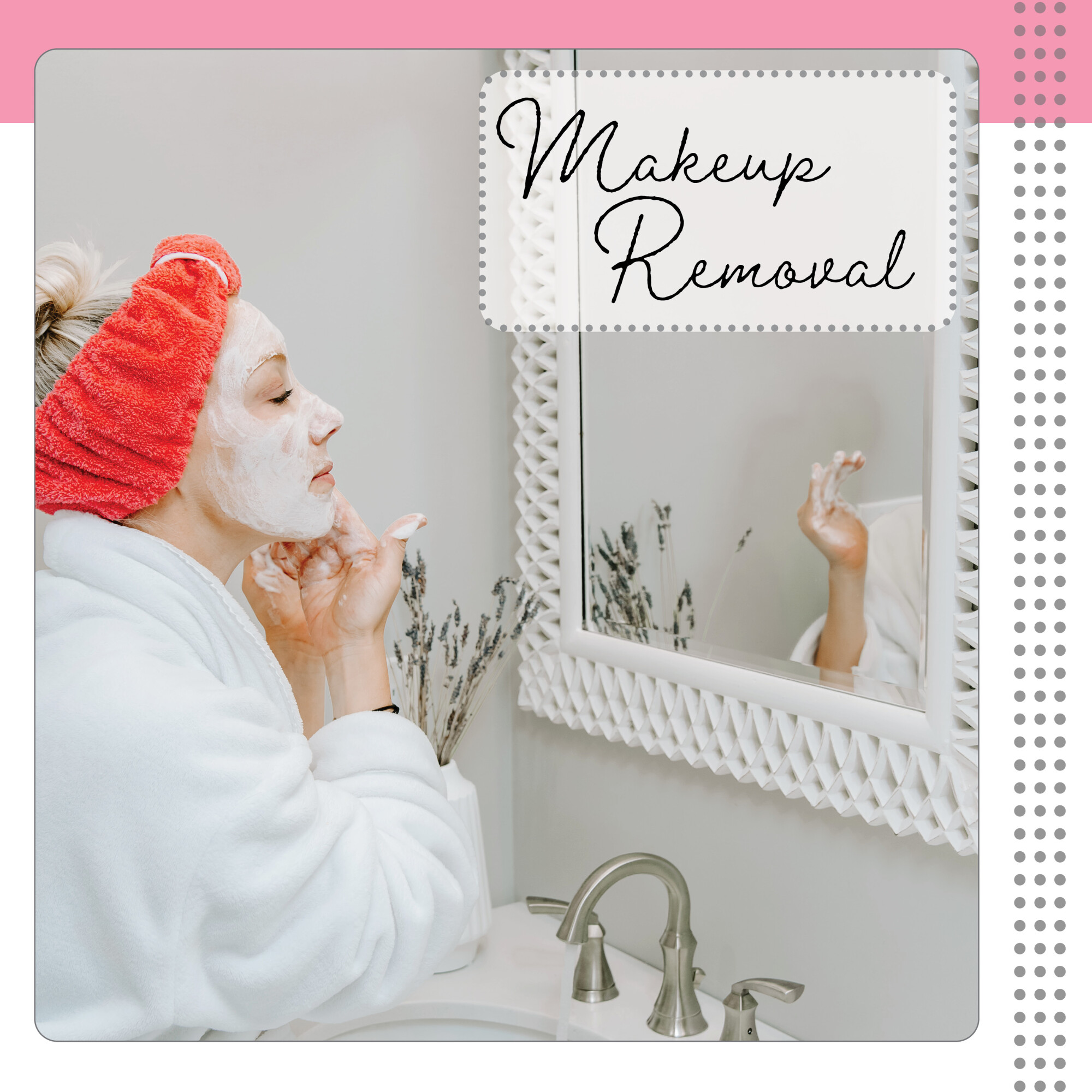 Now that you've rocked your Savvy face all day it's time to take it off. The best way to remove Savvy Minerals is with naturally derived makeup remover wipes. Thankful Young Living has those! They gently and effectively remove makeup and leave your skin feeling soft, clean, and refreshed. Convenient packaging and a rinse less formula make these wipes handy for traveling or for throwing in your purse while on the go. In a clinical study, 99.9% of participants said Savvy Minerals Makeup Remover Wipes were effective at removing dirt and makeup. How awesome is that?!
If you've got access to a sink and would rather use good ol' fashioned soap and water to remove your Savvy Minerals, you can do that too. Try this luxurious DIY recipe and whip up your own…
DIY Honey Helichrysum Face Wash
1 T coconut oil

3 T honey

1 T apple cider vinegar

2 capsules of Life 9 probiotic

10-20 drops Helichrysum
Mix together and store in a glass container. Use one or two-finger scoops, rub over the face and neck, and then rinse.
Young Living has MANY options when it comes to makeup removal and facial care. Let's take a look at one of their most popular lines next!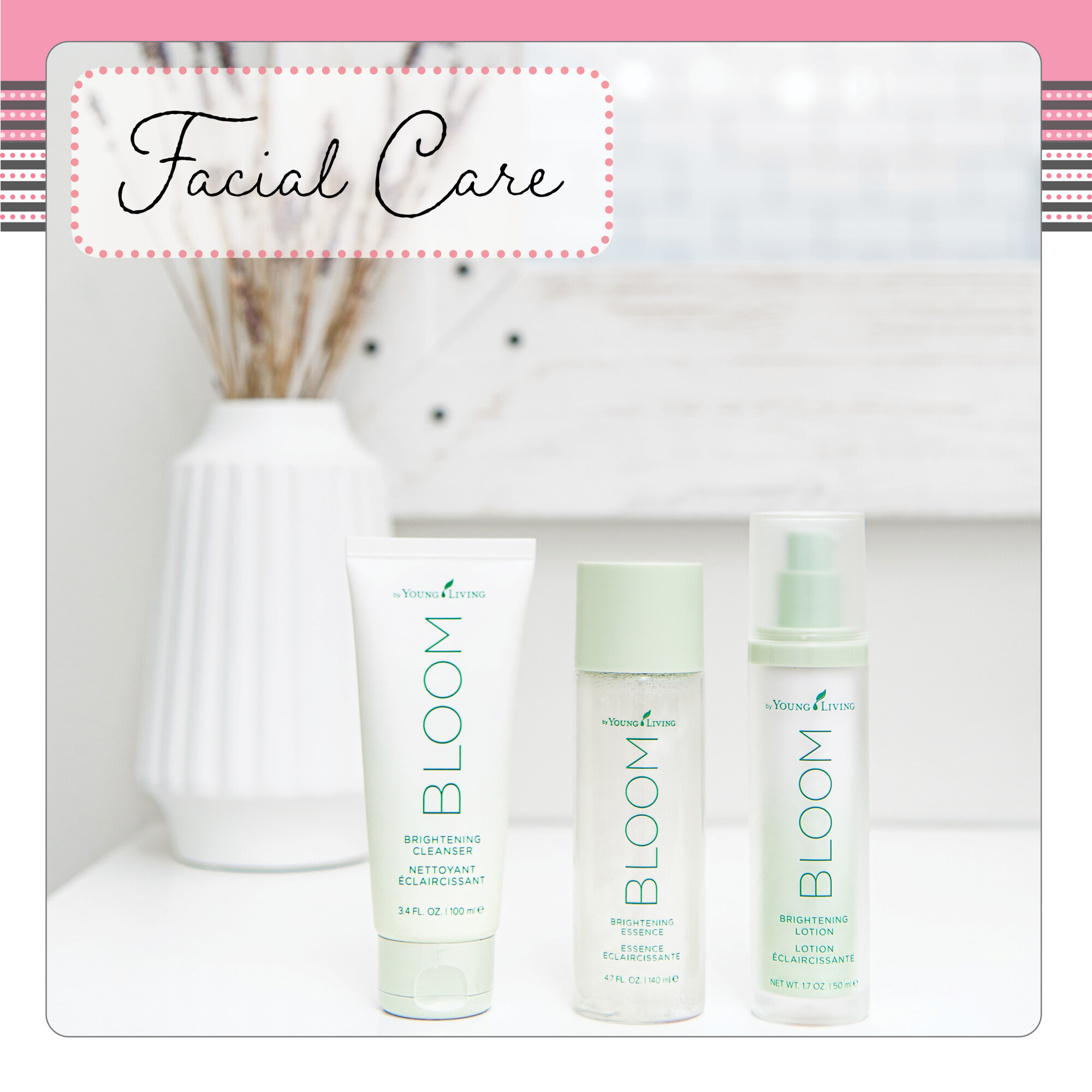 Have you heard of Young Living's BLOOM Collection? The BLOOM by Young Living Brightening Skin Care Collection is infused with the most advanced natural ingredients available to brighten the skin's appearance and add natural radiance. BLOOM products are formulated free of synthetic fragrance - just one more expression of their unwavering commitment to clean beauty. Featuring the Sheerlume Brightening Complex, the BLOOM Brightening Collection is loaded with antioxidants to help intensify hydration, minimize the appearance of future damage, and help improve the appearance of an even skin tone.
The BLOOM collection is formulated with pili pulp oil sourced directly from the Happy Pili Tree Farm and Distillery in the Philippines, cultivated and crafted according to Young Living's exacting Seed to Seal quality commitment. Native to Southeast Asia, pili pulp oil offers major moisturizing benefits for the skin. Amazing!
The collection consists of these three products:
BLOOM Brightening Cleanser

BLOOM Brightening Essence

BLOOM Brightening Lotion
The Brightening Cleanser is a naturally derived facial wash that reveals radiant skin and leaves your face feeling fresh and smooth. It's powered by plumeria flower extract, sodium hyaluronate, and pracaxi seed oil that helps to both cleanse and hydrate the skin.
The Brightening Essence is a luminous, gel-textured essence that infuses moisture into the skin, refining skin's look and texture. Its pH balance-restoring formula supports skin barrier function, reduces the appearance of pores, and leaves your skin refreshed and radiant.
The Brightening Lotion features the Sheerlumé Brightening Complex and is infused with the most advanced natural ingredients available, brightening the skin's appearance while boosting natural radiance.
Also - on the inside of every BLOOM by Young Living carton, you'll find a color and cut-out flower activity to encourage the reuse of packaging and to help spread the message of reducing waste. How incredible!
Have you heard of Young Living's Orange Blossom products? Currently you can purchase the facial wash, the moisturizer, and the charcoal bar soap. They smell incredible!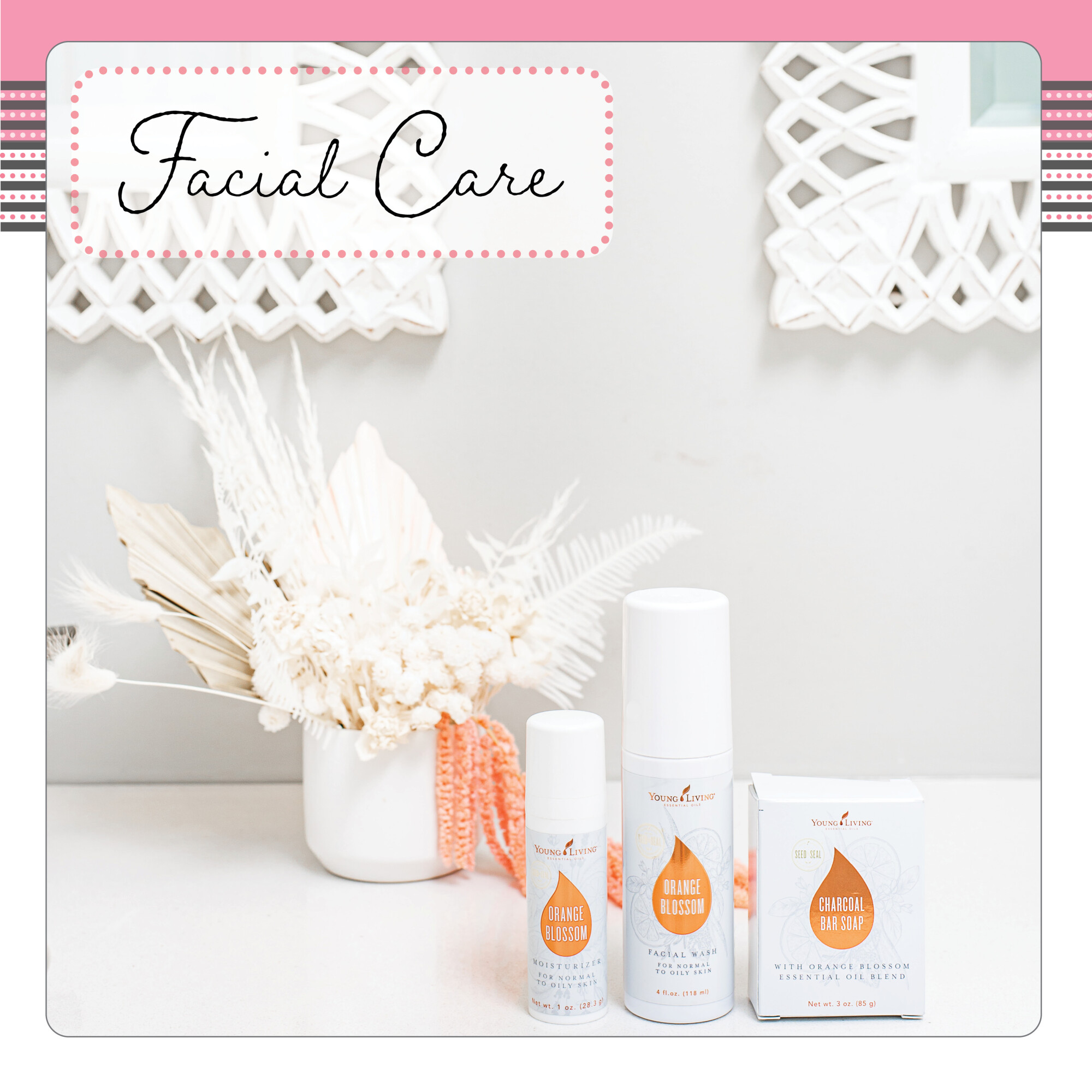 The Orange Blossom Facial Wash is made from 100% naturally derived ingredients. It reduces surface oils and removes dirt and makeup without making your skin feel overly dry or tight.
Made for oily skin, the Orange Blossom Moisturizer improves the appearance of skin without irritation from harsh chemicals. It uses only naturally derived, plant-based ingredients that are non-comedogenic and vegan friendly. It helps skin maintain optimal moisture balance, controls excess oil and shine, and preps your face for makeup with its natural-looking matte finish.
Young Living's Charcoal Bar Soap pulls out dirt and impurities without stripping the skin's natural moisture barrier. Its naturally derived formula includes powerful skin-cleaning agents, moisturizing ingredients, and the bright, fresh scent of our Orange Blossom essential oil blend. Use it for your body to cleanse and deodorize or add it to your skincare routine. The unique benefits of charcoal soap make it an especially suitable face soap for combination, oily, or acne-prone skin to help maintain a clear, healthy-looking complexion.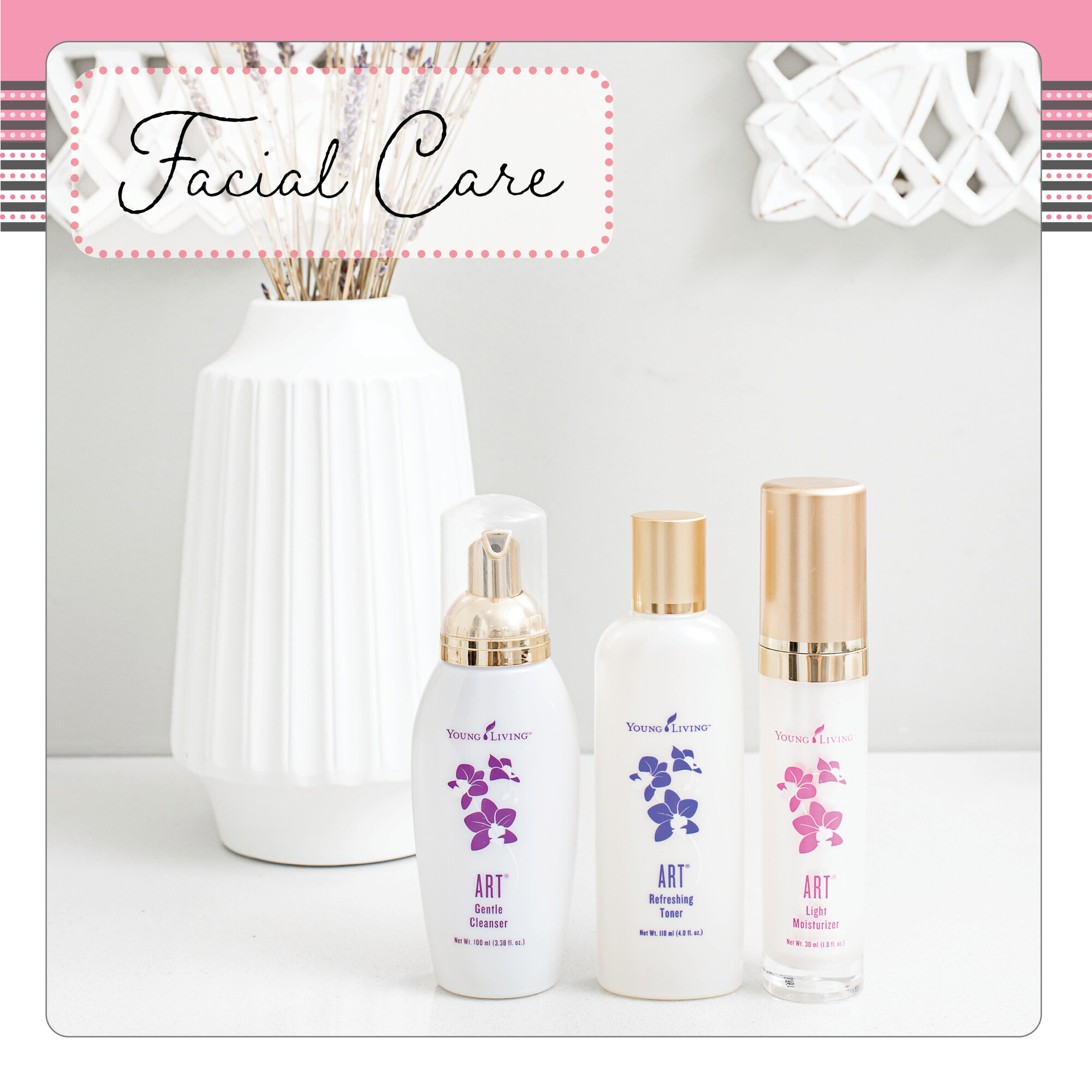 Have you heard of Young Living's ART Skin Care System? It consists of three luxurious products you are sure to love - the ART Gentle Cleanser, the ART Refreshing Toner, and the ART Light Moisturizer. They can be purchased in this convenient bundle or individually.
The ART Skin Care System uses naturally derived ingredients to safely and effectively cleanse, tone, and moisturize your skin to enhance your natural beauty. With innovative, wholesome botanicals and efficacious, skin-loving essential oils, this system can serve as a foundation to your personal regimen. Much like an artist prepping a canvas, Young Living's works of ART will leave your complexion feeling refreshed, renewed, and absolutely radiant.
The ART Gentle Cleanser promotes glowing skin by washing away impurities with a soft, gentle lather. The ART Refreshing Toner can help balance your skin's pH levels, reduce the appearance of pores, and completely remove any residual particles that cleansing may have missed. The ART Light Moisturizer delivers lightweight moisturization and helps reduce the appearance of fine lines and wrinkles. It helps your skin retain and maintain proper hydration throughout the day or night. I'm telling you - your face is going to feel amazing!
There are a few more ART products that are sure to complement this collection. Check them out here: https://www.youngliving.com/en_US/products/c/beauty/art.
Click below for a

printable

Yes and No List of Ingredients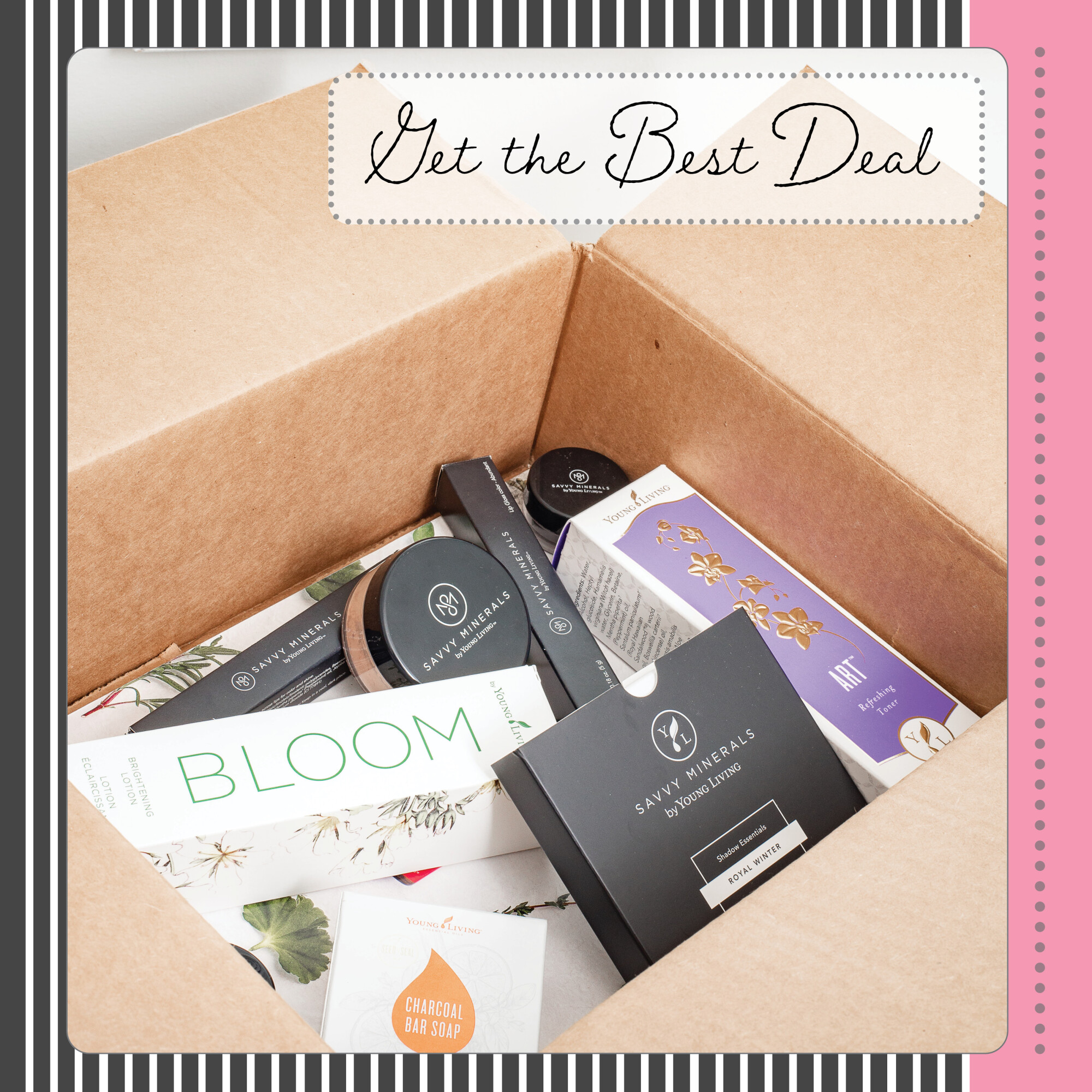 I know, I know, you want to know where you can get these products that are setting new standards in clean beauty products. There are several changes happening at Young Living, they are revamping and updating more choices to get these life-changing, healthy, clean products.
Right now the current options are below. Click the link to learn more.
Wow, that was a ton of information! What we put on our face and body is so important. You don't have to choose harmful, harsh toxic chemicals. Savvy Minerals is setting the new standard in clean beauty. JOIN US
Side Note
: I am not a doctor. I am not here to diagnose, treat, or prescribe things to you. Also, if you know someone who could use this information and you would like to share this content with them, you will need to join GROworkspace as a paid subscriber or have purchased this class content. GROworkspace saves me so much time and makes building a business possible. Check out their resources with a FREE week trial on their Premium Bundle Plan. Sharing this content without a paid subscription to GROworkspace is subject to copyright infringement.