Oct 15, 2019 06:35 AM Central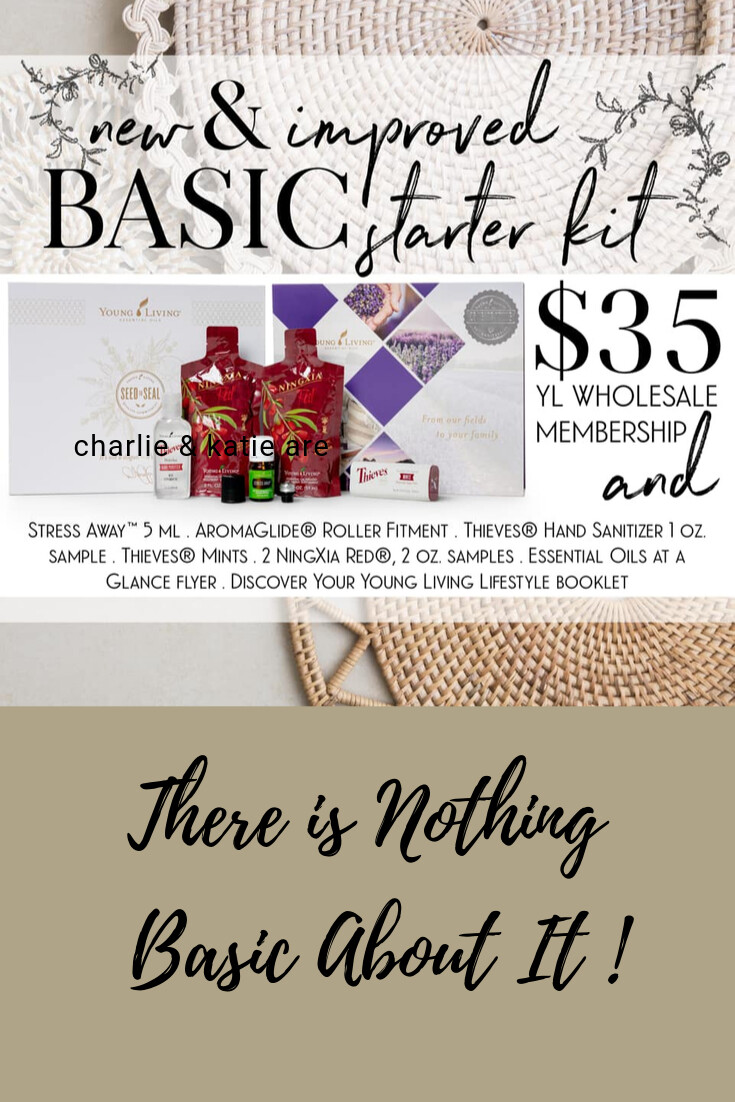 If you are have been on the fence about starting with Young Living essential oils then the new improved basic starter kit may be for you. Whoop whoop. You can grab it at http://bit.ly/mariewyl
I made this quick video about the basic starter kit and what it is and is not.
Fast takeaways from the video:
** The basic starter kit gets you all the benefits as the premium starter kit. You will receive the wholesale discount and you can participate in the Essential Rewards program where you earn free products and a percentage back each month in reward points to spend.
** You will not get the 12 oils like you do in the premium starter kit. These starters' kits are 50% off. These kits are the biggest bang for your buck over
the long run.
**
If you want to reduce the number of synthetic chemicals in your home but cash is tight--the basic starter kit may be for you.
** You can add a few other oils to your basic starter kit to get you rolling.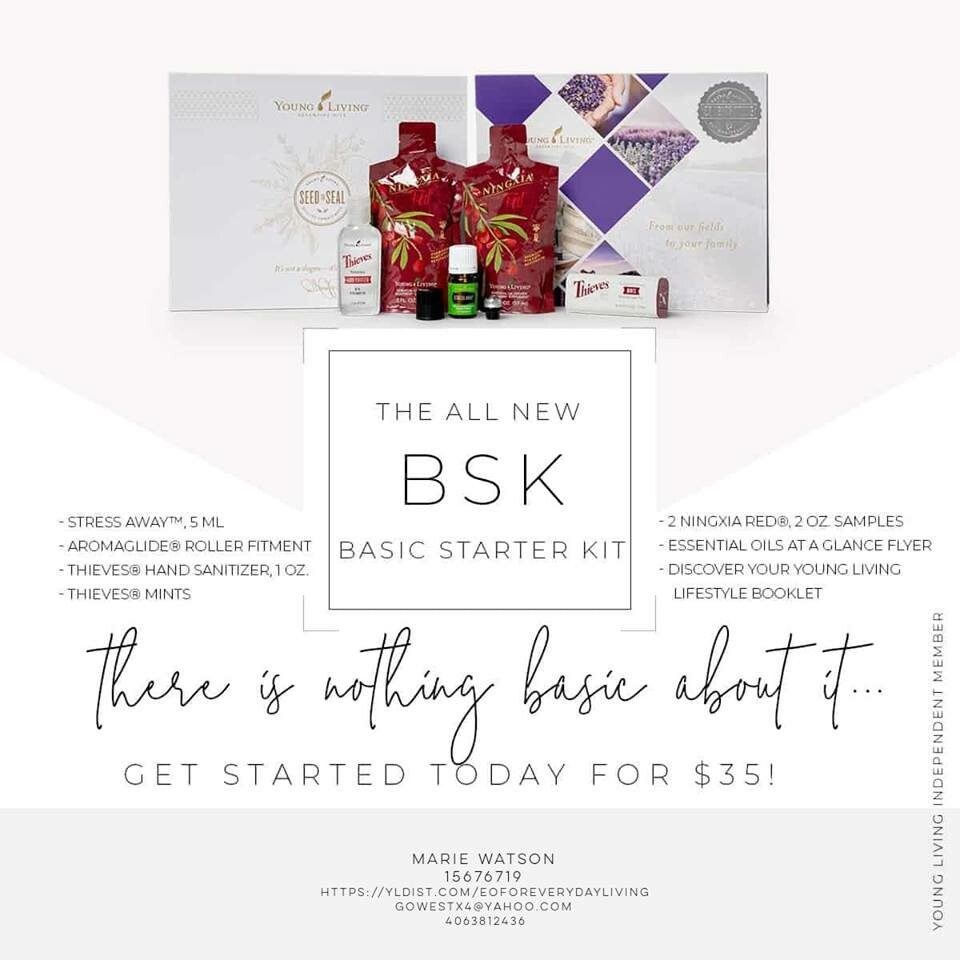 Oct 11, 2019 02:44 PM Central
Let's start by saying, It is possible to make a living with Young Living.
Your kids are grown and have lives of their own.
You have been in the same profession for years
You were a stay at home mom.
You homeschooled your kids.
You are tired, don't feel good and have no energy.
You know you need to make some changes to help you live above the wellness line.
You want to do something different. Shake things up a little bit.
You want to make some positive changes in your health and wellness.
You want to make healthier choices when it comes to products in your home.
You want to start a business of your own.
Look, I know it can be
overwhelming
With so much information out there you don't know where to start.
Simple steps every day to help you get where you want to be. There is beauty in a proven system where you don't have to reinvent the wheel.
Now let's do something different. Let's shake things up!!
A little history....don't worry there will not be a test!!
If you are ready NOW to start your account just skip on down toward the bottom for my referral link---look at the incentives too!!
To understand just how good an opportunity the Young Living business can be for you and your family it is important to know the history of Young Living. Who started it and what kind of person were they. You want to make sure their values align with yours.
From the founder to the foundation, from oils to supplements, and from quality products to community support, you will learn how all these things combine to create a company committed to providing you with nature's best, and empowering you to be well, discover your true potential, and live a purposeful life.
Young Living's Mission -
Young Living Essential Oils honors its stewardship to champion nature's living energy - essential oils - by fostering a community of healing and discovery while inspiring individuals to wellness, purpose, and abundance.
Young Living's Vision -
To bring Young Living Essential Oils to every home in the world. Did you know that Young Living has over 6 MILLION global members? They must be doing something right.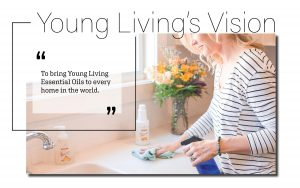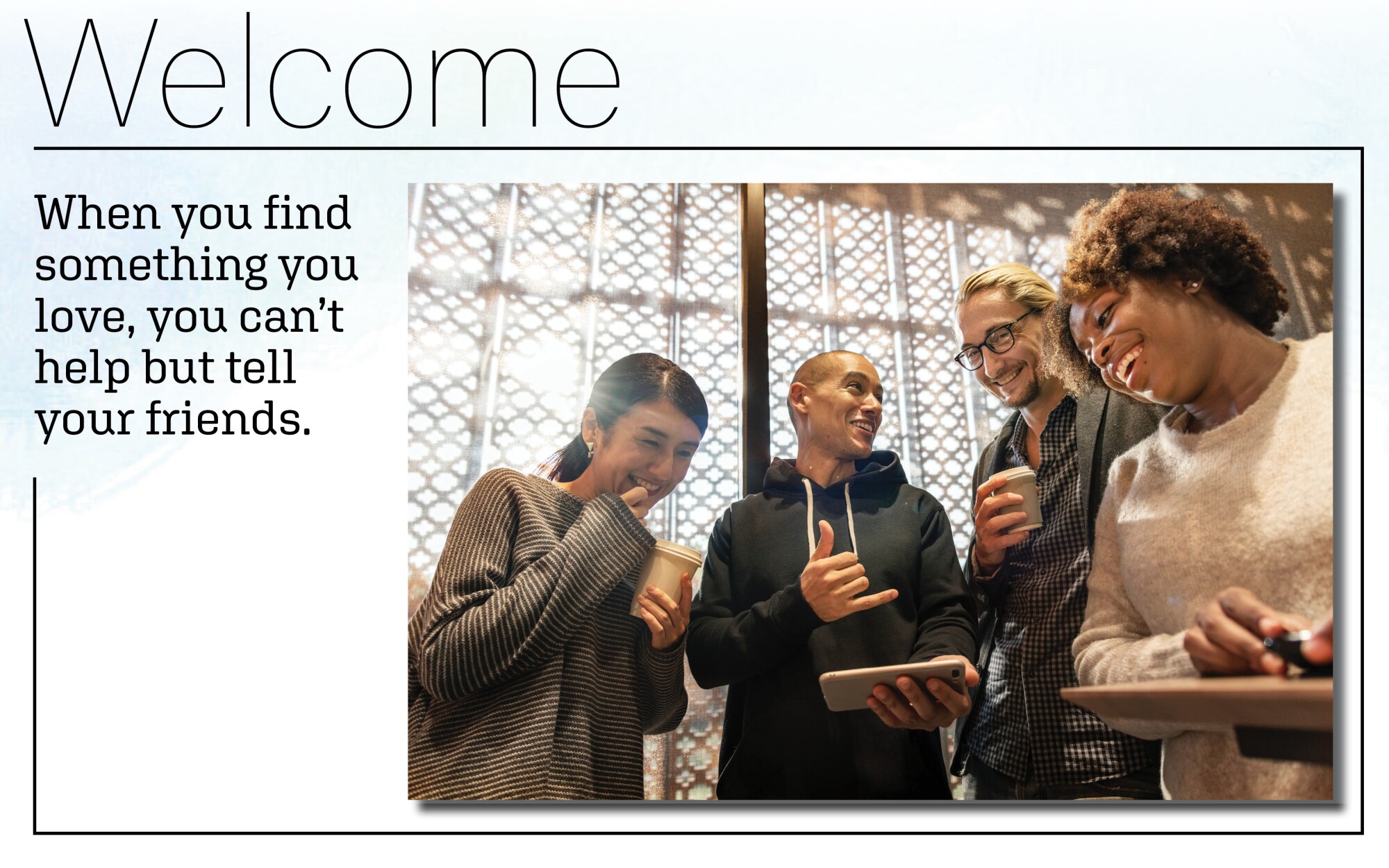 ---
"Necessity is the mother of invention."
When D. Gary Young found himself confined to a wheelchair with a prognosis that he would never walk again after a severe logging accident in 1973, Young Living was born, although this dream would not be fully realized until 21 years later. This led Gary to explore different avenues of healing, grow his knowledge of herbs, reconnect with his Creator, travel the world to learn about the production, usage, and application of essential oils, and bring his attention to the many other people also needing help.
Gary purchased farmland, planted crops, and built his own distillery. In 1994, along with his wife Mary, they began cultivating lavender, peppermint, melissa, clary sage, and many other herbs. He saw the need for top-quality essential oils, and he continued to grow and expand his knowledge, acreage, and technology. Coupled with Mary's previous knowledge of the direct-selling industry, together they grew Young Living into the world leader in essential oils and wellness solutions.
Through all of the success (and failure), there is one thing that Gary and Mary never lost sight of . . . the people.
Young Living...more than a business!!
Gary's heart for people shows through in the development of the D. Gary Young, Young Living Foundation, which is committed to empowering individuals to achieve their potential and to defy limitations by providing wellness and education opportunities to underserved communities. Every penny donated goes directly to those in need because 100% of the administrative costs are covered by Young Living. Donating can be as simple as rounding up your order to the nearest dollar. Over 250,000 individuals have been impacted by the work of the Foundation.
Young Living is more than just a way to make money. It gives back in service to others all over the globe. You can be a part of it. Change your family's life and then help to change others.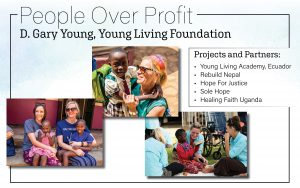 Why Young Living?
The Seed to Seal Promise--it's what makes Young Living the leader in essential oils. The one all other companies compare their selves to.
Seed to Seal is a quality commitment and promise Young Living makes to YOU. Seed to Seal consists of three pillars - Sourcing, Science, and Standards. These three are the foundation on which every product is built and everything that Young Living does. This promise ensures you can trust that Young Living is providing you with products of the highest quality and purity, free from synthetics. Quality and purity are important because that is what ensures that these products WORK
Sourcing - Products are sourced from corporate-owned farms, partner farms, and Seed to Seal-certified suppliers to ensure consistency, quality, and land conservation.
Science - With 50 highly-trained scientists, two corporate quality labs, and 12+ independent partner labs, Young Living does meticulous quality testing and retesting to ensure your products are as pure as nature intended.
Standards - Young Living ethically sources and produces pure ingredients and goes above and beyond to comply with local environmental standards and sustainable growing practices.
To learn even more about the entire Seed to Seal promise, check out here.
---
Because Young Living takes such great care in bringing you the highest quality products straight from nature, it has established farms around the globe for cultivating and distilling essential oils.
To see a complete list of all the farms including others in Mexico, Bulgaria, Australia, and the Philippines, visit: https://www.youngliving.com/en_US/company/about/younglivingfarms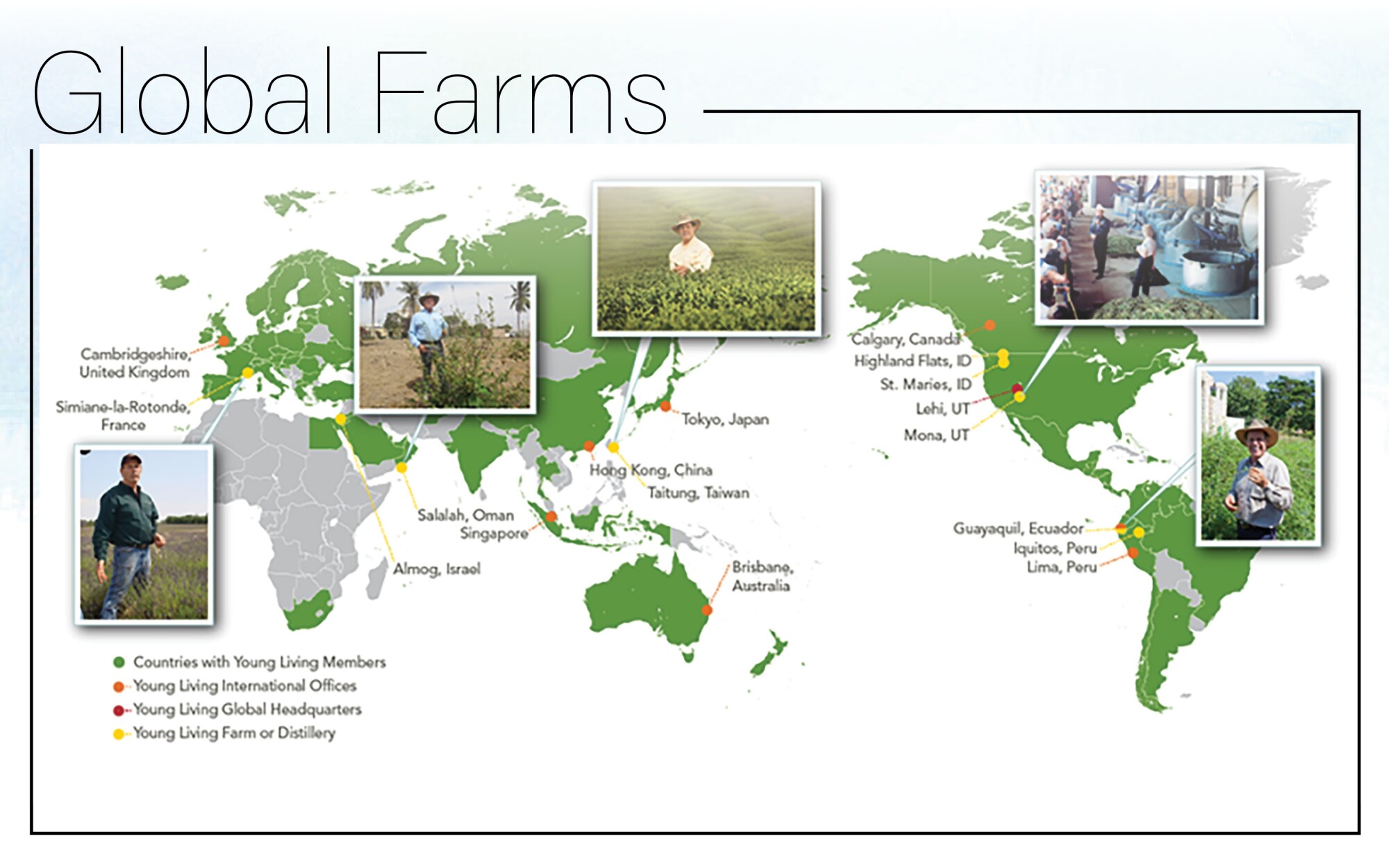 ---
Young Living is so much more than just essential oils. With the commitment to helping people experience real wellness, the company offers product lines for every member of your family.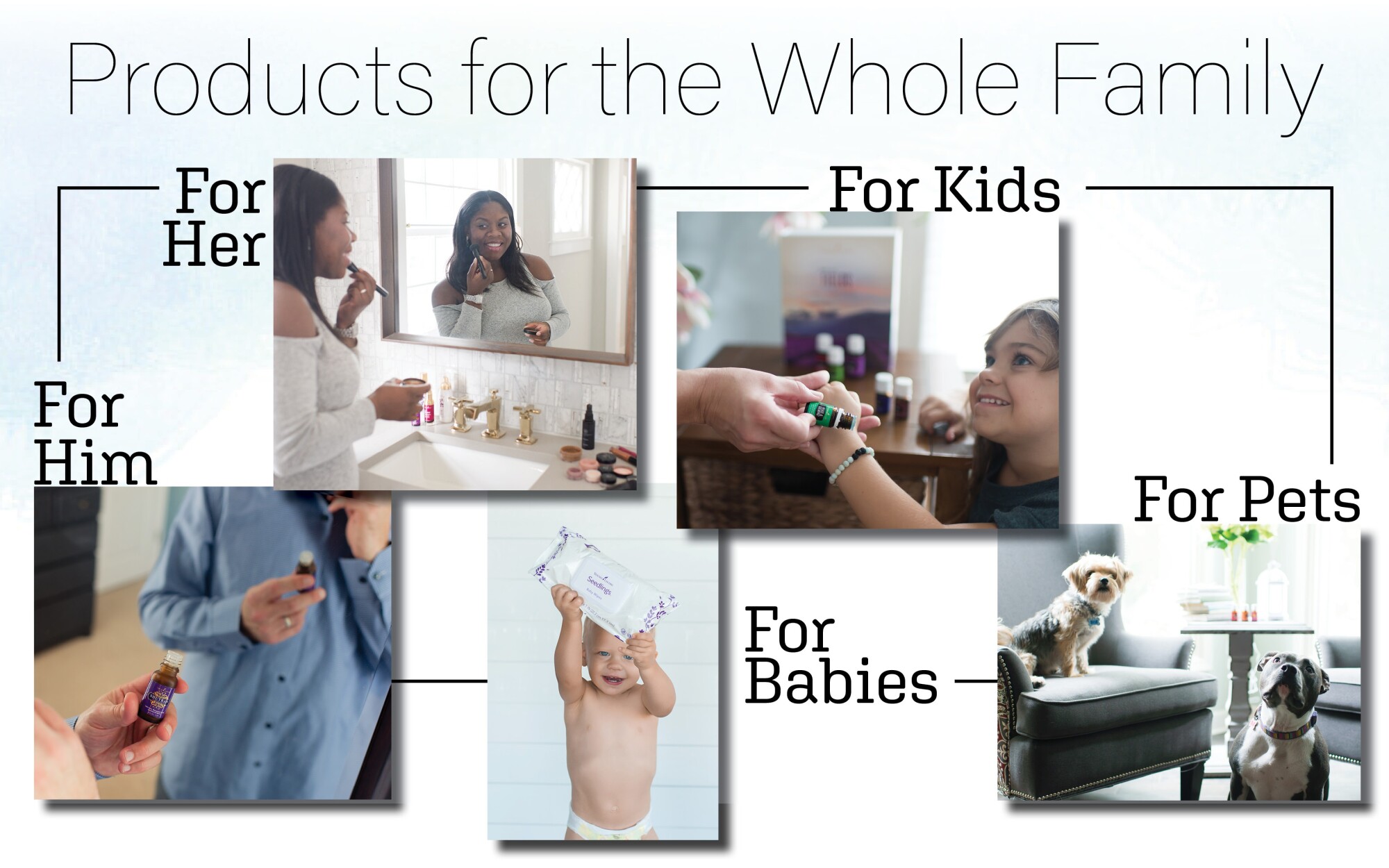 ---
Before you share Young Living with others it is important to know why you need to stop using commercial products that are chocked full of nasty synthetic ingredients that wreak havoc on our hormones and some are even known to be carcinogenic. You never have to worry about the ingredients Young Living uses. You can read more about that at https://www.youngliving.com/blog/australia/ingredients-youll-never-find-in-yl-products/
Eighty-four thousand chemicals are legal for commerce in the US, all essentially unregulated.* Many of these are found in personal care products and cosmetics. Young Living carries a full line of targeted personal care products that will cleanse your skin, support healthy teeth and gums, and leave your hair shiny and clean - all infused with powerful essential oils and no harsh chemicals.
-Shampoo and conditioner
-Shower gel and bar soap
-Toothpaste and mouthwash
-Facial cleansers and shaving cream
-Moisturizers and wrinkle cream
-Lotion and body butter
How many different personal care products do you use on a daily basis?
*https://articles.mercola.com/sites/articles/archive/2015/06/06/chemical-exposure.aspx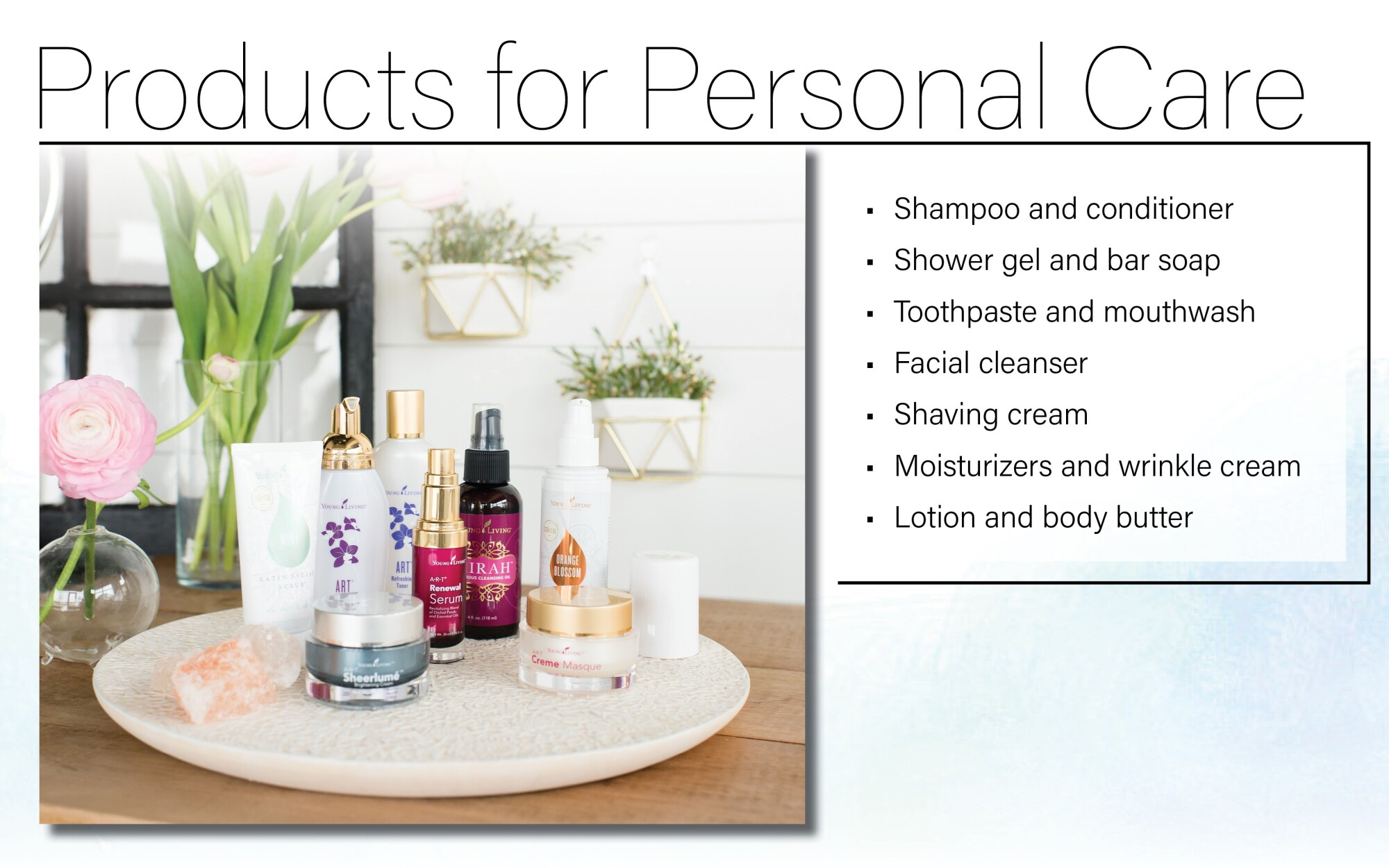 ---
You are the gatekeeper of your home. You have the power to choose what you allow in. Americans can spend as much as 90% of their time indoors, so the fewer chemicals we allow into our home, the better.
Not ready to get your starter kit just yet? No problem! Head over to our Facebook group, hang around and learn a little bit more. https://www.facebook.com/groups/oilyvibes4u/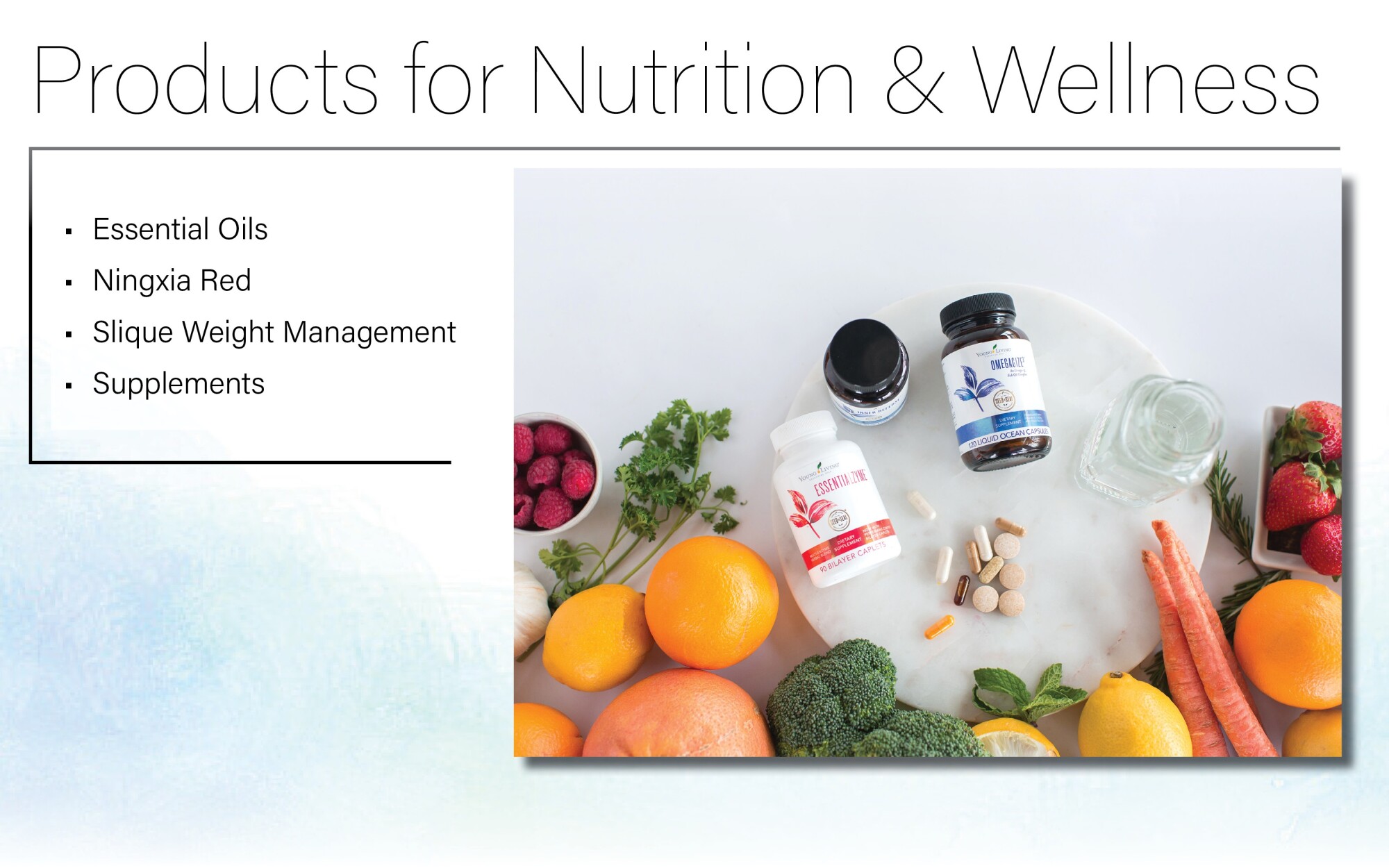 ---
When you embark on a journey to live a life filled with wellness, purpose, and abundance, it takes more than just one drop of oil to get you there. Embracing Young Living is embracing a lifestyle - making a commitment to better choices for you and your family and helping others do the same thing. When you do this, you will reap the rewards.
The first step to starting your own Young Living business is to start your wholesale membership.
You can do that at http://bit.ly/mariewyl.
There are several different types of starter kits to choose from. You can see all of those at http://marieinmontana.com/#feature-area
The starter kits are a great deal. You will save 50% off the retail price.
Preferred Customers make up 89.5% of Young Living members. These are people just like you and me who have decided to embrace everything that Young Living offers and enjoy all the member benefits, some of which include:
~A discount of 24% on all the 600+ life-changing products
~Access to a full library of resources
~The ability to join Essential Rewards and take advantage of convenient monthly shipments, free/reduced shipping, free promotional products, and points back on every order that can be redeemed on a future purchase.
You could stop right here and never share with anyone and that's okay but you are here to learn how to make a living with Young Living so this is the cool part.
Young Living does not pay to advertise. They don't have to that's what they pay us for. Word of mouth is the best way to advertise hands down. Once you start reducing toxins and learning more about the amazing Young Living products you will want to share it with others. It's just what we do, right?
Business Builders make up 10.5% of Young Living members. Don't let that term scare you. These are people just like you and me who cannot help but share with others the difference Young Living has made in their lives. As a result, others are empowered to begin their own wellness journey. When this happens, Young Living's generous compensation plan kicks in to create the opportunity for you to earn an additional income. See the chart below for income potential.
To learn more about the income opportunity, go to www.youngliving.com/ids
Click the link and take a peek at the income disclosure statement. Then, come back here and let me know which member rank would be life-changing for your family.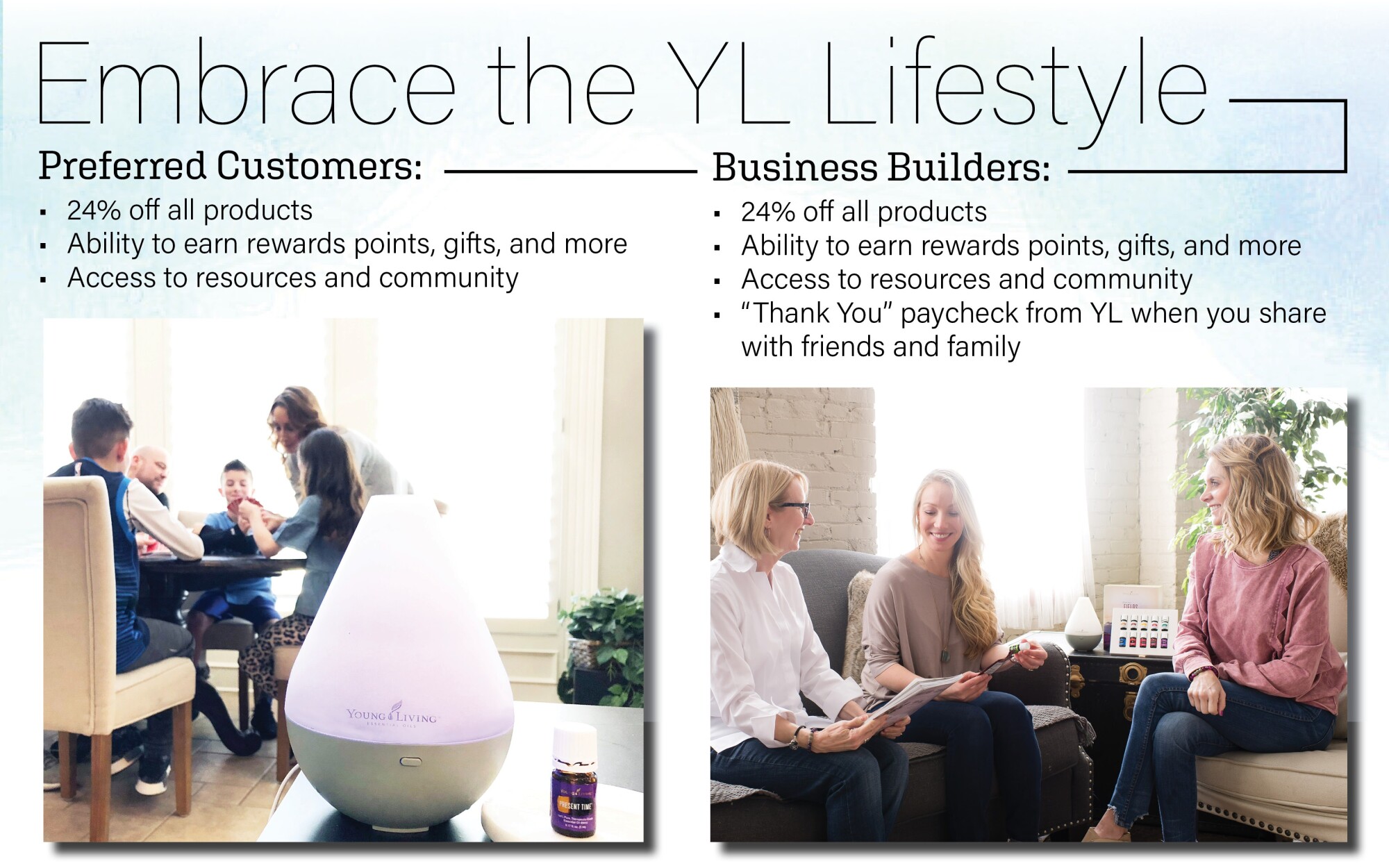 Building a Young Living can be as easy as 3 steps!!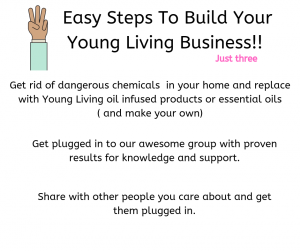 Why would you want to build a Young Living business? In dolla bills, this is why!!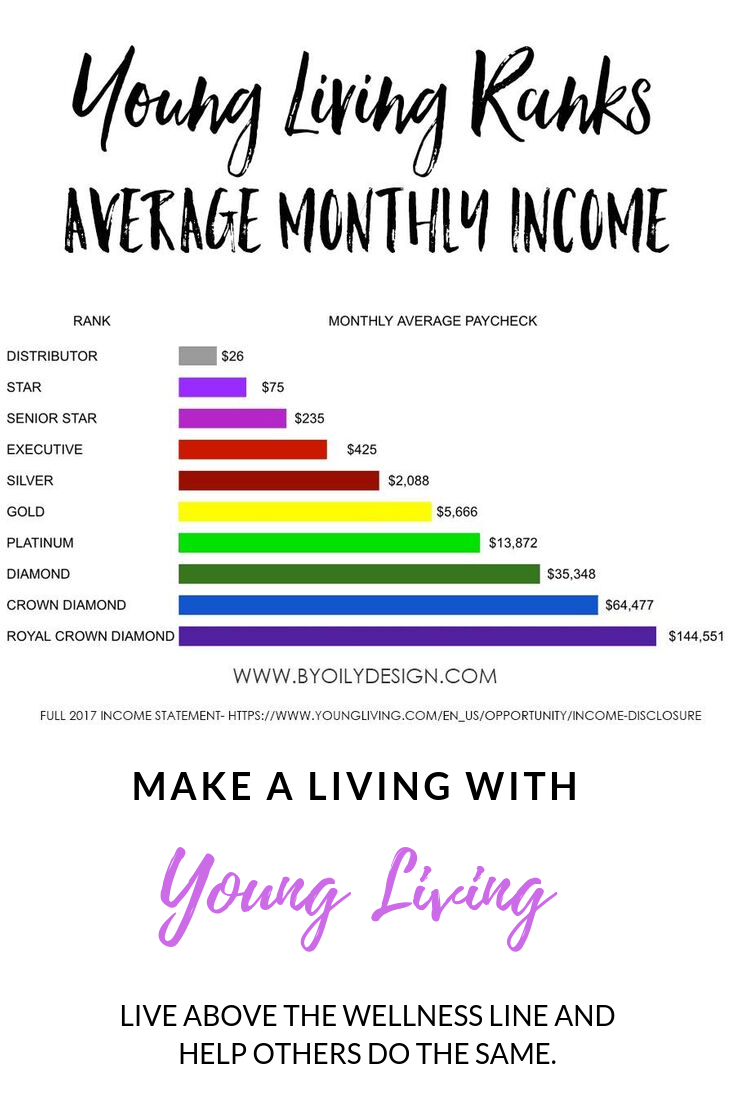 So many people get hung up on network marketing or direct sales. I am convinced though it's because they really don't know the facts. They don't know that they can start a "real" business and actually make a living with Young Living by changing a few things in your life and live above the wellness line yourself and then helping others do the same. Watch this short video for more information.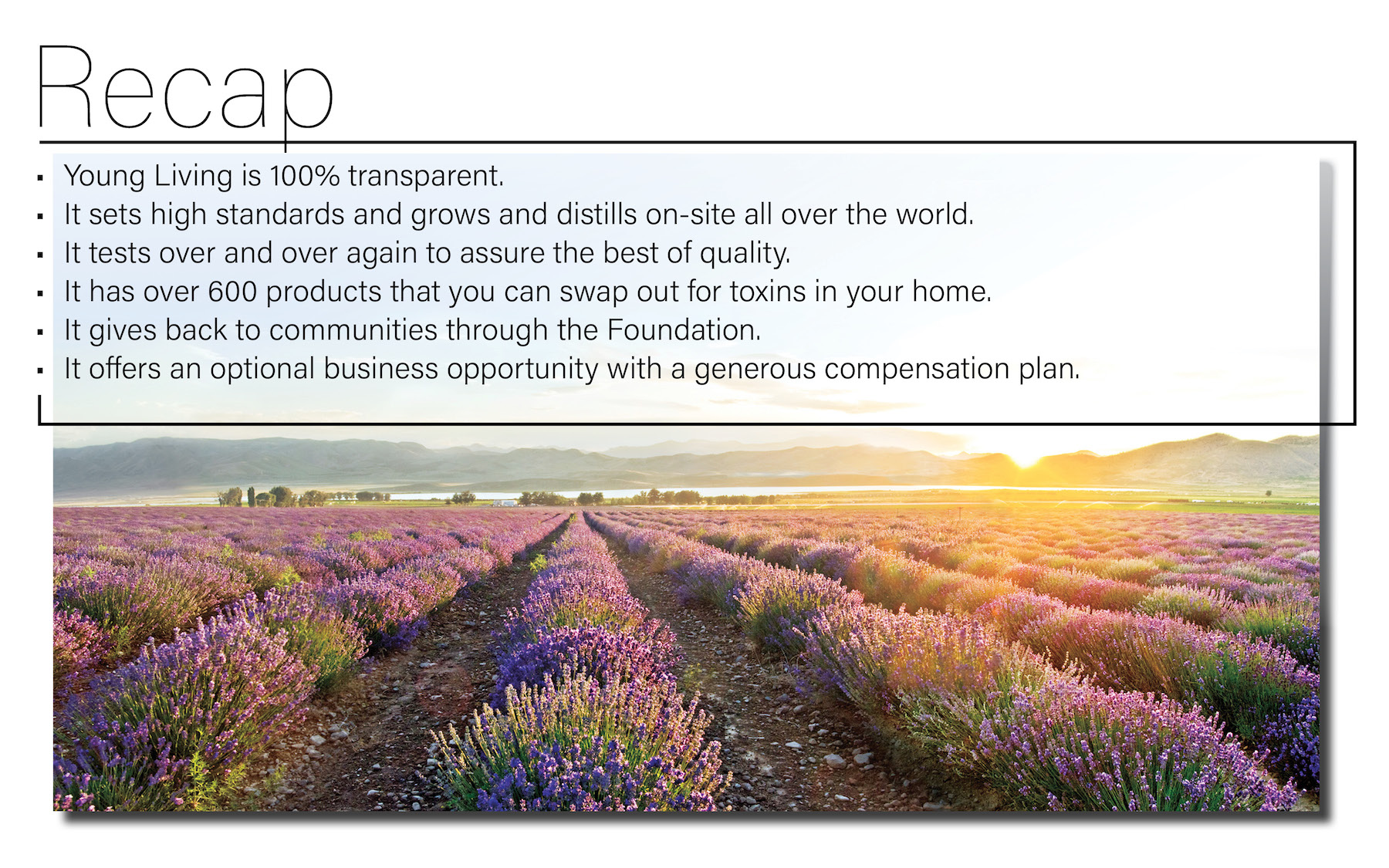 ---
If you aren't already part of this amazing family, I would love to help you get started. Let's connect and work together to figure out your most pressing needs, and find a starter kit that will be perfect for you.
Once you order, I will get you started in our Facebook group where you will learn tons of information about essential oils and how to use them and business-building tips. I will also send you a welcome pack with everything you need to get started.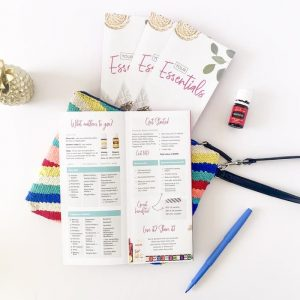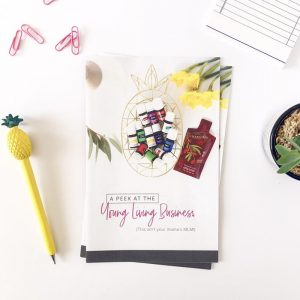 ** BONUS** If you use my referral link to start making a Living with Young Living, I will send you, The Essential Gameplan to help you get started quickly and IGNITE your business. If you just want to start a wholesale membership and are not interested in a business( which is cool by the way). I will credit your account $10 to cover shipping. You must use this link http://bit.ly/mariewyl.
You must contact me to tell me you started in response to this special so I can send you the book or credit your account. You can message me right from here or email me at outandaboutstyles@ gmail.com.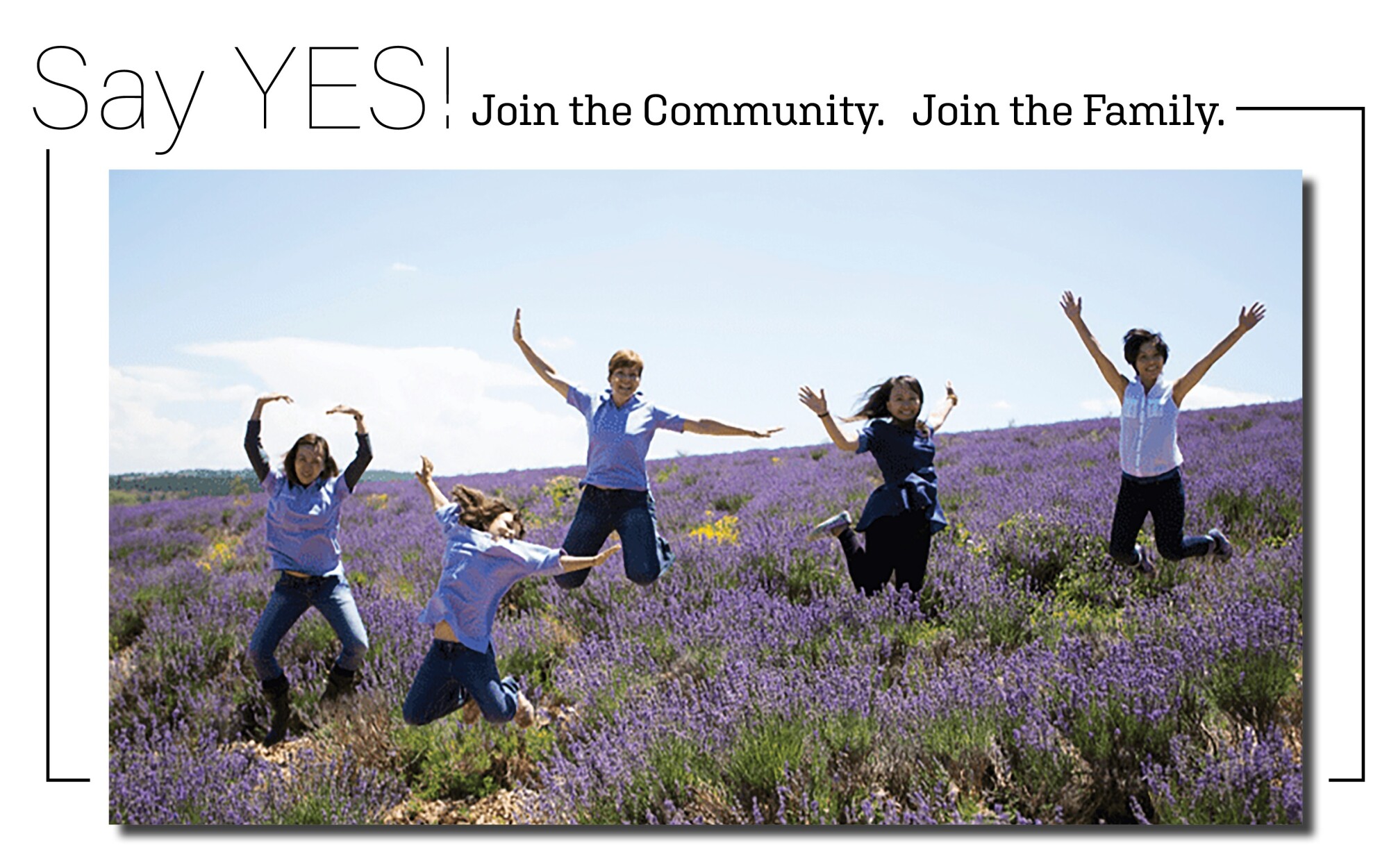 If you are ready to start your wholesale membership today, you can use my referral link http://bit.ly/mariewyl
---
Until Next Time,
Marie