Sep 30, 2020 09:19 PM Central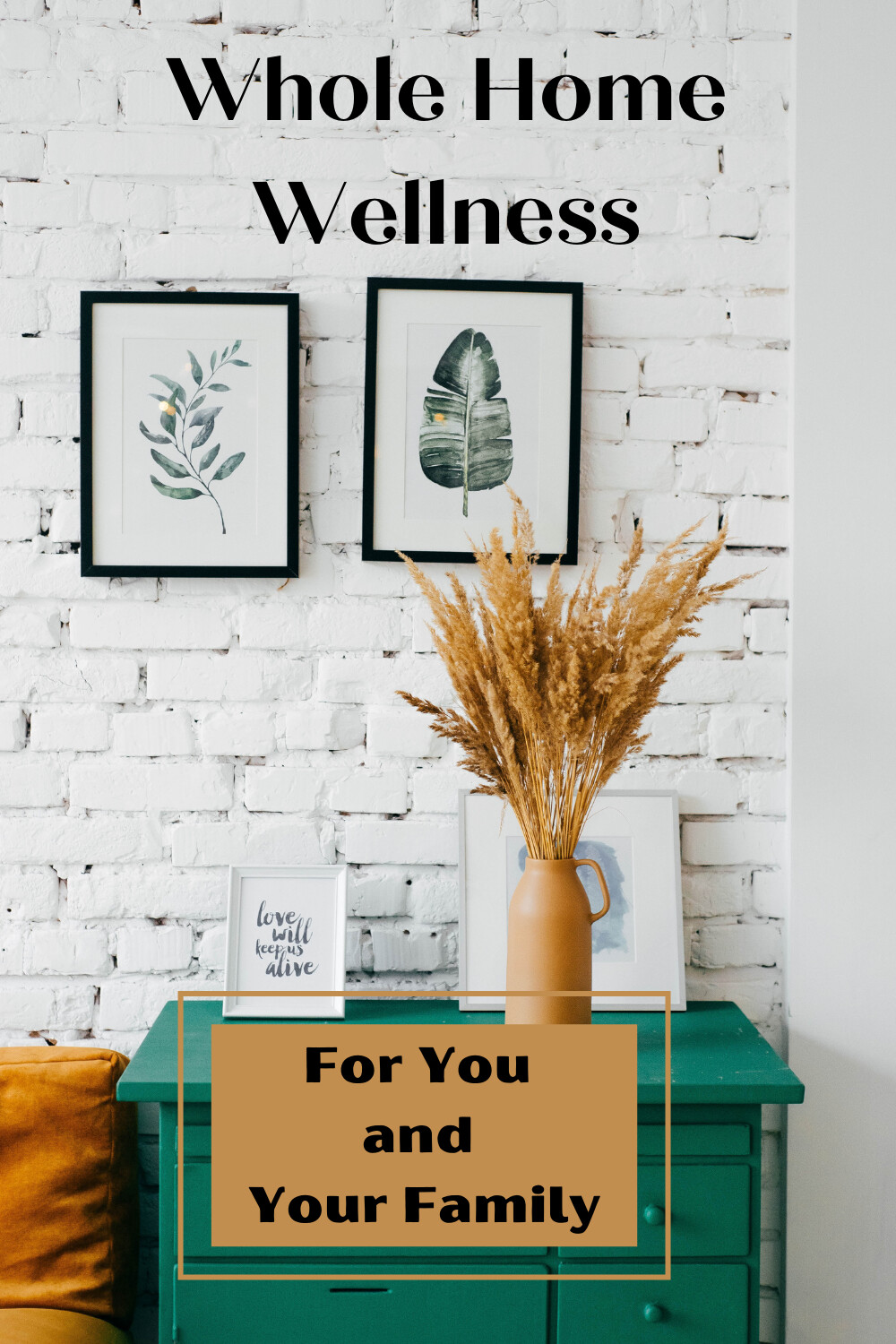 Whole-Home Wellness For You and Your Family
Creating a better quality of life for our families doesn't have to be complicated. If you are ready to start on a path to cleaner living and whole-home wellness, you are in the right place.
You would be surprised at the number of harmful chemicals in the products that we breathe in and apply to our bodies daily. Literally, hundreds before breakfast ALONE (especially women). We are exposed to chemical combinations all day every day and no safety data exist on these. It's impossible to know how much damage we are doing to our bodies. Have you ever started coughing immediately after using a cleaning product? Yea, me too!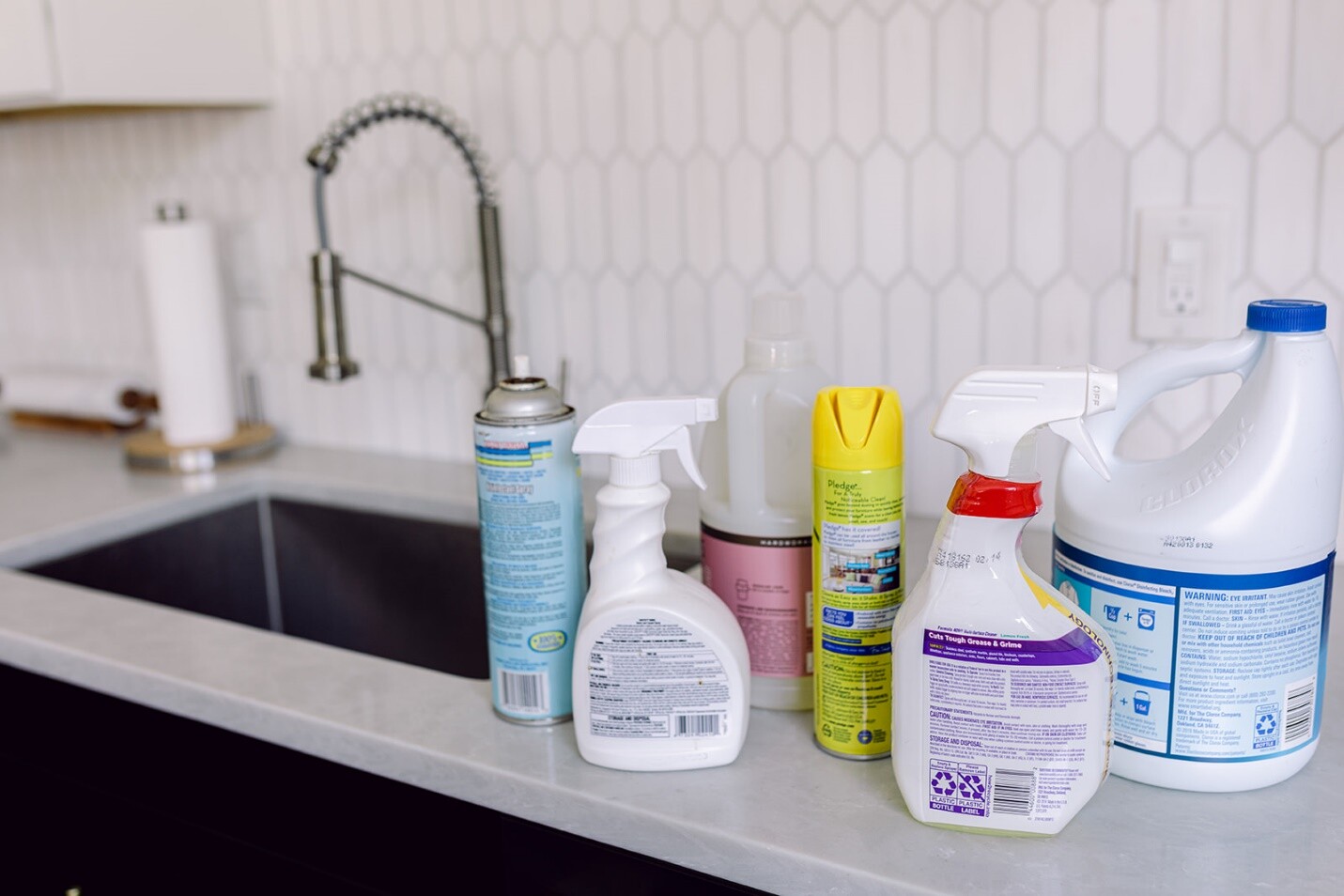 Even if we do not feel an immediate reaction, we are not in the clear y'all. Over time, these chemicals build up and create a toxic overload. Many of these chemicals are synthetic—that means they are FAKE. Our bodies do not know what to do with them. Our liver, our bodies filter is overworked, our hormones are out of whack and our body can be out of balance and cause a whole host of problems like eye and throat irritation, headaches, respiratory issues, allergic reactions, worsened asthma, and possibly even cancer. Yep, you read that right.
I was shocked when I learned what was being used in so many of my favorite products.. Don't think that some brands that say "natural" or "toxin-free "are safe. Always check your labels. Here are just a few to look out for.
SLS—Sodium Lauryl Sulfate—cancer neurotoxicity, organ toxicity, skin irritation, endocrine disruptors (hormone/thyroid).
Benzisothiazolinone—eye and skin irritation.
PEG-2 Cocomonium Chloride—evidence of cancer, developmental/endocrine/reproductive effects; damage to DNA.
Methylisothiazolinone—possible neurotoxicity, nerve damage, lung toxicity, and allergic reactions.
Phenoxyethanol—eczema, life-threatening allergic reactions.
Fragrance—this is a BIG one y'all!! An undisclosed chemical cocktail—trade secrets.
A WHOPPING 12,500 ingredients fall under the umbrella word, FRAGRANCE on a label.
Manufacturers are not required to list their fragrance ingredients on product labels.

Often only one-word 'fragrance" or "parfum" is used on the label and can hide a cocktail of more than 100 ingredients.

75% of fragrances contain phthalates which have been linked to cancer, infertility, pregnancy loss, and birth defects.

Fragrances are common triggers of asthma, migraines, allergies, and sinus problems.
Fragrances are linked to so many profound health risks that avoiding them is probably the #1 change you can make to reduce your family's exposure to toxic chemicals. It only takes 26 seconds for chemicals in your cleaners to enter your bloodstream through the skin, this includes EVERYONE in your home especially our kids since their little bodies are still developing. It is just not worth the risk!!
Why would companies do this? It's called Greenwashing, they mislead consumers about the health, safety, and environmental impact of their products. They use those cheap synthetic fillers that we talked about earlier. Some popular brands in candy-colored bottles seem eco-friendly, quirky, hip, and homemade—but hold up check the label.
We've all used products that aren't the best for us, but we can't let old habits dictate our future. Companies are smart but WE are smarter and as the gatekeepers of our homes, WE get to decide what comes in. So, what can we do?
Thieves the Day my friend!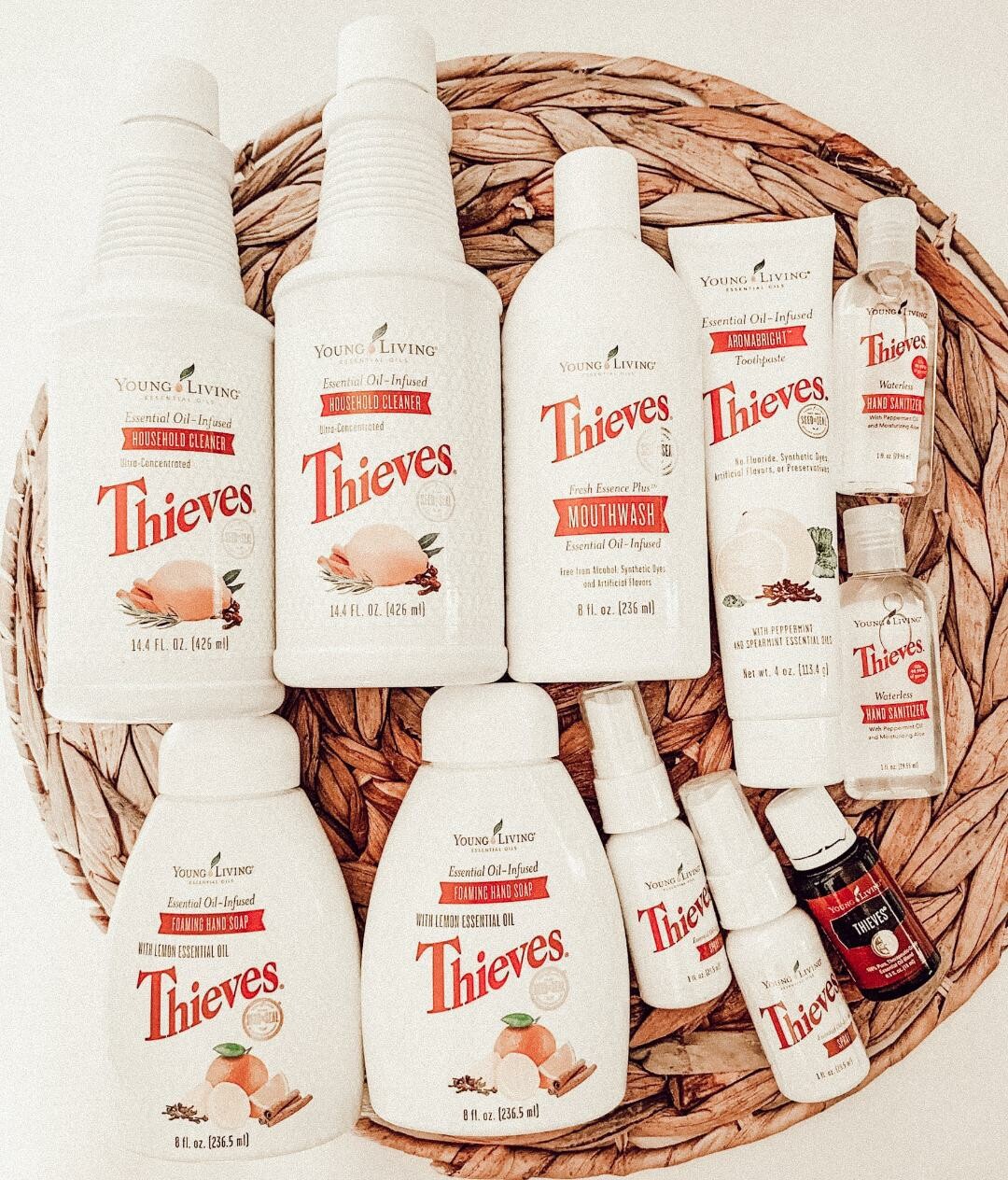 Thieves is an ultra-concentrated, versatile formula made with plant-based ingredients that can be used on virtually every surface in your home. Formulated with the power of Young Living's Thieves oil blend, you can get a deep clean without dangerous or synthetic ingredients. Thieves cleaner also includes the scent of Lemon essential oil for an even more uplifting aroma. Infuse your entire house with the power of Thieves with a whole line of Thieves products.
Thieves contain no harsh or dangerous synthetic chemicals that need to be rinsed after use. Thieves is safe for septic systems, pets, and children. BONUS, you can have your kids clean safely and easily. Just one capful of Thieves Household Cleaner to 2 cups of water will cost you less than $1 a bottle making it a healthy, thrifty choice.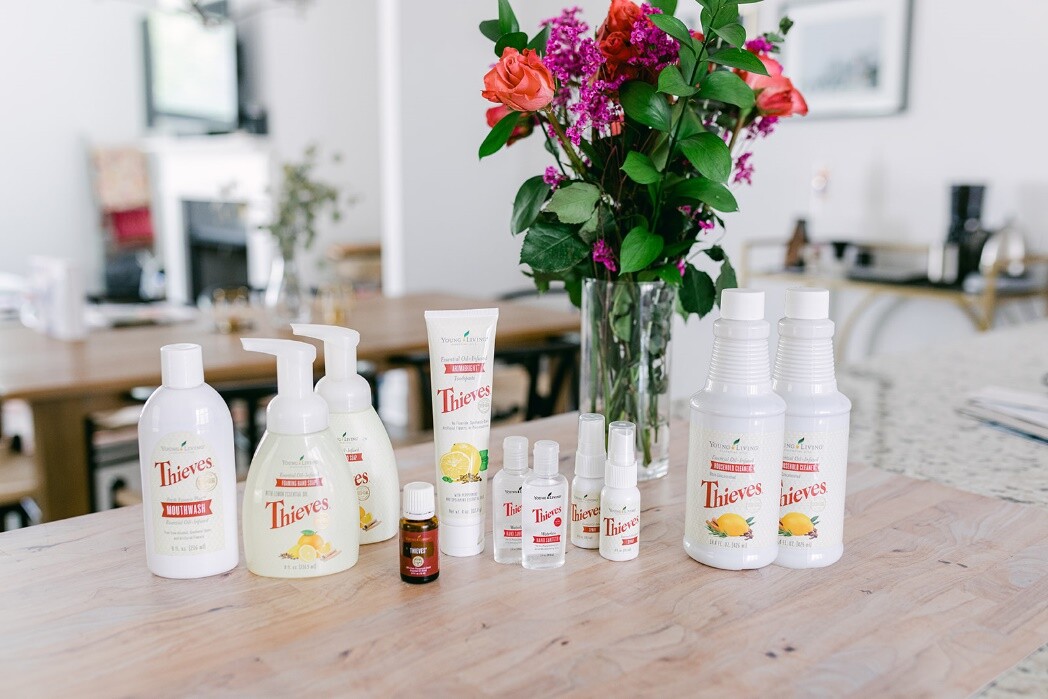 Using Thieves Household Cleaner is the single best thing you can do to reduce those harmful cheap synthetic chemicals that are so prevalent in most cleaners. This one step will lessen your toxic load allowing your body to function optimally, the way it is supposed to.
Thieves products extend into the kitchen, bathroom, and laundry room where even more harmful synthetic chemicals are found. Dishwashing liquid, automatic dishwasher soap, toothpaste, mouthwash, cough drops, hand sanitizer, and more make Thieves versatile for any lifestyle.
Thieves dishwashing soap uses natural grease-cutting agents and essential oils. THRIFTY TIP>> I split my dish soap into threes, add a little Thieves Household Cleaner and baking soda, and stretch it even further.
NO SULFATES

NO DYES

NO FORMALDEHYDE

NO PHOSPHATES

NO SYNTHETIC PERFUMES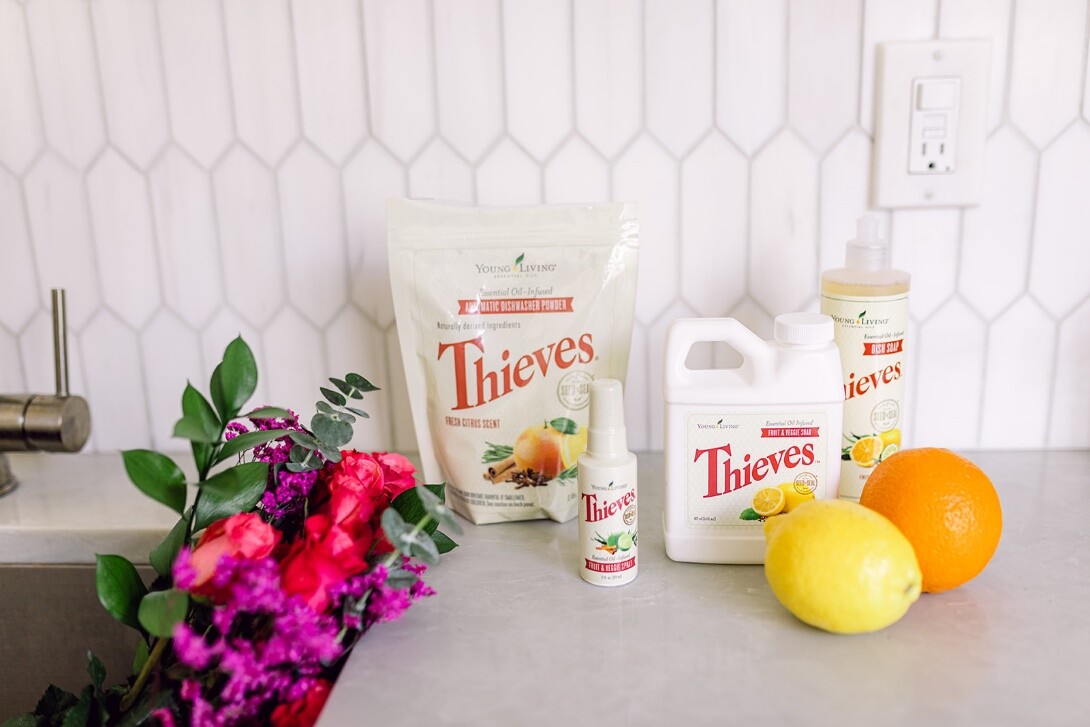 Bringing the power of Thieves to your laundry room with enzymes that combat dirt and stains. A highly concentrated formula so one bottle will last a good while. THRIFTY TIP>> I split mine into threes, add water and stretch it even further.
NO SLS

NO DYES

NO PETROCHEMICALS

NO FORMALDEHYDE

NO SYNTHETIC PERFUMES

NO OPTICAL BRIGHTENERS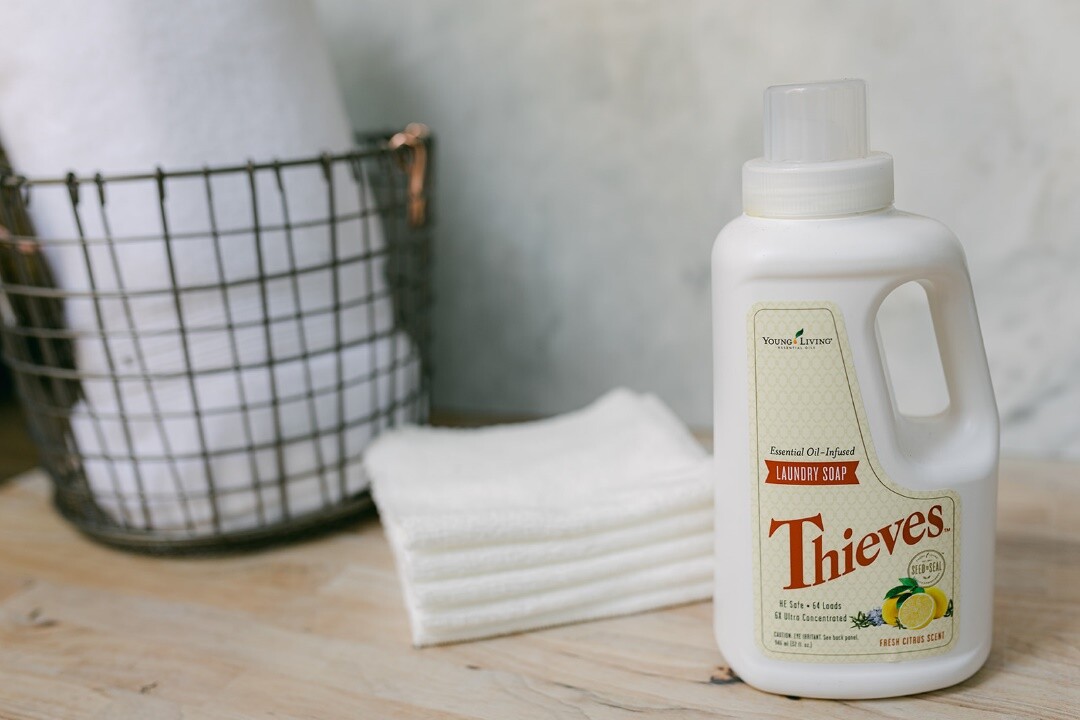 Thieves toothpaste and mouthwash support healthy-looking gums and teeth with ingredients from nature and pure essential oils.
NO SULFATES

NO SYNTHETIC DYES

NO ARTIFICIAL FLAVORS OR COLORS

NO PRESERVATIVES

NO FLUORIDE

NO SLS

NO PARABENS

NO PHTHALATES

NO MINERAL OIL

SYNTHETIC PERFUMES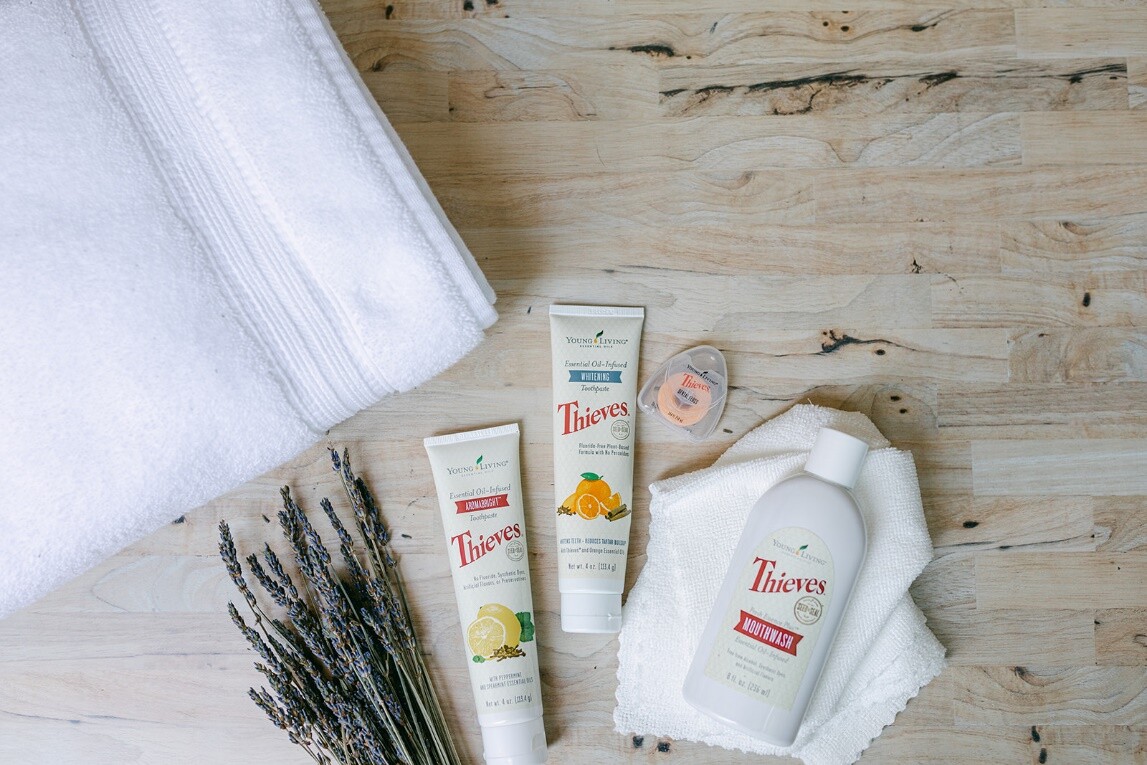 Thieves essential oil can be used to make your own DIY cleaning and wellness recipes.

Thieves essential oil blend is a powerful combination of Clove, Lemon, Cinnamon Bark, Eucalyptus Radiata, and Rosemary essential oils that fills any space with a rich, spicy aroma. It is one of Young Living's most popular essential oils so it's no wonder that Thieves is included in so many of the home cleaning and personal care products. It is a key ingredient in Thieves Cleaner, Thieves Waterless Hand Purifier, Thieves Wipes, and Thieves Foaming Hand Soap. Thieves blend is your go-to for an invigoratingly clean and spicy scent that smells more like fall baking than harsh cleaning formulas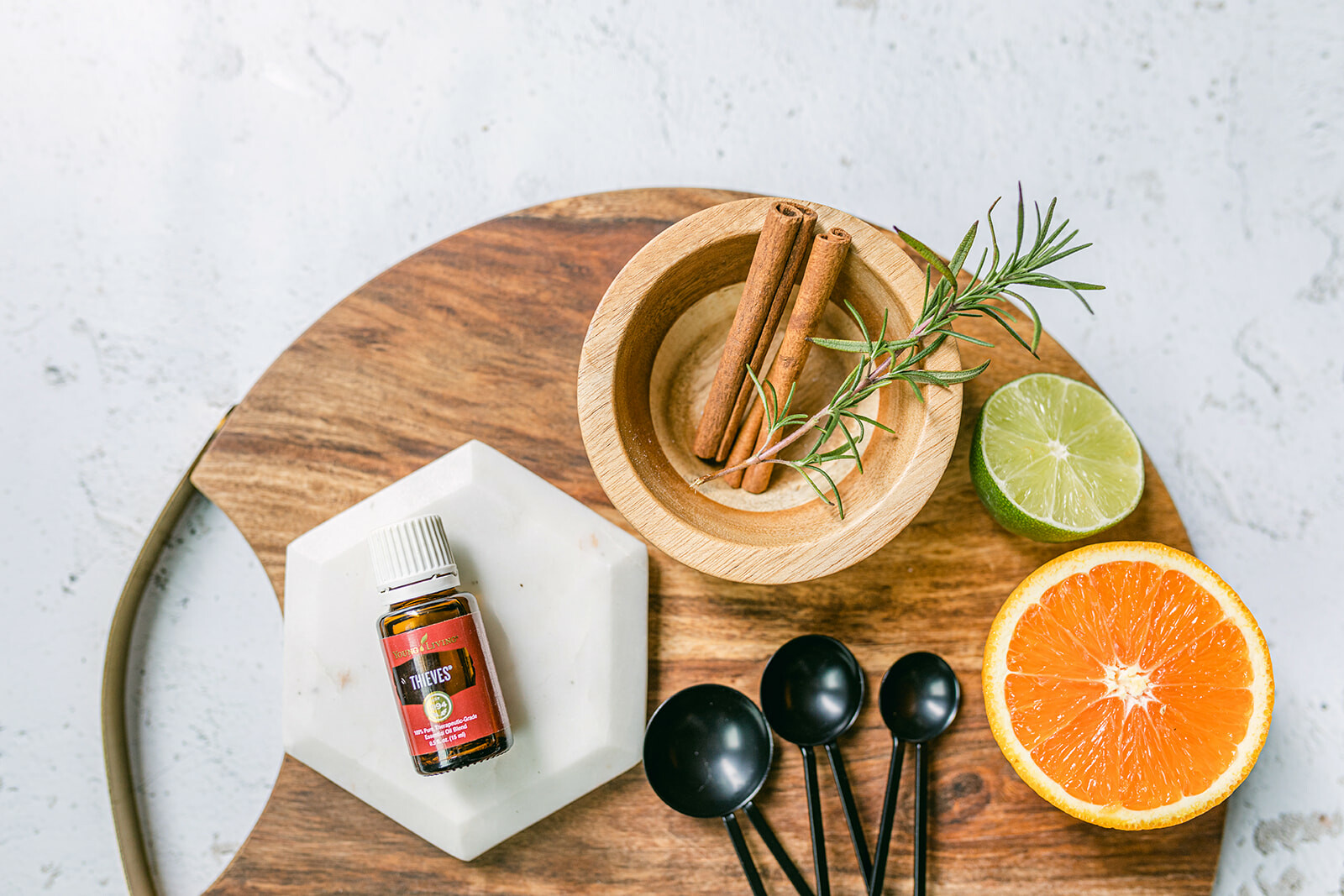 So where can you get all the Thieves goodness?
You can buy it retail from my website HERE
You can become a Young Living wholesale member. What does being a member mean? Think Costco's or Sam's. That's it, You never have to share with anyone if you don't want to. ( There are two sides to Young Living. Over 80%of the

wholesale members are

product users only and approximately 8-10 % are members who have chosen to build a business with Young Living ). There are no monthly requirements or quotas. Your membership will get you wholesale prices on over 600 oil or oil-infused products like Thieves.
You can join Young Living's Essential Rewards program and earn free products and reward points on every purchase every month. It's like FREE money back every month to be used on future purchases. DOLLA DOLLA BILLS Y'ALL.
This is how I get most of my essential oils. I buy my household products, makeup, supplements that I am going to buy anyway. Then I use my points I earn to get the oils I want plus the ones I get for FREE every month. It's a good deal but it's also totally optional.
There are a few different options to start your wholesale membership. The biggest bang for your buck is the Thieves Starter Bundle. When you use my referral number at https://bit.ly/startYLNOW to start and choose a Premium Starter Bundle with Essential Rewards, you will get $25 cashback from me plus FREE SHIPPING and you will earn $10 in Rewards Points to use on future orders.WHOOP!!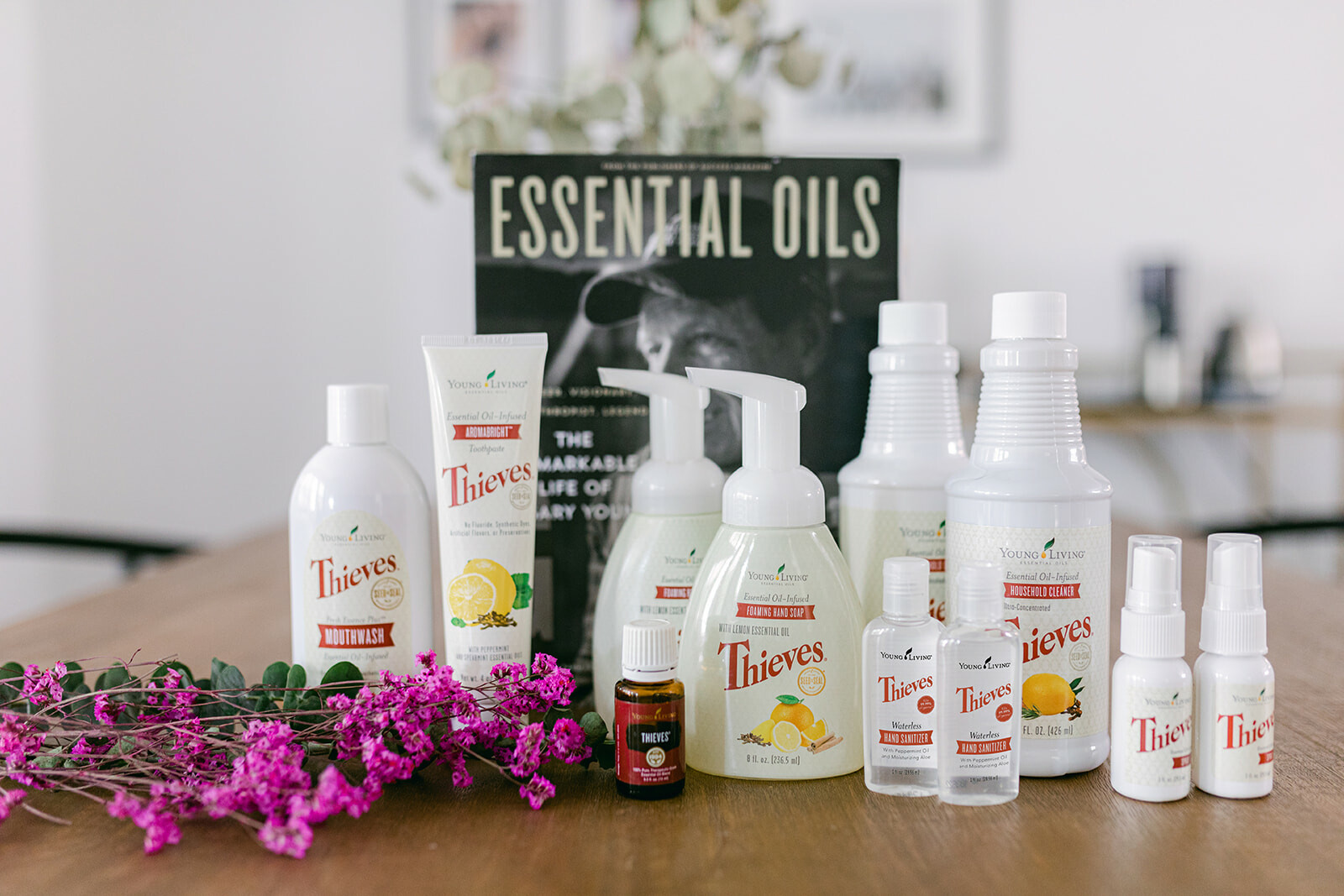 We can also put together a customizable membership and I am happy to help you with that. Email me at hello@marieinmontana.com or comment here.
You can see all the starter kits right
HERE
***Young Living just added on another Premium starter kit and it is not on my website yet. It's called the " Little Oilers Premium Starter Bundle" and it formulated for kids so it is already diluted so just add a roller to the top and start rolling. This starter bundle does qualify for the $25 cashback from me when you start with Essential Rewards plus the free shipping from Young Living.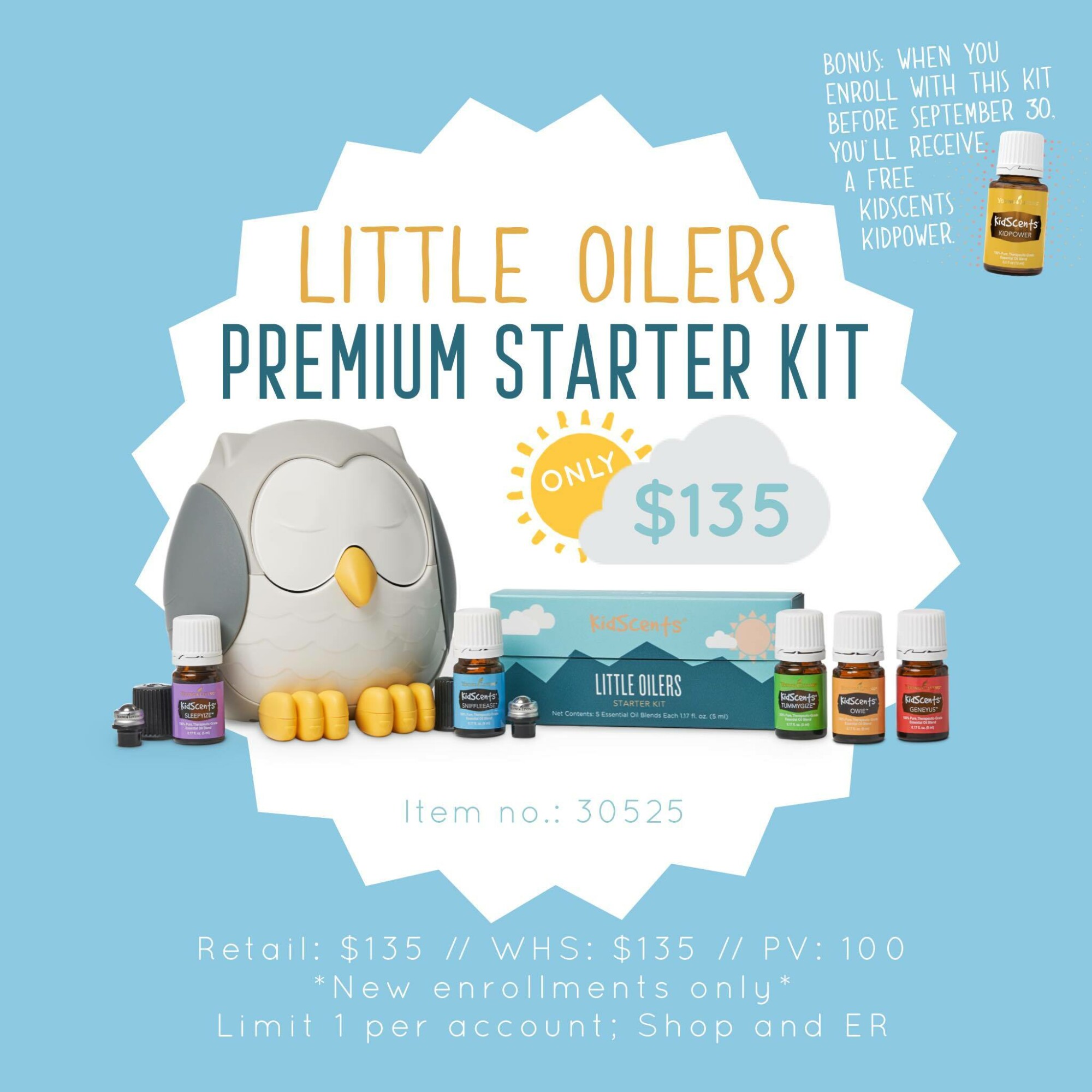 I am happy to answer any questions you may have about Thieves, Young Living, or Essential Rewards You can email me at hello@marieinmontana.com or comment below.
Avoiding synthetic chemicals in your home may seem daunting and overwhelming but the payoff will be worth it. Your body will function better without the toxic load that comes from using cheap filler synthetic chemicals. Switching to Thieves makes it an easy process to turn your home into a safer place for you and your family.
Want to save this for later? Pin It, Girl!

Jun 6, 2020 06:21 PM Central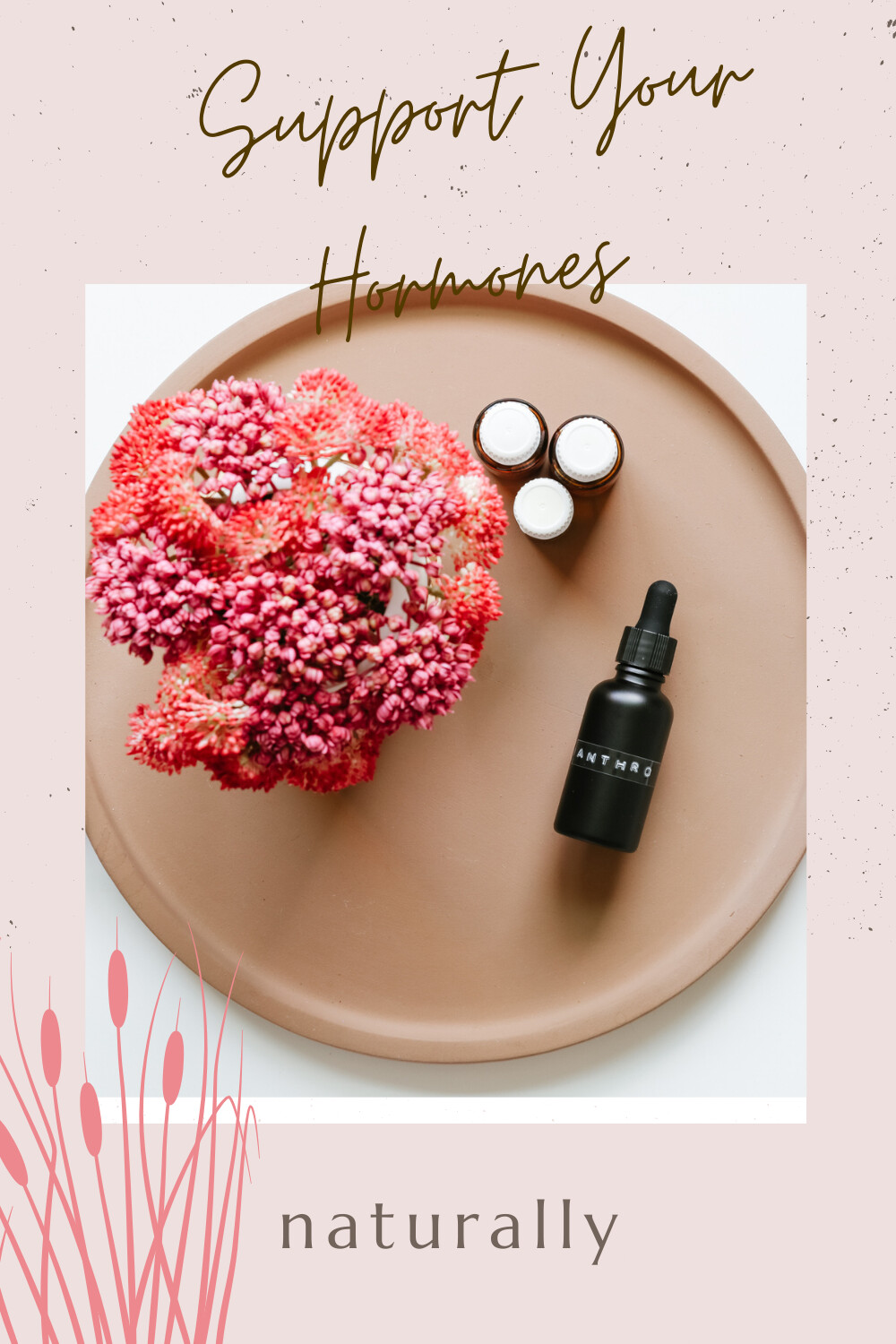 Are you like me, living in your " middle years"?
I don't mind this stage of my life. I try really hard to remind myself that so many women did not even make it to the middle. I truly do feel blessed.
That does not mean, I love EVERYTHING about being in the middle. Mood swings, hot flashes, and stubborn weight that holds on are a few things I could do without. Good thing, I learned a natural way to support my hormones. Read on and then check out the video where I show you my routine and how I keep my hormones in check.
So many women suffer due to hormone imbalances. Hot flashes, mood swings, fatigue, having a hard time losing weight are just a few of the symptoms women experience during perimenopause and menopause.
Women sometimes think that the only two options they have when it comes to their hormones is to take synthetic drugs that can cause more problems than they help or live with it.
Great news! You don't have to do either. You can use essential oils to help nourish and support your hormones.
Real quick>>>> synthetic means fake, not real. Our bodies do not know what to do with fake stuff. They were not created like that. Our liver is our body's filter and when we overload it with synthetic chemicals every day our liver can get overloaded making us feel sluggish, tired, and just plain crappy.
As we age our bodies start producing less progesterone and estrogen. These imbalances affect your thyroid, adrenals, and other hormones.
Interesting Fact>>> 95% of women who suffer from hot flashes are low in Progesterone and about 3% are low in Estrogen.
Progesterone is known as the feel-good hormone. Some of the symptoms of low progesterone are:
Headaches

Mood Changes

Low Libido

Hot Flashes

Weight Gain

Thyroid Dysfunction

Fibroids and endometriosis
Progesterone is a heavy hitter and when it's low, which again, is what happens in menopause it wreaks havoc on our bodies and our lives. With all that going on why add possible side effects of synthetic drugs to the mix? Why not try natural alternatives first?
According to Dr. Dan Purcer, natural Progesterone is an incredible hormone that helps many women. Natural Progesterone is bioidentical to what your body makes. It helps to balance out your estrogen levels too. ( see below for more information) Some of the benefits of natural Progesterone are:
Stops or reduces hot flashes
Reduces the risk of breast cancer
Kills breast cancer cells by causing apoptosis or cell death
Reduces or reverses fibrocystic breast tissue
Reduces Coronary Artery Disease
Aids in sleeping
Weight loss
Increases muscle
Helps migraines in women
Shuts down endometriosis
Stops abnormal breathing
Helps to thicken hair.
You can learn much more about progesterone and the type he recommends at https://danpursermd.com/womens-health-menopause-with-dr-purser-on-facebook-live?rq=women%27s%20health.
There are many types of natural Progesterone on the market and I am not a doctor, I can only tell you what I have used to help support my hormones. It took me several months to find a regimen that works for me. That is one of the great aspects of using natural alternatives. It is not one size fits all. You tailor it to you and what your body needs.
I use Progessence Plus from Young Living.
Young Living is the largest essential company on the planet and the only one with The Seed to Seal Promise which means you never have to worry about where the essential oils are sourced from or the ingredients used in any of their products. You can read more about The Seed to Seal Promise right here on this website.
You can read more about what ingredients Young Living will never use in their products at https://www.youngliving.com/blog/australia/ingredients-youll-never-find-in-yl-products/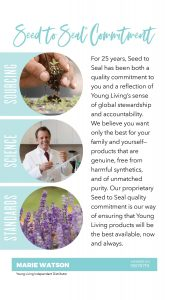 Progessence Plus from Young Living is a fantastic natural source of Progesterone that helps to support your hormones. This serum contains a naturally occurring form of progesterone that comes from wild yam extract. It's important to note that this is NATURAL, not synthetic, so our bodies know how to use and process it without the terrible side effects that synthetic hormones can have.
When using, apply Progessence Plus on the soft skin of your forearm or your neck. I started with one drop in the morning and once at night and then slowly added a few more drops depending on how I feel.
You can watch more about Progessence Plus in this short informative video at https://www.facebook.com/lindseyelmore/videos/619853208445509/UzpfSTEwMDAwMDAxMzEwNDAzOTpWSzo1ODI5Njg2NDU1MDA4NzM/?query=proggessence%20Plus&epa=SEARCH_BOX
Remember about 3% of women who suffer from hot flashes have low Estrogen. Estrogen enhances and maintains the mucous membrane that lines the uterus. It increases the size of the endometrium as well as enhancing blood flow, protein content, and enzyme activity.
Symptoms of low Estrogen are:
painful sex due to a lack of vaginal lubrication.

an increase in urinary tract infections (UTIs) due to a thinning of the urethra.

irregular or absent periods.

mood swings.

hot flashes.

breast tenderness.

headaches or accentuation of pre-existing migraines.

depression.
Along with the Progessence Plus, I added Clary Sage essential oil. Clary Sage comes from the Sage plant and contains Sclaereol which mimics estrogen in women especially during menopause. Clary Sage has a calming effect as well, which might just help during this time too...your welcome.
Some studies have shown that there was a 30% reduction in breast cancer risk when using Clary Sage long term. There is more information about Clary Sage above in Dr. Purser's video.
l
I recently added Endoflex to my daily routine. Endoflex is a blend of oils that are supportive of the thyroid gland. Your thyroid works with your adrenals and your hormones to help regulate the body. Your thyroid can be affected by stress, viruses, medications, your gut microbiome, exposure to harmful synthetic chemicals that are in so many of our cleaning, and personal care products. These products are wreaking havoc on your thyroid and other hormones. Did I say stress?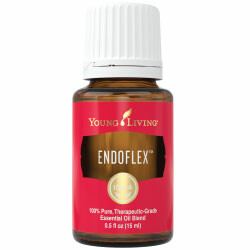 When your thyroid is not functioning properly you may feel, "wired but tired". You may struggle to lose weight or experience brain fog or fatigue.
Essential old are not band-aids. They are not pharmaceuticals. They help support homeostasis--the optimal functioning of your body. They support our bodies. Essential is are adaptogenic--- they fill in what YOUR body needs, they adapt to you.
Essential oils that are high in terpenes ( constituents of certain oils)nourish your body and they are really good at cleaning your cells.
These three products have been a game-changer for me. I NEVER recommend anything that I have not used and got some sort of benefit from. Natural alternatives are a smart, savvy way to meet these life changes head-on without all the possible side effects.
There are two ways you can get Clary Sage, Progessence Plus and Endoflex. You can buy them retail from me.
Or you can start your own wholesale membership at Young Living. Becoming a wholesale member means just that-you buy Young Living products at a 24% discount. Think Costco or Sams.
There are several different starter kits to choose from: The basic starter kit is an introduction to Young Living. For $35 you get all the benefits of being a wholesale member and you can participate in the Essential Rewards Program where you can earn free products and a percentage back each month in rewards points. If you want to get started with essential oils and money is tight, this may be for you. You can also add the Progessence Plus, Clary Sage, and Endoflex to your order.
Reducing synthetic chemicals is so important when talking about hormone support so if this is what you can swing in your budget go for it. Use my referral link at GET BASIC STARTER KIT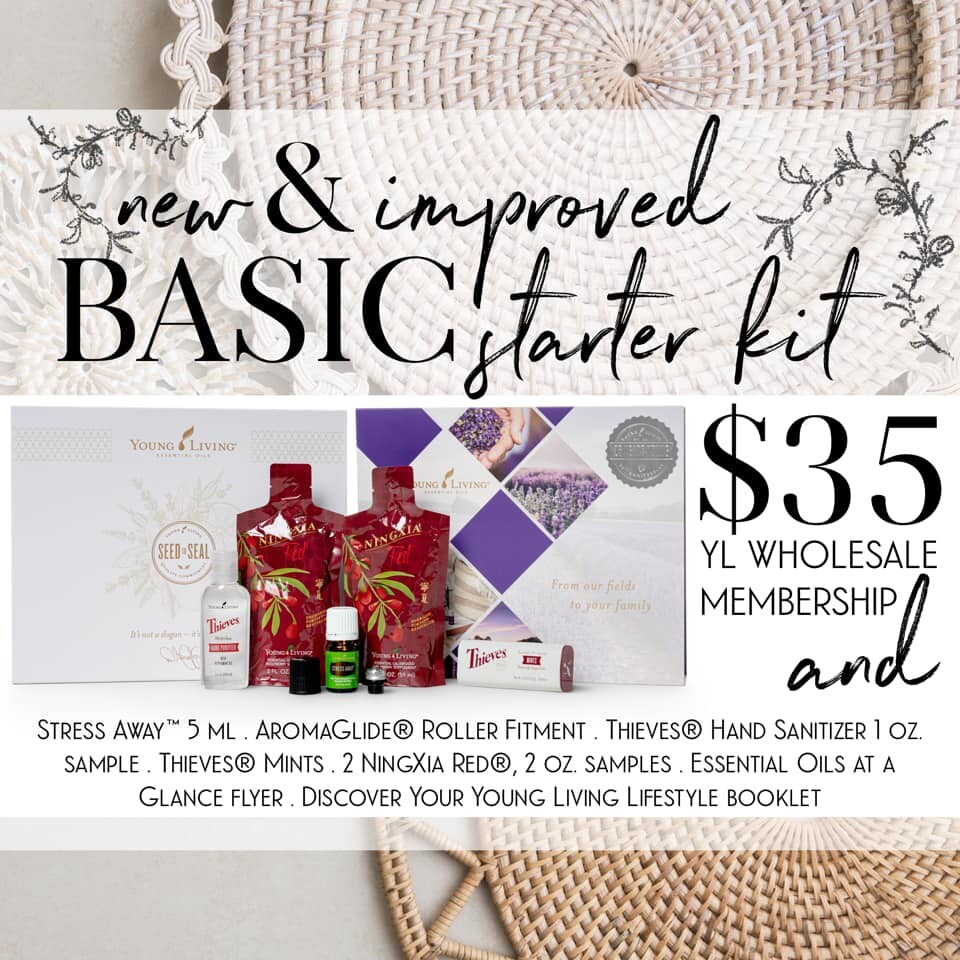 By becoming a wholesale member of Young Living ( Think Sams or Costco) you will have access to over 600 essential oils or oil-infused products. When you start your membership you get to choose a Premium Starter Kit. You can see more about all the kits right here on the main page of this website.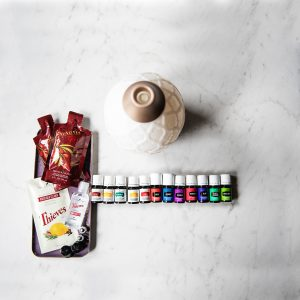 Ready to start now? Email me I would love to help you get started so we make sure you get all the discounts and freebies. hello@marieinmontana.com
Use my referral link ( https://bit.ly/startYLNOW) to start your Young Living wholesale account today and get a welcome gift from us PLUS a $25 Amazon gift card or a $25 credit deposited into your Young Living account for future purchases. Your choice.
There are so many foods and supplements that can also help nourish and support. our hormones. We will be talking more about those soon so join our newsletter at the link above so you don't miss a thing.
If you have any questions, please let me know. You can comment on this blog article, you can message me from my website here or you can email me at hello@marieinmontana.com
Want to save this for later? Pin It, Girl!

Feb 17, 2020 09:58 AM Central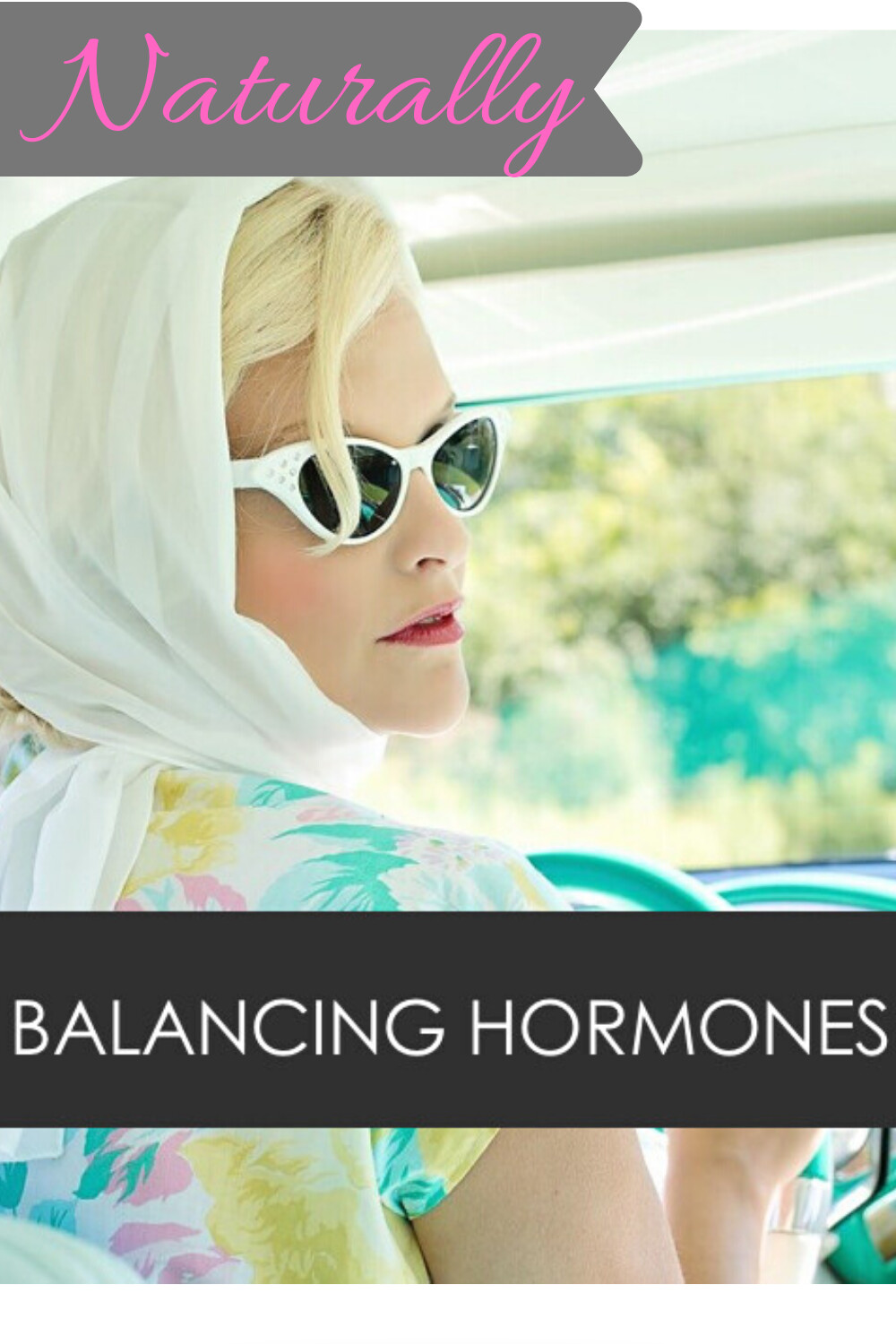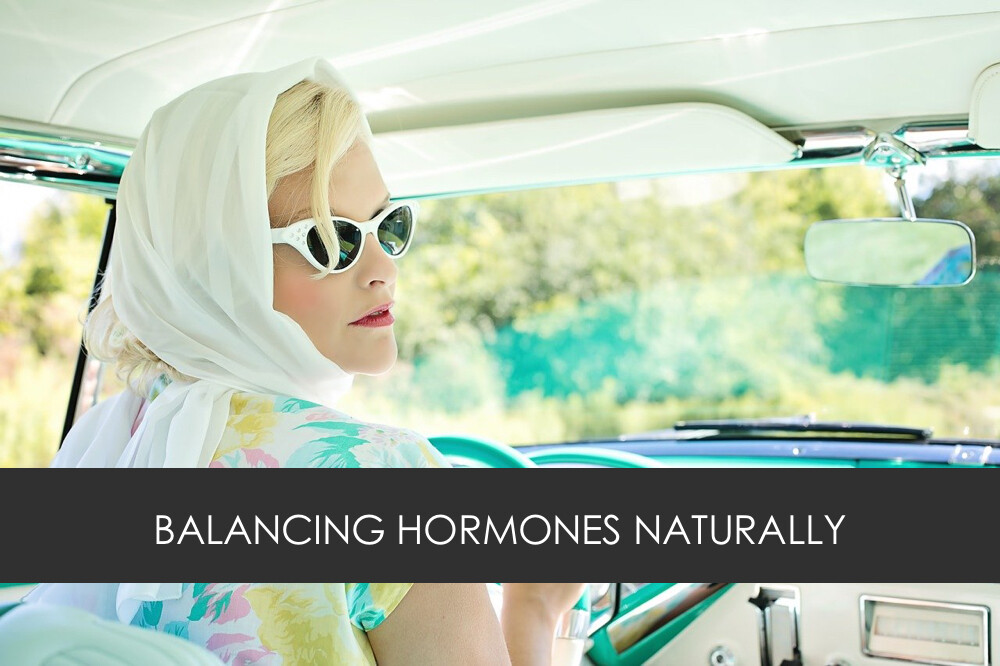 Hormones are your body's chemical messengers. They travel in your bloodstream to tissues and organs to help them do their work. They work slowly, over time, and affect many different processes, including:
+ Growth and development

+ Metabolism

+ Sexual function

+ Reproduction

+ Mood

+ Energy

+ Sleep
Hormones have profound effects on your mental, physical and emotional health. Normally, your endocrine glands produce the precise amount of each hormone needed for various processes in your body, but hormonal imbalances have become increasingly common with today's fast-paced, nutrient-starved lifestyle. In addition, certain hormones decline with age, and some people experience a more dramatic decrease than others.
Fortunately, a nutritious diet and other healthy lifestyle behaviors may help improve your hormonal health and allow you to feel and perform your best.
BALANCING HORMONES NATURALLY
1. Consume enough protein. Consuming adequate protein triggers the production of hormones that suppress appetite and help you feel full. Aim for a minimum of 20–30 grams of protein per meal.
2. Avoid sugars and refined carbohydrates. Diets high in sugar and refined carbs have been shown to drive insulin resistance. Avoiding these foods and reducing overall carb intake may decrease insulin levels and increase insulin sensitivity.
3. Engage in regular exercise. Even taking a simple walk has been shown to modify hormone levels in a way that reduces the risk of disease and protects muscle mass during the aging process.
4. Get good quality sleep. Inadequate or poor-quality sleep has been shown to decrease fullness hormones, increase hunger and stress hormones, reduce growth hormone and increase insulin resistance.
5. Eliminate environmental toxins. Whether it be a household cleaner, a hair care product or a lotion, find out if it what types of chemicals are in the ingredients and if you suspect it could be toxic, get rid of it and replace it with a more natural option.
6. Use essential oils and supplements as part of a hormone-healthy lifestyle. Many men and women have had great success with using essential oils for hormone balance and to alleviate many of the complaints associated with hormone imbalance. Clary Sage, Progessence Plus, Lady Sclareol, Shutran, and Dragon Time are some essential oil favorites. Femigen, Cortistop, PD 80/20, Prostate Health, and EndoGize are helpful supplements for hormone support.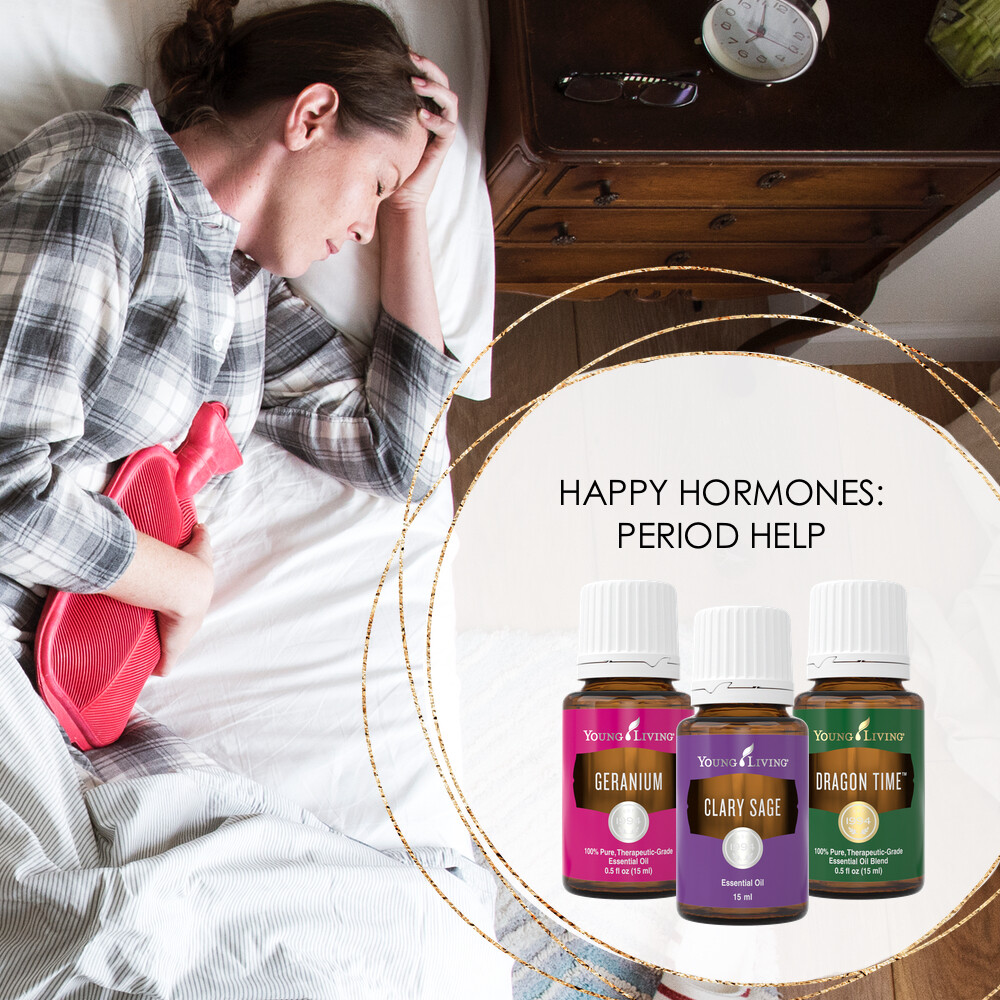 Essential oils have a powerful influence on hormones and emotions. Whether it's using them topically over areas of discomfort or diffusing them to encourage calm emotions, having a happier period really is possible because there is an oil for that!
MONTHLY MAGIC:
+ Dilute Dragon Time and apply over the abdomen and on ankles to help tame the hormone-induced rage.
+ Dilute Clary Sage, Geranium, or Ylang Ylang and apply over the abdomen to help alleviate discomfort.
We only use Young Living essential oils because well, they are the biggest, been around longest and the ONLY one with the Seed to Seal Promise. Learn more about that HERE.
If you are ready to get started with your own Young Living wholesale membership use my REFERRAL LINK.
There are several different starter kits, starting at just $35. Check them all out HERE. Click on the site menu top right, then starter kits.
When you use my link I will add you to my member vault where we share much more about the power of essential oils, supplements, nutrition, and conscious language to support our bodies with a focus on emotional health.
Also, when you use my referral link we will credit your Young Living account with $25 to use on future orders so you can get started right away learning about your oils.
Want to save this for later? Pin It, Girl!