We all can use a little help with our emotions from time to time. Emotions can sometimes be difficult and even scary. It is so much easier to suppress emotions than to recognize, feel, and process them. However, the ability to recognize, feel, process, and release emotions will enable you to function in a more positive and successful state so you can live free to create the life you desire.
We learn about and develop emotions from birth, through early childhood development, and onward. This means that helping children recognize emotions and learn to process emotions is one of the most powerful gifts you can give as a parent or caregiver.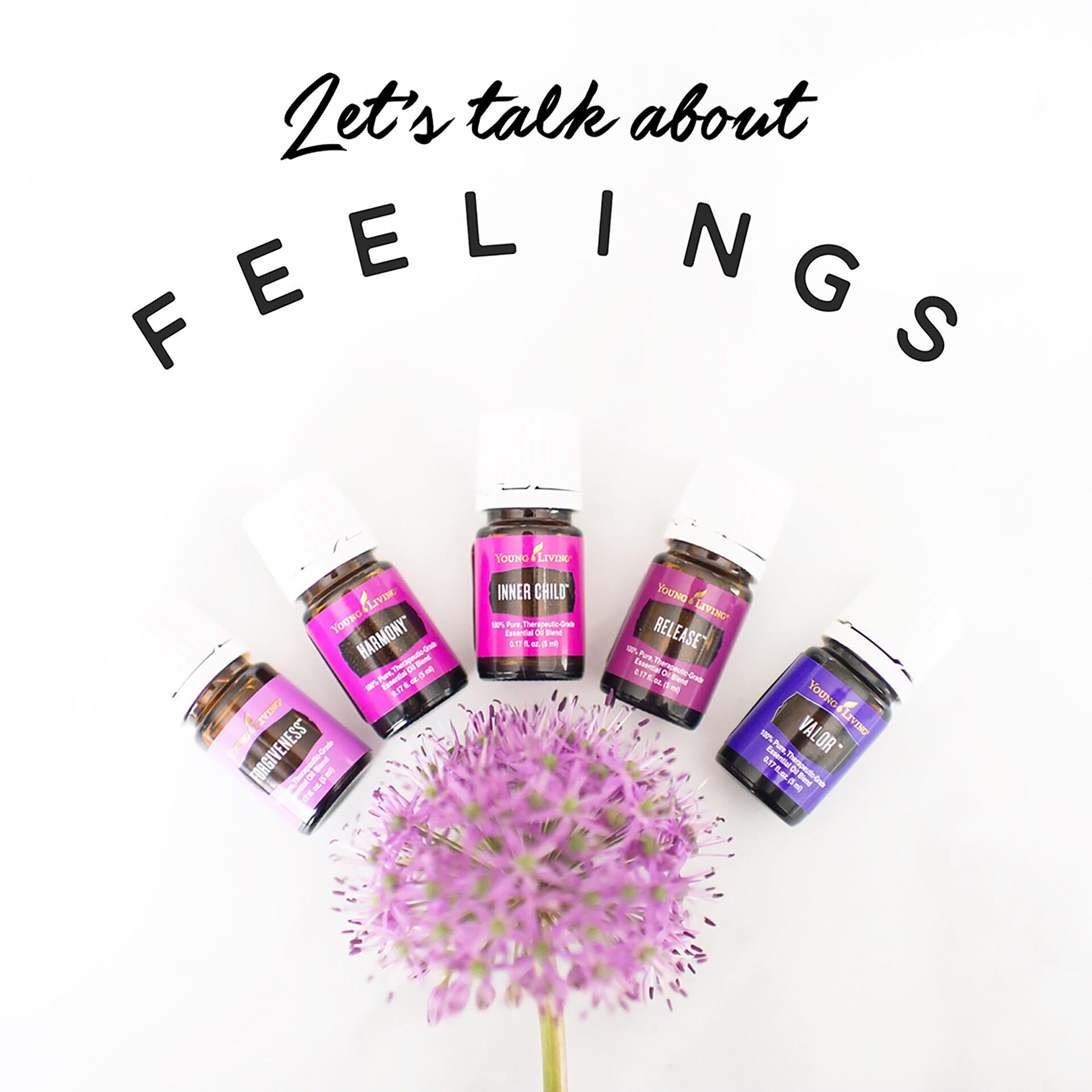 It also means that if you didn't develop and utilize effective techniques to process your emotions early on, you may have some catching up to do. Don't worry. I will give you easy tools to use so you can learn how to process your emotions in a healthy way.
Today, I will share popular essential oils that can be used with various emotions. I will also share different techniques to make using your oils more effective for those of all ages.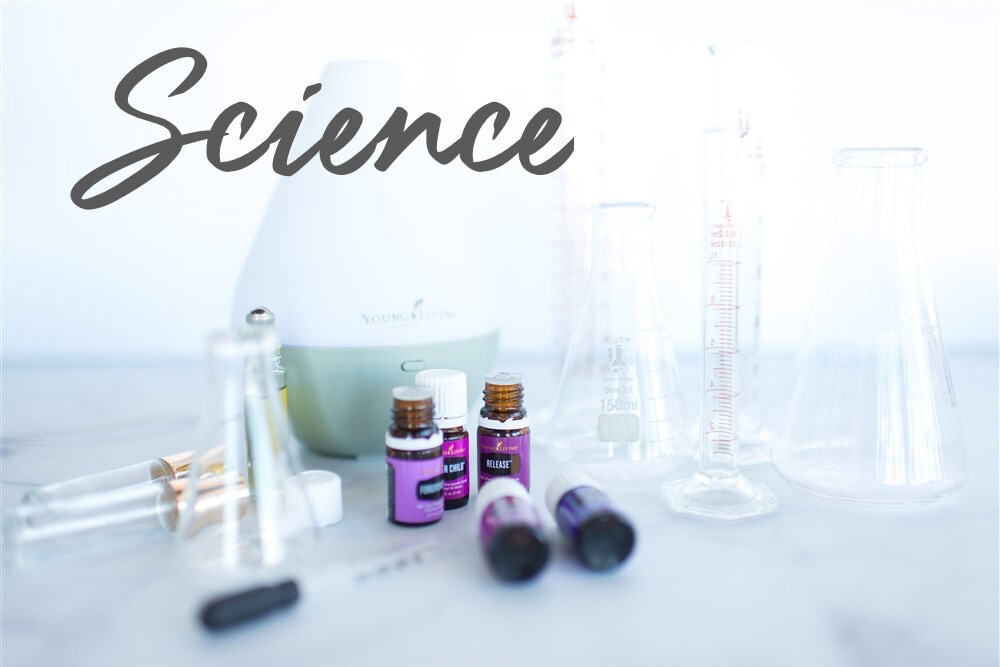 When talking about emotions, we must mention the limbic system. The limbic system is a system of nerves and networks in the brain that controls basic emotions and drives. It is the emotional brain.
It supports five major functions: emotions, behavior, motivation, long-term memory, and sense of smell. Have you ever spontaneously cried or laughed depending on whether the memory was happy, sad or traumatic? This reaction is your limbic system at work. When we inhale the aroma of something like baked goods, fried food, grass or essential oil, the odor molecules travel through the nose where they register with nerves in the olfactory membranes in the nose lining.
The odor molecules stimulate this lining of nerve cells and trigger electrical impulses to the olfactory bulb in the brain. The olfactory bulb then transmits the impulses to the amygdala - where emotional memories are stored - and to other parts of the limbic system of the brain. The unique structure of the molecules of essential oils can directly stimulate the hypothalamus and limbic lobe of the brain. Inhaling essential oils may alleviate stress and emotional trauma as well as increase the production of thyroid and growth hormones.
The amygdala (where emotional memories are stored) plays a major role in the storage and release of emotional trauma. Our sense of smell is directly linked to emotional states and behaviors, even if they have been stored since childhood. Our sense of smell, one of the five senses, is the ONLY way to stimulate the amygdala. The amygdala does not respond to words said or words heard. This is why the use of essential oils is so therapeutic to the release of stored emotions.
Essential oils enable us to access stored or forgotten memories and/or suppressed emotions. This allows us to acknowledge, integrate or release them. If we don't, these memories and suppressed emotions can cause disease in our bodies such as feeling blue or feeling afraid. Essential oils, when combined with prayer and seeking the Holy Spirit (and other modalities such as massage) can have a healing effect on our mind, emotions, and body, especially when we incorporate them into our daily practice.
This is great news! That means you can use essential oils to recall memories, both good and bad. If they are bad, you can use the oils to help you release cellular memories stored in the body, allowing you to process and move past them.
Now that we have covered a little science, let's dive into these powerful blends and talk about how they can be used.
I only use Young Living essential oils. Young Living is a known leader in essential oils. They set the standards and have been around for 25 years. They are the only ones with The Seed to Seal Promise. You can read more about that HERE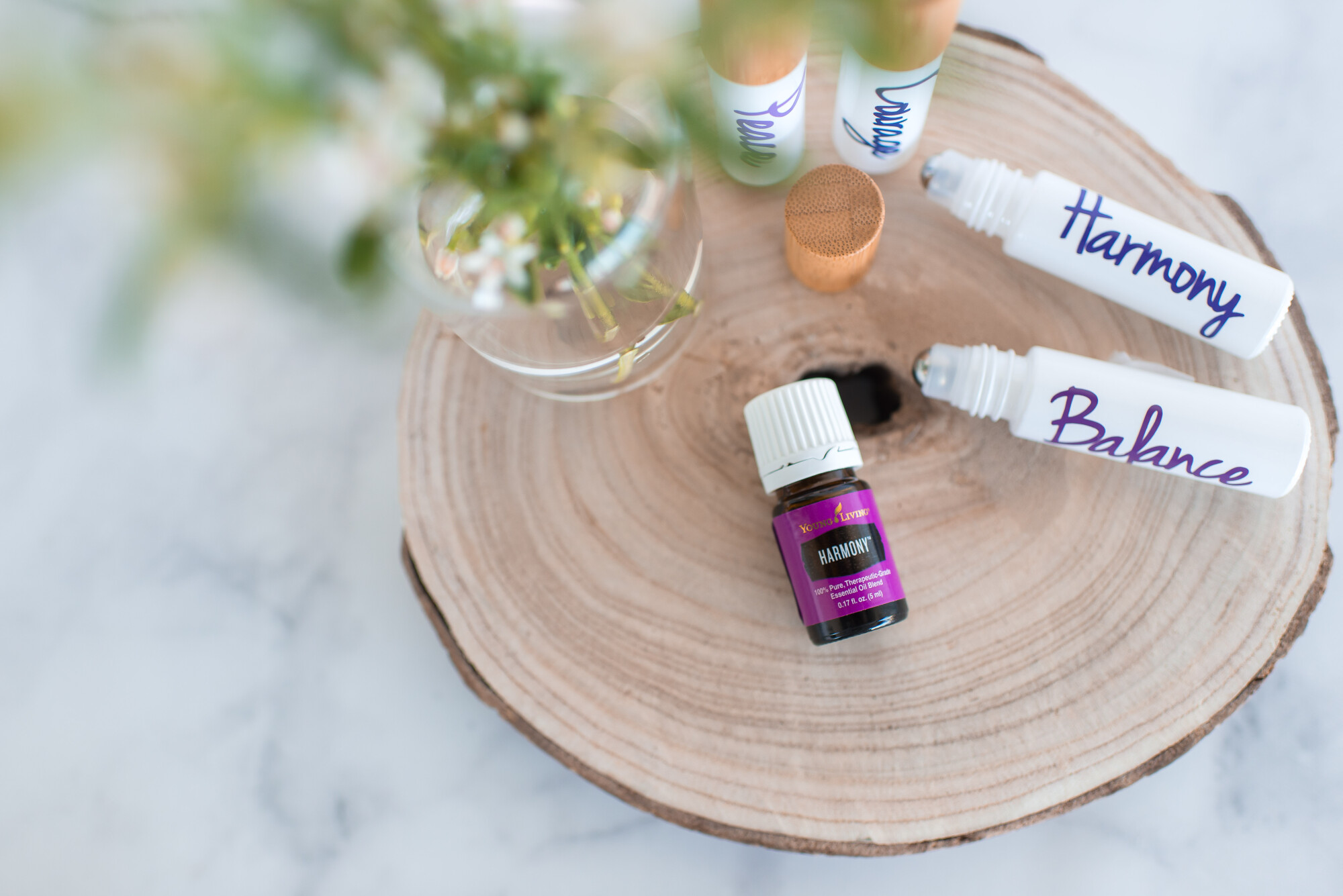 Harmony Blend is a blend of pure essential oils that contains scents to provide an uplifting aromatic experience.
Anytime we read God's Word, It's powerful and life-changing. Reading while using essential oils simply allows you to enjoy the wonderful gift of essential oils that God created.
Live in harmony with one another. Romans 12:16
Diffuse 4-6 drops up to 1 hour three times daily.
- Harmony is perfect to diffuse to help keep the peace in your home.
- Diffuse around children playing to keep the atmosphere light and fun.
- Diffuse around your spouse to bring a sense of peace and harmony between the two of you.
Apply 2-4 drops to your collarbone for inner harmony and repeat the suggested affirmation.
Dilution not required, except for the most sensitive skin. Use as needed.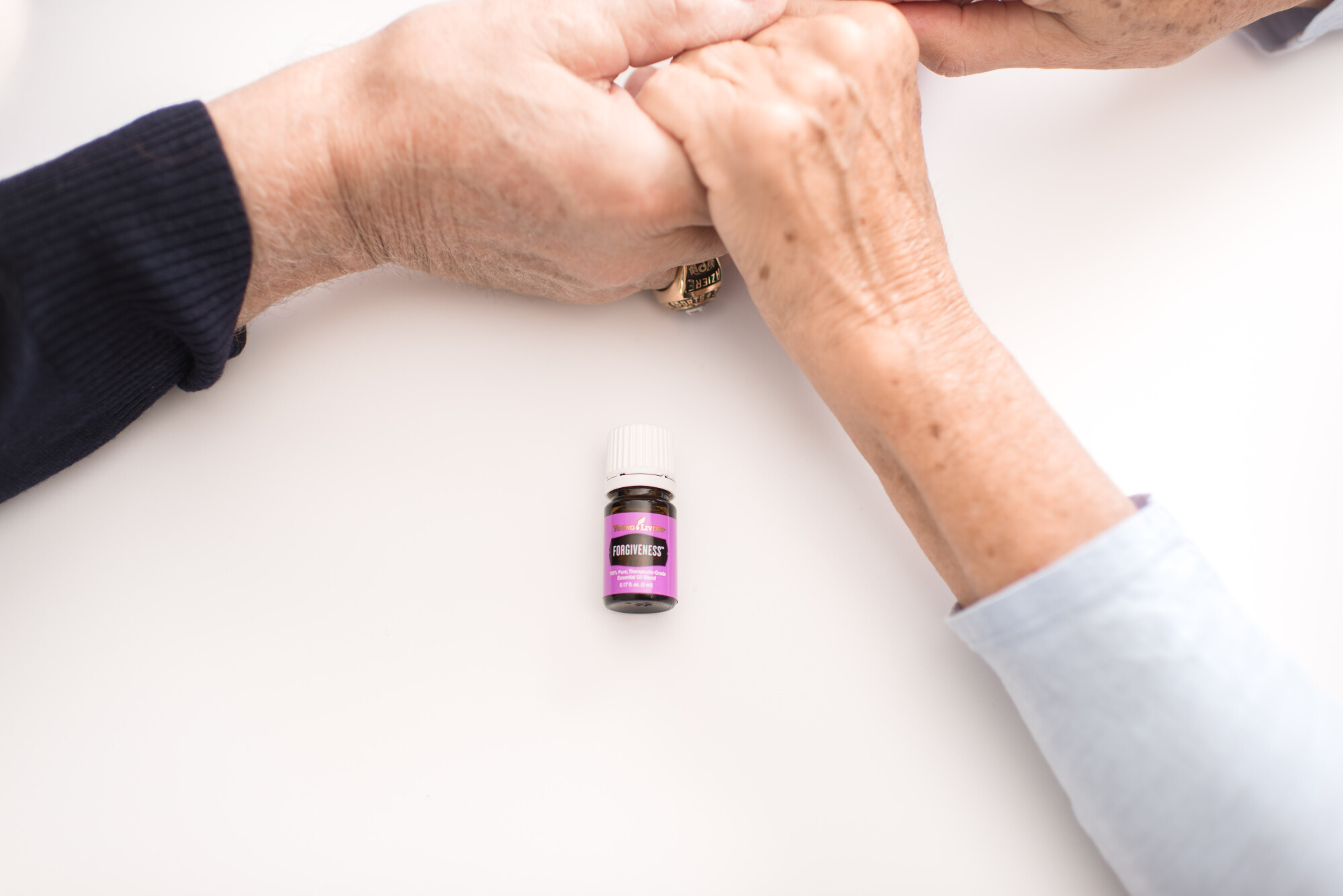 "Forgiveness is not always easy. At times, it feels more painful than the wound we suffered, to forgive the one that inflicted it. And yet, there is no peace without forgiveness."
In a life full of relationships, there will be many times we need to forgive. When we are bothered by the actions of others in our past, we are filled with anger, hate, resentment, and emotional pain. Forgiveness is a way to release all of those negative emotions from your inner body and begin the healing process. One useful technique is to combine deep breathing while inhaling Forgiveness essential oil.
Deep breathing can be as easy as stopping what you are doing and taking a slow deep inhale, feeling your lungs expand and fill up. Then release your breath just as slowly as you took it in. Repeat this two more times.
The blend Forgiveness™ contains:
Royal Hawaiian Sandalwood,
This combination provides an aroma that supports the ability to forgive yourself and others while letting go of negative emotions, an important part of personal growth.
- Use this blend topically or in a diffuser to help feel and process forgiveness.
- Apply 2-4 drops directly to your right rib cage or the center of your right foot.
- Dilution not required, except for the most sensitive skin. Use as needed.
- Diffuse 4-6 drops up to 1 hour 3 times daily.
Be kind and compassionate to one another, forgiving each other, just as in Christ God forgave you. -Ephesians 4:32
Repeat this affirmation as you practice your deep breathing exercise.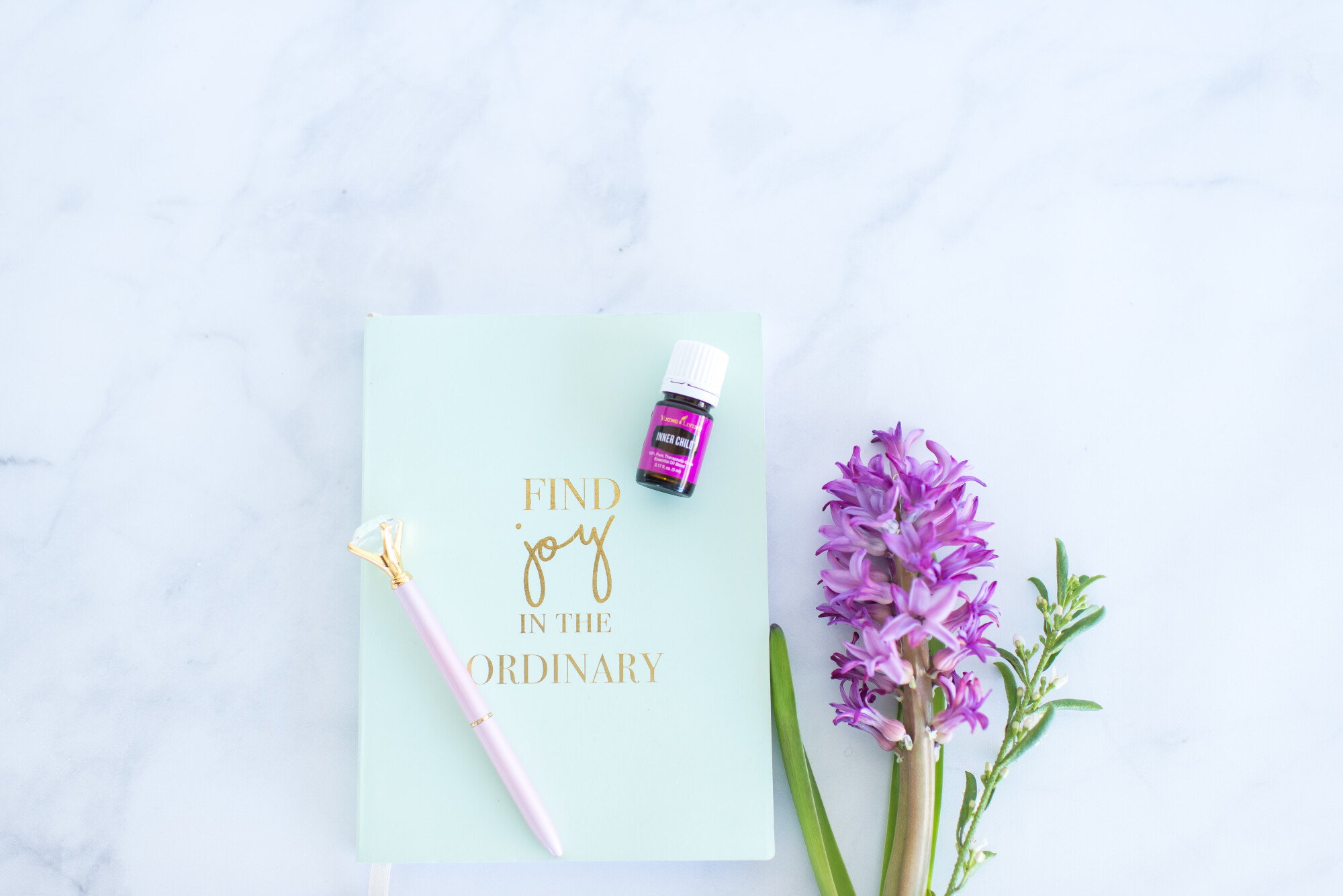 Inner Child
Have you ever asked yourself, "Who am I?"
You may have asked yourself and felt this many different times throughout your life, in the transition from a child to a teenager or teenager to an adult; when graduating from college and search for a career; when entering a relationship and needing to figure out who you are as you intertwine your life with someone else's life.

The sweet fragrance of Inner Child™ may encourage you to connect with your authentic self.
Orange

Tangerine

Ylang-ylang

Royal Hawaiian Sandalwood

Jasmine

Lemongrass

Spruce

Bitter orange

Neroli
...may help stimulate memory response and help you reconnect with your own identity, which is one of the first steps to finding emotional balance.
- Dilute 1 drop with 1 drop of V-6™ or olive oil and apply it to your earlobe as needed.
- Diffuse up to 1 hour 3 times daily.
Forgetting

what is

behind

and straining toward what is ahead... -Phillipians 3:13

Present Time
"The past is behind, learn from it. The future is ahead, prepare for it. The present is here, live it."
Sweet almond
Bitter orange
Black spruce
Ylang-ylang
When diffused, Present Time™ helps you focus on the here and now, so you can get beyond the past and move forward. It was created to help bring people into the moment.
This blend is PERFECT for meditation in the Word as you focus on your breath, your body awareness, and your present thoughts.
*Great for you pregnant mamas during delivery
Use Present Time when spending time with family, friends at a social gathering, or alone during meditation.
- Topical: Apply 2-4 drops directly to the area two inches below the belly button.
- Dilution not required, except for the most sensitive skin. Use as needed.
- Diffuse 4-6 drops up to 30 minutes 3 times daily.
BIBLE VERSE
So then, do not

worry

about

tomorrow

, for

tomorrow

will

worry about itself. -Matthew 6:34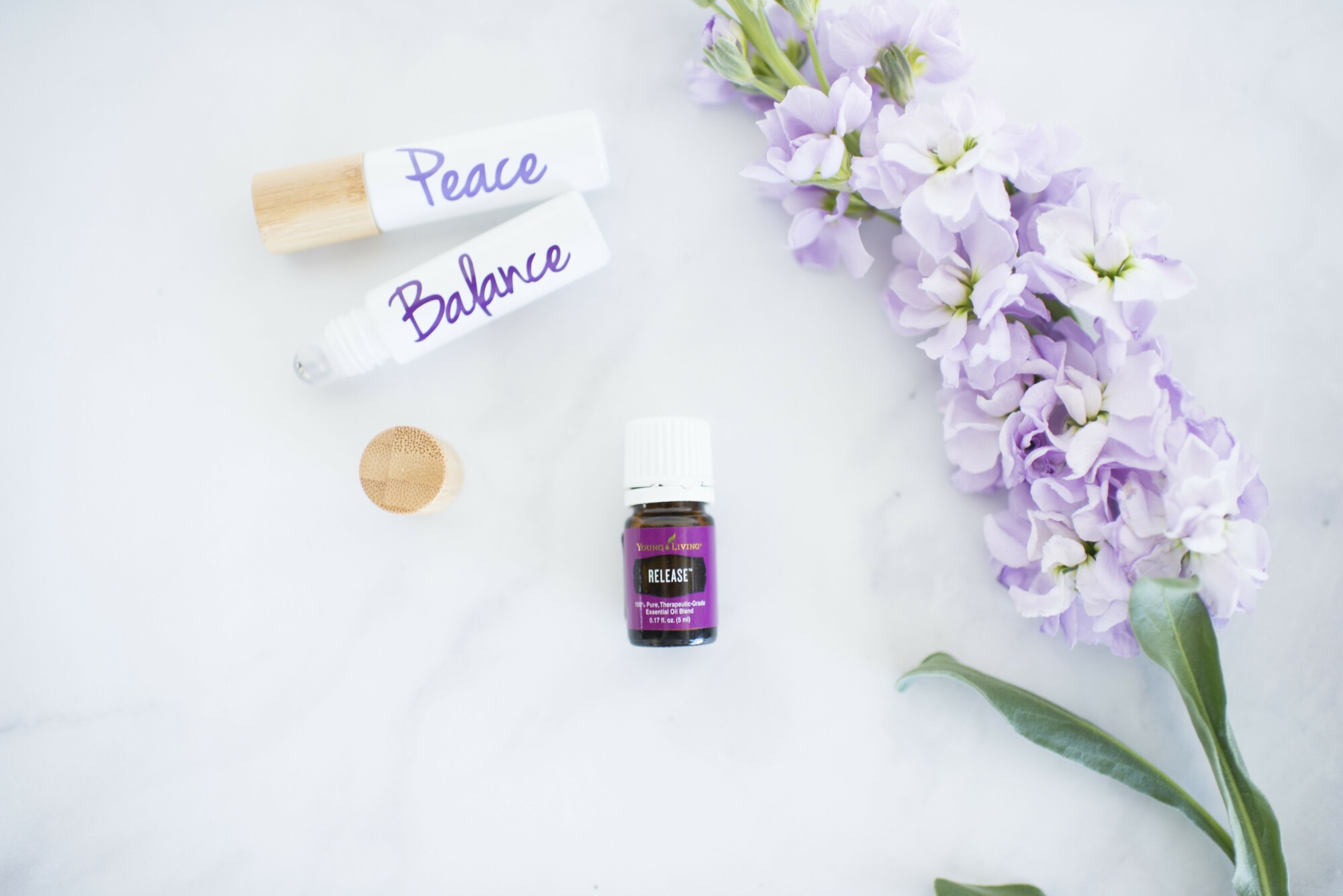 Release
Release™ is a blend of:
Ylang ylang
Olive
Lavandin
Geranium
Royal Hawaiian™ Sandalwood
Grapefruit
Tangerine
Spearmint
Lemon
Blue cypress
Davana
Kaffir lime
Ocotea
Jasmine
Chamomilla recutita†
Blue tansy
Rose
It gives a relaxing aroma that f
acilitates the ability to let go of anger and frustration.
It also promotes harmony and balance when diffused.
Let's talk teens.
--> It's no secret that teens are emotional. Lots of changes are going on in their bodies. They are transitioni
ng from childhood into adulthood and often struggle with being dependent on their parents while having a strong desire to be independent. They may also feel overwhelmed by the emotional and physical changes they are experiencing.
Communicating your love for your child is an effective way to help your teen during difficult life changes.
Giving teenagers tools to release unwanted emotions can be very helpful in creating an emotionally healthy teen, allowing them to feel and process in a healthy manner.
Movement
can be used in various forms of intensity to work through or release different emotions. Many people find high-intensity fitness, such as running or sports like boxing, successful in releasing stressors and frustration, while others may find slow intentional movement, like yoga, great for releasing anxious feelings and cultivating a sense of peace.
Diffusing Release
is a simple tool anyone can use and is very effective to help feel and process emotions such as anger, resentment, or guilt.
******************
- Apply 2-4 drops directly below your throat above your clavicle.
- Dilution not required, except for the most sensitive skin. Use as needed.
- Diffuse 4-6 drops up to 1 hour 3 times daily.
BIBLE VERSE
So if the Son sets you free, you will be free indeed. -John 8:36

Valor
"Inhale courage, exhale fear."
Courage is something we all need, at every age and stage of our lives.
- take our first steps.
- step onto the school bus for the first time.
- get through our first presentation.
- dream.
- start a family.
- build your own business
Using Valor is an easy and effective way to inhale courage, and exhale fear.
~~~~~~~~~~~~~~~~~~~~~~~~~
The opposite of courage is inertia. Saying the affirmation can help you move from inertia to courage.
Diffuse Valor for an inspiring and calming aroma or apply topically to experience this empowering and uplifting fragrance
Black spruce
Camphor
Blue tansy
Frankincense
Geranium
- Topical: Apply 2-4 drops directly to left shoulder blade.
- Dilution not required, except for the most sensitive skin. Use as needed.
- Aromatic: Diffuse up to 1 hour 3 times daily.
BIBLE VERSE
Be strong and of good courage, do not fear nor be afraid of them; for the LORD your God, He is the One who goes with you. -Deuteronomy 31:6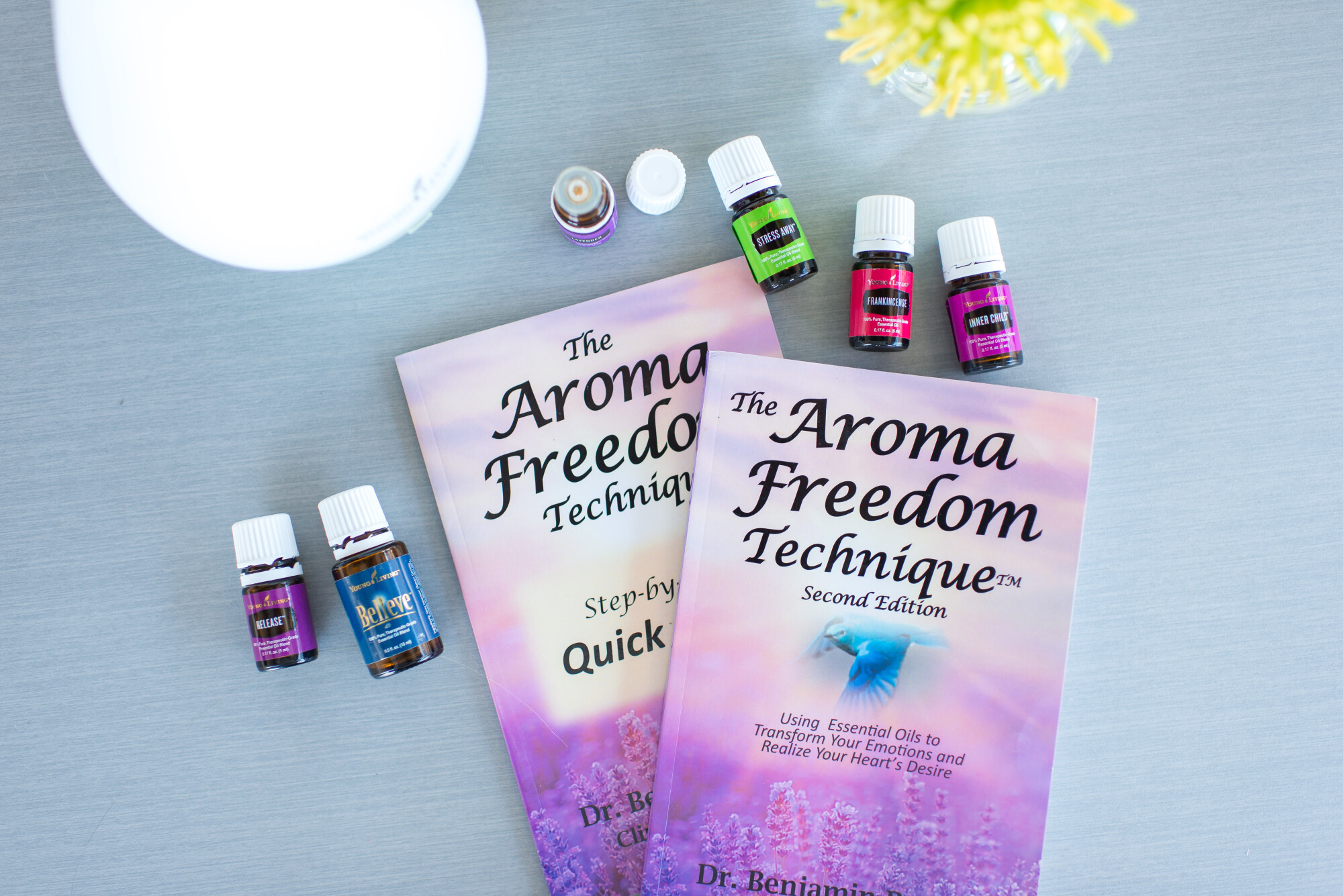 Aroma Freedom Technique (AFT)
AFT is a technique that uses the power of scent to gently shift awareness away from negative thoughts, feelings, and memories, and to initiate a positive outlook and attitude.
--> This results in greater confidence and inner freedom. When we are no longer stuck in negative mindsets, we are free to create the life we desire.
_____________________
This twelve-step process is yet another tool you can use to help you release emotions and memories tha
t are holding you back and allow you to move forward.
It is a simple process that starts with setting an intention or goal you would like to achieve, one you don't believe is very attainable. You rate your intention on a scale of 1 to 10 and move through a series of steps incorporating your essential oils, which will allow you to move through different emotions that are limiting you.
You can use very common oils such as:
Stress Away
Frankincense
Lavender
Lemon
Peppermint
Thieves
...to help tap into these deep memories and emotions and release them to foster growth.
You can also use favorites like Inner Child, Release, Transformation and Believe.
You can purchase Dr. Benjamin Perkus' books through his website and walk yourself through the process or you can find a practitioner on his website to guide you through this process.
https://aroma-freedom.myshopify.com/
Feelings Kit
The Feelings Kit from Young Living is an incredibly affordable way to purchase six of the most powerful emotional blends
Not a Young Living member yet? It's easy to get started. Use my
LINK .
Once you get started I will send you a welcome package to help you get started and a $25 credit to your Young Living account to use for future orders.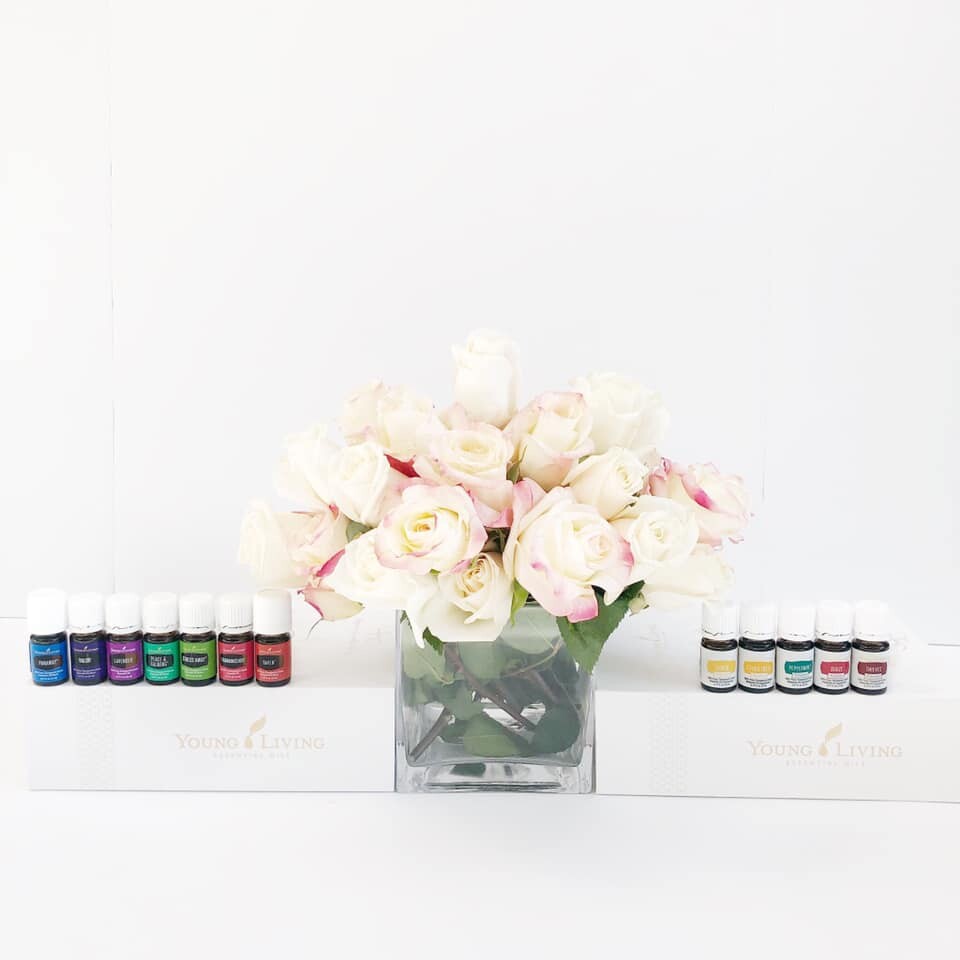 When you become a member you will be able to buy all the 700+ products YL makes at a 24% discount. Join the optional rewards program for these perks:
You will earn ER points for every ER order placed. You cash your points in for FREE products via Quick Order.
FREE gifts every three months and each year following.
FREE bonus products starting at 100 PV orders. Monthly promotions for 100, 190, 250, & 300 PV orders announced on the 1st of every month.
Cheaper shipping and access to FREE shipping subscriptions (YL GO/YL GO+)
You can change the products in your cart every month.
You can change your shipping date every month.
The Premium Starter Kit is the best bang for your buck to have a wide variety or oils to use to support your health mentally, physically, and emotionally.
Another option if you were most interested in the Feelings kit is to start with the Basic Kit and add on the Feelings kit.
This would allow you to enjoy the Feelings Kit and all other products at membership pricing.
Regardless of how you get started, I recommend ordering either your PSK or your Feelings Kit on the Essential Rewards program.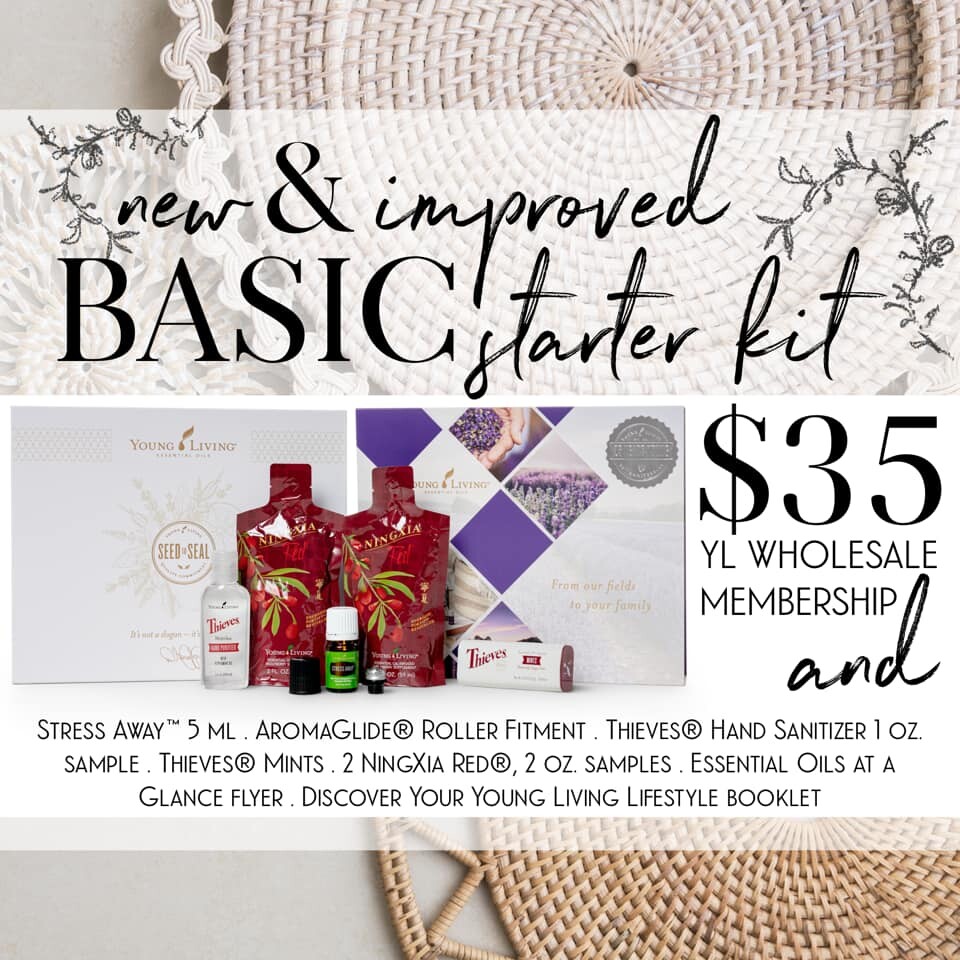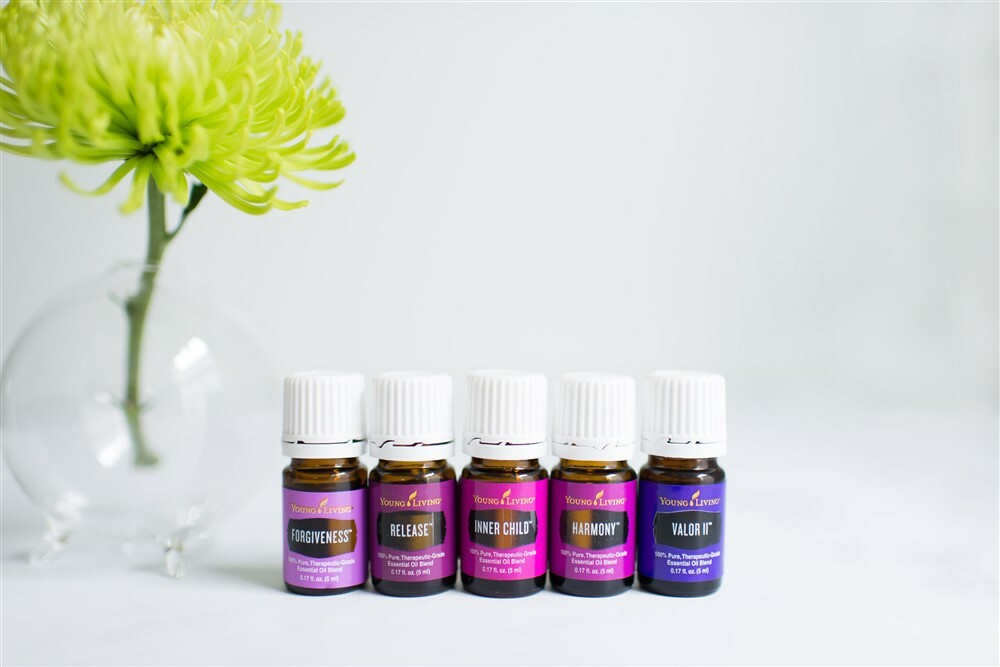 I hope you have learned how essential oils can affect your emotions. God made our bodies so miraculous that your sense of smell is so powerful that it can help to change your emotions without the nasty side effects. It's almost like God knew what he was doing!!!
If you have any questions, please let me know. You can comment on this article or email me at hello@marieinmontana.com
Get started today. Use my referral link to unlock all the goodies mentioned above: